Cut your job search time dramatically, increase your income package significantly, develop a more rewarding career path and construct a better financial future. That's where Reverse Recruiters come in!
Reverse Recruiters utilize unique strategies and tools in the job search process in order to help you land that coveted position. They put themselves in your shoes and understand what you need to do on your job search journey.
They analyze and compile the top trending keywords in job descriptions and give career advice on how to best position yourself for these roles.
With their help, you can apply for jobs and find interviews that fit you perfectly. Reverse Recruiters are innovative job placement professionals who want to see you succeed and make job hunting a breeze.
Industry Stats: Do you know – a corporate job receives approximately 250 resumes, out of which only four to six candidates are selected for an interview. Ultimately, only one among these interviewed candidates is typically offered the job, as per glassdoor.
What is a Reverse Recruiter?
A Reverse Recruiter, also known as a Job Search Specialist, is someone who helps job seekers in all phases of the recruitment process. They do job search-related activities from the other side of the spectrum, meaning that instead of recruiting for organizations, they search for employment and firms on behalf of people looking for work. This can be a helpful service for those who are struggling to find a job on their own, as Reverse Recruiters have access to resources and networks that the average job seeker may not.
In addition, Reverse Recruiters can provide guidance and support throughout the entire job search process, from crafting a strong resume to preparing for interviews. If you are feeling lost in your job search, working with a Reverse Recruiter may be the best next step.
Are you unhappy at work? Feeling unappreciated? Underpaid? You're in luck! The job market is booming and employers are hiring now.
You may have heard from friends and departing co-workers that they got recruited off their LinkedIn profile or were immediately hired shortly after applying. The employer's hiring process has been moving at lightning speed, especially in the tech sector. After the first employer contact, a job candidate typically has a couple of interviews within a few days and quickly gets a lucrative job offer. My career counseling clients have recently accepted new job offers where they have secured salaries with 20% to even 50% pay increases. That is a significant incentive to jump ship. A potential salary increase is one motivation to job hunt now. But there are even more compelling reasons to start that job search today.
How Reverse Recruiting works?
A professional reverse recruiting service can make all the difference in finding the right career opportunity. 
Your reverse recruiter will research and identify companies that you might be interested in working for. This might involve reviewing job postings, researching company culture and values, and networking with current or former employees of the company.
Then, a reverse recruiter may use networking tools such as LinkedIn to connect with employees or hiring managers at the target companies. When reaching out to potential employers, a reverse recruiter customizes their messaging to each individual company. They highlight the candidate's relevant skills and experience and explain why they are interested in working for that particular company.
After making initial contact, the reverse recruiter follows up with potential employers to keep the conversation going and will help you to prepare for the interview.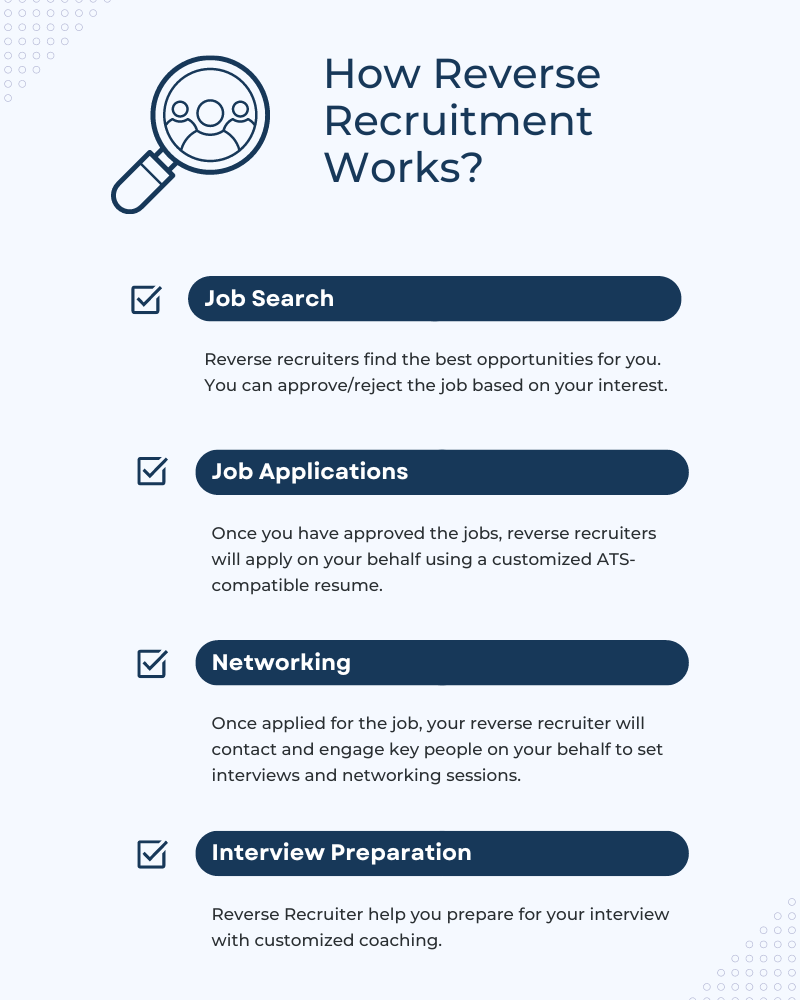 How Reverse Recruiting is different traditional recruiting?
A recruiter is a professional whose task is to find and fill open positions for businesses and organizations.
Recruiters work for the companies, not the job seekers, and have to fill specific positions that are assigned to them by their employers.
This means they don't always have the power to offer a job hunter the job that is most suitable. They can only offer you the roles they are currently working to fill. However, recruiters often have valuable insight into job listings on market and can job hunt to find you a role that is a good fit for your skills and career goals.
So if you're looking for a new job, it's worth talking to a recruiter to see what options are out there for job hunting.
Now that we've gone through what a recruiter does, it should be simpler to understand the duties of a Reverse Recruiter.
Job Search Specialists (Reverse Recruiters) assist job seekers in all phases of the recruitment process. In general, they do job search-related activities from the other side of the spectrum.
Reverse Recruiters, rather than recruiting for organizations, search for employment and firms on behalf of people looking for work.
Expert Tip: Reverse Recruiters work directly for and with the job seekers, not for the hiring companies.
They take your career information, professional goals, and aspirations and get to work to find job descriptions that match your background and fulfill your vocational objectives. 
They employ advanced job search techniques to suss out job descriptions on job boards and then make sure your resume application is tailored to these job opportunities. 
Job Search Specialists optimize your social media platforms so that a future employer or staffing agency can find you. Looking for a job can be difficult, especially if you don't have the time to devote to your job search. That's where reverse recruiters come in to find jobs that are both advertised and unadvertised.
Our Job Search Services do just that.
Through this service, we can help you customize your professional documents (resume and LinkedIn profile), find job opportunities, submit applications, and set up interviews on your behalf.
I am an expert in the recruitment field and I want to see you succeed to find jobs. My team will work with you to find the right position and even help apply on your behalf.
We make your job search easy.
We get you through the first human resources screening process by optimizing your resume and profile to the correct keywords for the right job.
How Reverse Recruiters at iCareerSolutions helps?​
Reverse Recruiters at iCareerSolutions assist job seekers in all phases of the recruitment process. We conduct research on companies and industries, connect job seekers with networking contacts, and provide referrals to other resources and services. Ultimately,  our goal is to help job seekers find fulfilling employment that meets their needs and aspirations.
We can make your job hunting simpler by handling every aspect of it from start to finish.
While our career finder service helps you obtain interviews, you may have more time to do what you desire!
In short, our Job Placement Services assist you every step of the way, saving you, on average, 200+ hours of job searching time. 
But more importantly, since the Job Search Specialists at iCareerSolutions do this for a living, you can rest easy knowing that an experienced professional is managing your job search.
How much does a Reverse Recruiter cost?
In general, reverse recruitment services tend to be more expensive than traditional recruitment services, as they require a greater investment of time and resources to get the best opportunity for you.
Reverse Recruitment services can cost you anywhere between $2500 – $3500 which can vary widely depending on the provider, the level of service, and the specific requirements of the client. 
Yes, you can hire someone to find you a job. They are called Job Placement Specialists, or Reverse Recruiters!
Traditional recruiters work with companies to fill open positions. Reverse Recruiters work for job seekers to find suitable jobs.
Expert Tip: You can save 200+ hours of job searching and focus on more important things or simply relax. You can also rest easy knowing that you are in expert hands. You may even make more money!
A Reverse Recruiter is a professional who assists job seekers in all phases of the recruitment process. They do job search-related activities from the other side of the spectrum, searching for employment and firms on behalf of people looking for work. This role is important because it helps job seekers to find companies that are a good match for their skills and experience. It can be difficult for job seekers to know where to start their search, or how to identify companies that are hiring. A Reverse Recruiter can save job seekers a lot of time and energy by conducting targeted searches on their behalf. In addition, Reverse Recruiters often have valuable insights into the job market and can provide guidance on resume writing, interviewing, and salary negotiation. If you are seeking a new opportunity, working with a Job Search Specialist can be an extremely helpful step in your job search journey.
Employers who have Onboarded Our Clients