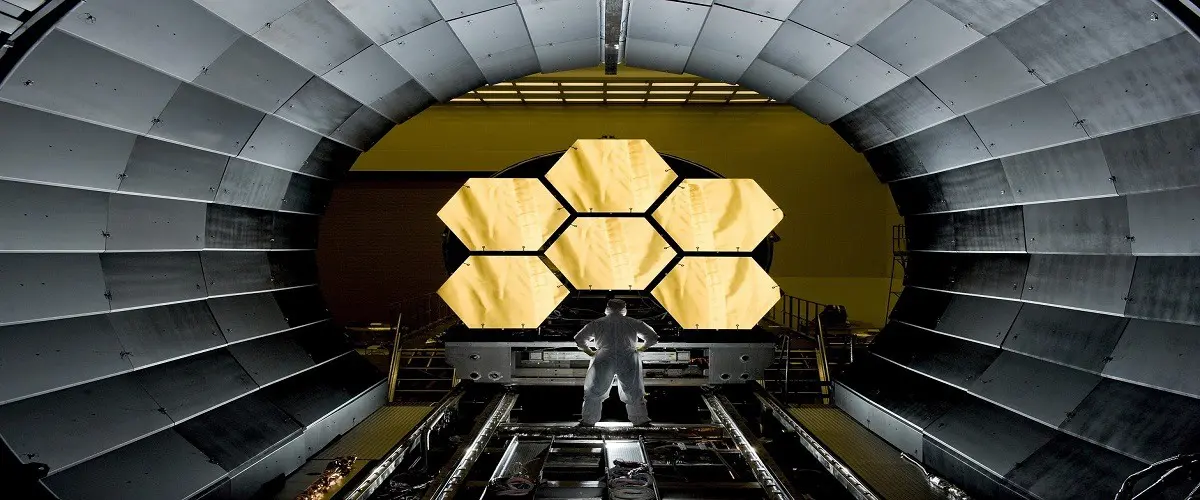 Mechanical Engineer Resume
Taking Mechanical Engineer Resumes Higher
Take a glance at our amazing Mechanical Engineer Resume example and see how we can assist you in writing a stronger resume so you can secure your dream job.
What are the Essential Elements of a Great Mechanical Engineering Resume?
A Mechanical Engineer Resume should include effective technical skills, the ability to work under pressure, problem-solving skills, creativity, interpersonal skills, verbal and written communication skills, commercial awareness, and teamwork abilities. Mechanical engineers identify mechanical problems and work to build new tools and machines to solve those problems.
A great mechanical engineering resume is made up of several parts that highlight your skills and experience. But it is important for them to also have these elements to be effective. First, your resume needs to be branded for the position you are applying to. Next, a great mechanical engineering resume must be achievement-based and keyword-optimized. And finally, it should be formated for readability and allow a recruiter or hiring manager to quickly decide to read more. Let us help you to build a resume that highlights your best abilities and will help you to make a perfect impression on the one reading it.
Mechanical Engineer Resume Example
This Lead Mechanical Engineer Resume Example was written for a mechanical engineer in the power conversion industry. This Mechanical Engineer resume sample demonstrates metrics-driven accomplishments in product line enhancements and leadership.
This candidate is clearly branded as a Mechanical Engineer at the top of his resume. This allows the recruiter or hiring manager to quickly determine that this candidate is applying for his Mechanical Engineering Job. If the company uses another title to describe their job opening, then this branding title should be changed to match the job posting. For example, the hiring manager could describe the job as a mechanical maintenance engineer or perhaps a mechanical service engineer, and the branding title should be adjusted accordingly.
This mechanical engineering resume sample is a great achievement-based resume that highlights the candidate's accomplishment as opposed to his duties and responsibilities. Remember, the next person that does your previous job will have the exact same duties. What a recruiter wants to know is what was the results of your efforts. By creating achievement bullet points in this mechanical engineer resume example, we can clearly demonstrate what a great candidate he is for this mechanical engineer position. We have also bolded the results of his achievements in bullet points for easy readability.
We have also added some color and graphics in this mechanical engineering resume sample to help our candidate stand out. We have demonstrated his ability to increase production capacity by decreasing the design time by 230 hours! Your experience section should include accomplishments that are relevant to the position you are applying for, not just a list of everything you have done.
Looking for more IT resume samples? Need help with your resume? Here is more information on our Engineering Resume Packages.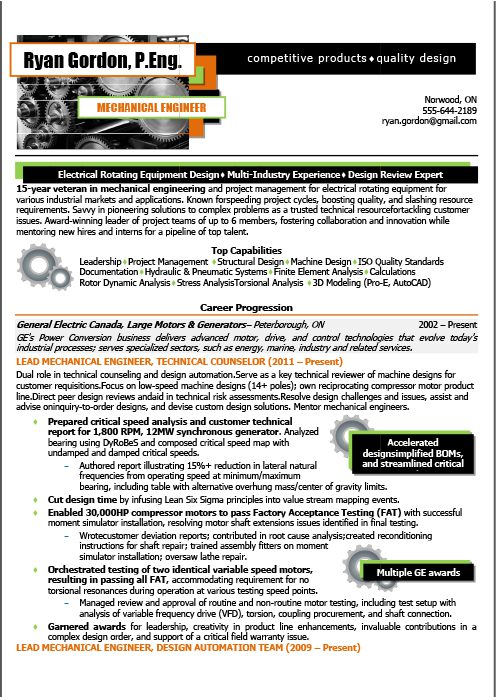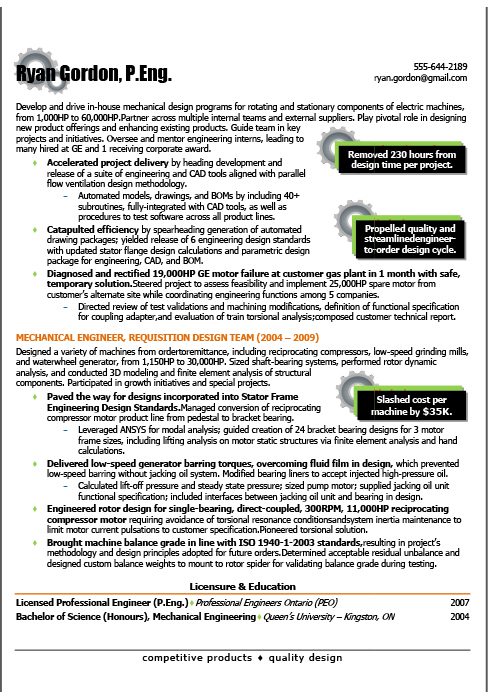 What skills should a mechanical engineer have?
Here are some examples of keywords that you would include in your mechanical engineering resume. Remember to check the job posting to make sure that not only are the skills and keywords relevant to you but also to the requirements of the job description. It is important to match their wording. So if they require Office Suite and you have MS Word as a keyword on your resume, change it to match. This is to ensure that you make it past the ATS systems and into the hands of a real human being! You want to use keywords that accurately reflect your experience. All of our mechanical engineering resume samples are ATS compatible and keyword optimized.
Mechanical Engineering Resume Skills and Keywords
 

Commercial Assembly
Castings
Engines
Factories
Fabrication Processes
Injection Molding
Machinery
Machine Processes
Mechanical Electrical Systems
Mechanical Products
Module Assemblies
Plan Workforce Use
Plastic Processing
Production Equipment
Prototypes  
Product Design
Products
Robotics
Sheet Metal Steel Fabrication
Structures
Tooling
Test Processes
Thermoforming
Also include hard-skills as part of your Mechanical Engineering Resume keywords.
Also, remember to include all of your hard skills, specifically all of the technical skills you have been trained to do, such as computer-aided design and draft.
3D CAD
Advance Design
AllyCAD
ArchiCAD
Archimedes
Architecture & 3D Viz
ASAP
AutoSnap
BricsCAD
BRL-CAD
BIM
Caddle
CADD
CADWORK
Chief Architect
Cobalt
CoCreate
DataCAD
DDS-CAD
DraftSight
Drawing Express
F35
GCAD3D
GPS
IntelliCAD
LDD
MicroStation
MX
NAND imager
QCad
R15
Revit
General Engineering Resume Skills to also include on your Mechanical Engineering Resume
Alternative Design Solutions
Analytical Costing Studies
Bid Analysis Preparation
Bills of Quantities & Materials
Budget Development
Change Impact Estimations
Calculations & Reviews
Change Management
Change Management Processes
Closeout Administration
Codes & Requirements
Commercial Returns Analysis
Concept Development
Corrective Actions
Cost Control Estimates
Cost Estimate System Development
Cost Estimates
Cost Forecasting
Cost Management Processes
Cost Reporting
Cost-to-Complete Reports
Engineering Principles & Practices
Engineering Reports
Expenditure Control
Field Management
Feasibility Studies
Financing Arrangements
Functional Cost Analysis
Green Technologies / LEED
Inspections & Compliance
Invoice Validation
Market Analysis
Material Costs
Materials Acquisition
Mediation & Arbitration Costs
Procurement Management
Procurement Services
Product Development
Profit Improvement Activities
Profitability Analysis
Project Budget Establishment
Project Change Management System
Project Budget Requirements
Project Cost Estimations

Project Controls System Establishment

Product Development

Project Earned Value Analyses
Project Economic Viability
Project Execution Cost Management
Project Management Costs
Project Outcome Predictions
Project Planning & Management
Project Viability Determination
Property Condition Reports
Quality Assurance
Quality Control
Quality Control Standards
Reimbursable Cost Determination
Requests for Proposals (RFPs)
Reserve Fund Studies
Resource Allocation
Revenue Forecasts
Review tooling specifications
Risk Analysis
Safety & Performance Audits
Schematics
Strategic Planning
Subcontractor Relations
Tentative Budget Establishment
Workflow Prioritization Design Review
Value Engineering
Also, remember to include any other achievements such as certifications and awards. Remember, it is a tough job market, and you need to clearly demonstrate that your expertise makes you the best candidate for the job. Do not forget to add soft skills that may also be mentioned in the job posting and therefore important keywords for the hiring managers. You want to include your ability to work with the team or remain calm under pressure. Look at the job description for your clues as to what keywords are important.
How do I write a resume for a mechanical engineer?
Are you still struggling to write your own mechanical engineering resume? You are not alone. It is difficult for any candidate to be objective when marketing themselvesJob seekers looking for the best mechanical engineering dream jobs need a professional engineering resume to stand out from the crowd. Let us help you land more interviews by helping you create the best mechanical engineering resume for you. Here is an award-winning engineering resume, or check out all our website for all our resume samples. Do you need assistance with your mechanical engineering resume? Use the link below to speak directly with Arno Markus, our CEO and 15x Award-Winning Resume Writer, to discuss how we can help!
Some of Our Top Resume Writing Awards
I've had the pleasure to work with Arno and his team. His process is organized, professional, and reliable. Highly recommend his professional services. Thank you very much!
Arno was a great asset to me and helped guide me in understanding how to achieve specific opportunities that were available to me. He coached me on the proper ways to set up a resume and what really stands out in the industry. With the help from Arno and perseverance, I was able to land a job in no time and it was fascinating to learn how to get ahead with his techniques. Arno was an invaluable resource and it would be a pleasure to recommend him.
Arno's passion for his clients and their success is evident in his energy. His counsel regarding my resume and the insights for improving my LinkedIn profile built my confidence in my own achievements. The finished resume product was well-written and more meaningful than I could have made it. I recommend Arno for executive resume writing and counsel. Thanks Arno!! Troy Williams