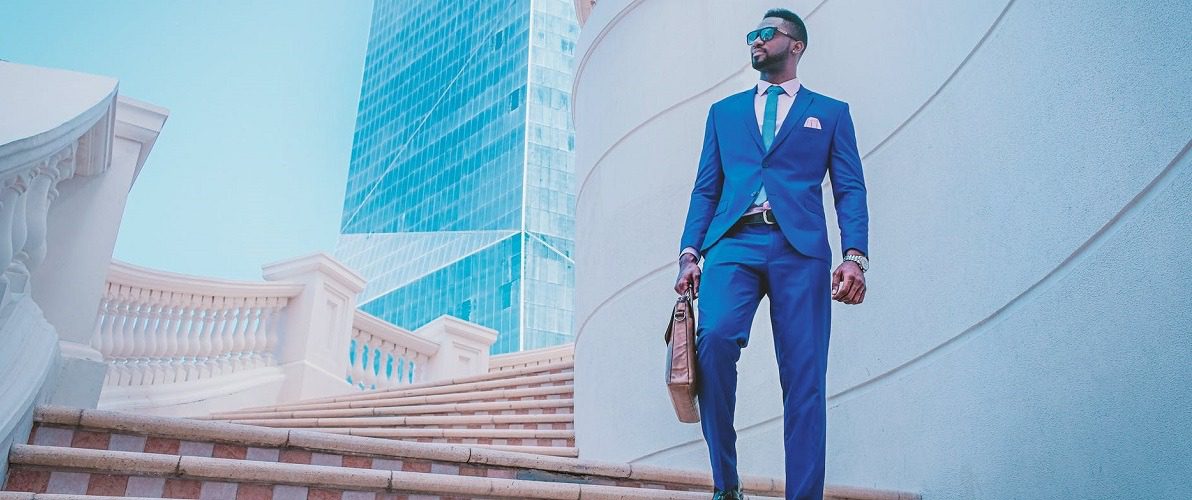 Chief Executive Officer CEO Resume
Creating a CEO Resume That Operates!
Take a glance at our amazing Chief Executive Officer Resume examples and see how we can assist you in writing a stronger resume so you can secure your dream project or job.
Looking for the Best CEO Resume Examples?
A Chief Marketing Officer CEO Resume should include strong leadership abilities, strategic planning, and vision. Your CEO resume should discuss your areas of expertise including corporate management, marketing, business development, and business acumen. A chief executive officer (CEO) is a corporation's highest-ranking executive, whose primary roles include making significant strategic decisions, overseeing the company's general activities and resources, and serving as the primary point of contact between the board of directors (the board) and the company.
A great CEO resume is a perfect way to easily introduce yourself and your executive experience to a recruiting manager or board of directors. Although the most critical components of a CEO resume are qualifications, experience, and expertise, you might want to have additional sections to demonstrate your strengths and skills as they apply to a CEO role.
As a C-Level Executive, you need a CEO Resume that highlights your management skills and achievements. It should be a career summary that targets the job description. Executive Recruiters do not care about your career goals unless your goal is to get their job! The Best CEO resumes are Branded, Keyword-Optimized and Achievement-Based.
The worst mistake to make on your CEO resume is to simply state your duties and responsibilities. There is very limited real estate on your resume so you need to make the most of it! Remember your goal is to get job interviews, not talk about your day-to-day duties at your previous job. Your work experience section should be packed with achievements that match the requirements of the CEO position.
Chief Executive Officer Resume Example
This Chief Executive Officer (CEO) resume example was written for a top executive in the industrial sector. This CEO resume sample demonstrates metrics-driven accomplishments in driving international growth through business strategies. It received an Honorable Mention for the Best Executive Resume in 2018.
iCareerSolutions Award-Winning Resume Service was honored to be nominated for this award. Career Professional's prestigious Awards of Resume Writing Excellence Program is committed to setting the standard for Resume Writing Excellence – "Recognizing outstanding Resume Writers in our profession is one of Career Professional's most important activities".
In today's job market Recruiters and HR professionals receive hundreds of resumes, and a professional resume writing service can help you rise to the top of the pile. All our resumes are ATS compatible and will help you be seen! Looking for a different C-Level Resume Sample? Here is more information on our Certified Professional Resume Writers and our C-Level Resume Writing Services.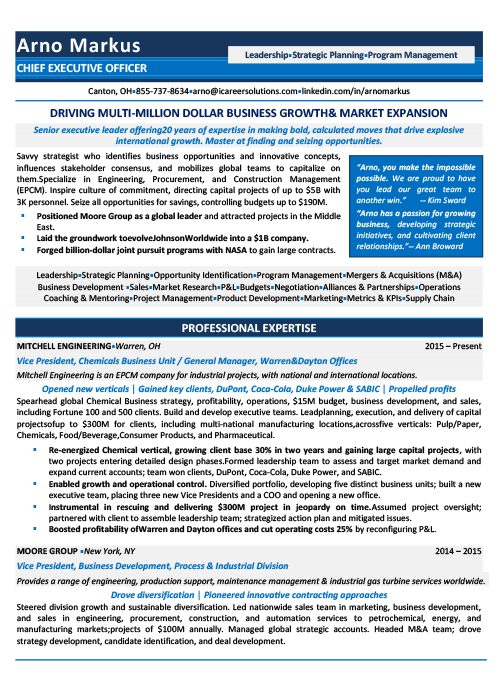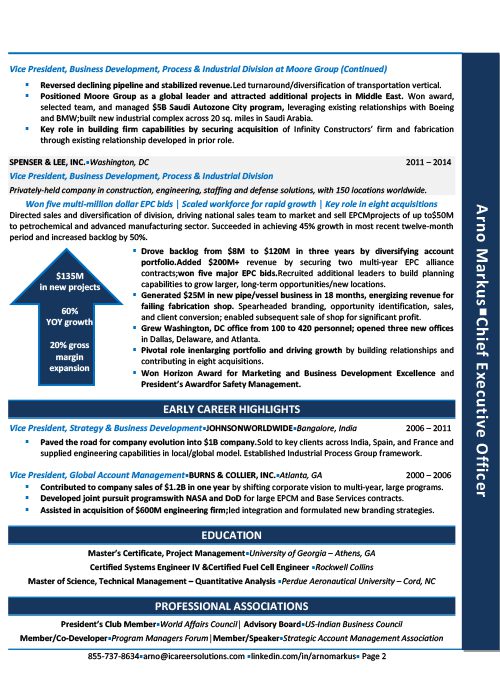 The following Chief Executive Officer resume example was written for a top executive, specializing in international commercial growth. This CEO resume sample demonstrates metrics-driven accomplishments in roles as a Chief Commercial Officer and CEO across multiple industries and countries in Europe.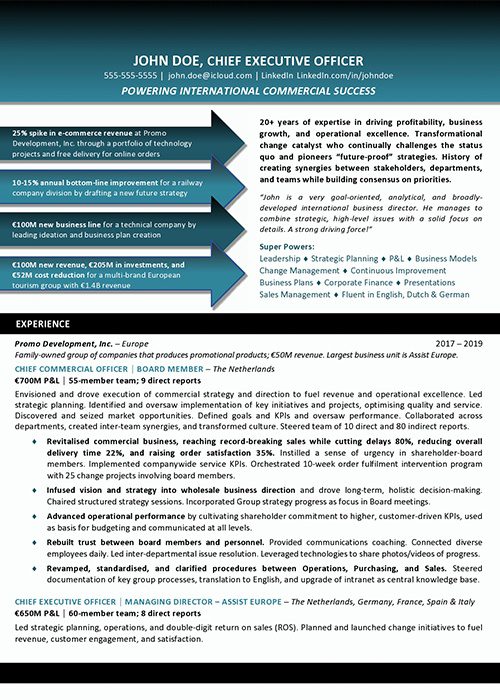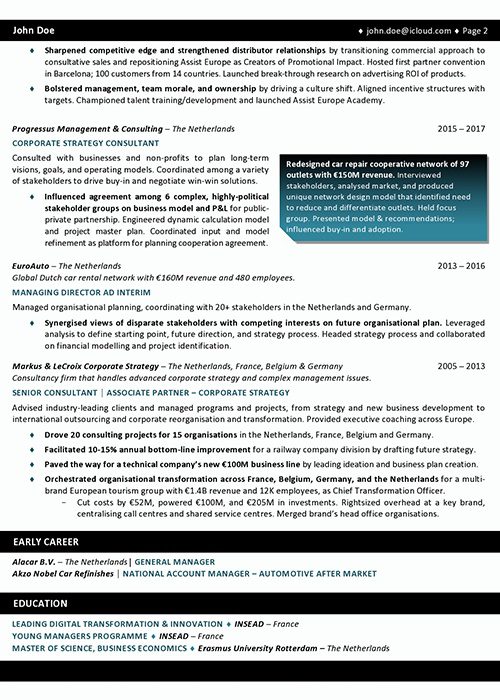 What are the Best Skills for a CEO Resume?
Below are just some examples of skills required for a remarkable CEO resume. Remember, you cannot just copy and paste these skills into your resume. They must be relevant to you and the job application, and executive skills that you actually possess. You should include all of your hard skills, including certifications and technical proficiencies, as well as any soft skills that are mentioned in the job posting. Each of your key achievement statements can contain these keywords. We use actual examples to demonstrate these skills. Writing a CEO resume is not about "stuffing" executive jargon but providing specific achievement statements that are rich with the relevant keywords.
All Chief Executive Officer Resumes will have different keywords or CEO skills. The executive field is wide and varied. Below are some of the keywords that may relate to you and other CEO professionals, but there are many more specialized keywords that you may need as well. By carefully reviewing the job posting and working with an executive resume writer, you can ensure that your CEO resume has the right keywords!
Why are these skills so important to have on your CEO resume? Because of the dreaded Applicant Tracking Systems used by hiring managers and Executive Recruiters when creating the CEO job description. These ATS systems are programmed with the keywords that the hiring manager feels are most appropriate for their position. These keywords could be slightly different from the exact same job but at a different company created by a different HR manager. It is important to not only match the job title with your branding title but also to match the keywords. A professional CEO resume writer can assist you with keyword optimizing your CEO resume.
EXECUTIVE LEADERSHIP SKILLS
Administrative Management
Asset Utilization Management  
Advertising Management
Approval Management
Auditing Management  
Brand Management
Budget Development & Expense Control  
Business Conduct Policies & Practices 
Business Development
Business Goals & Priorities Setting                   
Business Requirements Development      
Change Management
Client Relations Management  
Communications
Corporate Affairs
Capital Improvement Projects  
Career Development & Management         
Career Services Leadership
Claims Negotiation & Settlement
Client Meeting & Strategizing  
Compensation & Benefits
Client Presentations & Proposals
Client Relationship Building
Cost Control
Contracts Development & Review
Cost Estimating
Cost Management
Corporate Governance Systems Management    
Cost Reductions & Savings
Customer Acquisition
Customer Service Management 
Distribution Support   
Diversity Management
Employee Engagement
Employee / Labor Relations
Employee Retention
Ethics & Compliance
Facility Management
Financial Management
Financial Recordkeeping Oversight  
Human Resources Administration  
Increased Account Base
Increased Sales & Profitability    
Information Systems Compliance
Information Technology 
Internet Marketing
Inventory Management & Control  
Key Customer Management  
Leads Generation Management
Long-range Goals Establishment 
Leadership Development           
Management Recruitment 
Marketing Campaigns
Media Buying & Planning
Operating Plans Execution
Operations Management
Organizational Development
New Business Development Initiatives
New Business Start-up
Productivity Improvement
Operations Management
New Division / Department Start-up
Organization Strategy
Performance Recognition Leadership
Performance Management
Profit & Loss Accountability
Policies & Procedures Development
Product Development Leadership
Policy & Security Analysis
Productivity Improvement
Product Marketing
Project Prioritization
Program Development & Administration
Project Development & Initiation
Project Management
Project Lifecycle Management & Oversight
Project Team Leadership
Procurement Management
Project Planning & Coordination
Report Monitoring
Research Management
Project Resource Requirements
Public Relations
Purchasing Management
Quality Assurance
Quality Control
Quality Improvement
Research & Analysis Management
Resource Acquisition Direction
Regulatory Compliance
Risk Assessment
Safety & Health Promotion
Sales Management
Specifications Standards Development
Safety Program Execution
Strategic Planning
Talent Acquisition Sourcing Management
Support Services Leadership
Strategy Execution
Talent Management & Development
Training & Development Management
Team Leadership & Direction
Workforce Planning & Management
Do you Need Assistance to Create a Superior CEO Resume?
Are you looking for a new CEO Resume? Let us help you land more interviews by helping you create the best chief executive officer resume for you. Book an appointment to speak directly with Arno Markus, 15x Award-Winning Executive Resume Writer using the link below!
Some of Our Top Resume Writing Awards