Are you ready to unlock the true potential of LinkedIn for your executive job search? It's a powerful platform that can open doors to exciting opportunities when used effectively. In this step-by-step guide, you'll discover how to optimize your profile, find the right recruiters, craft personalized connection requests, and nurture professional relationships to land your dream job. The world of LinkedIn is vast, and we're here to help you navigate it successfully, including learning how to reach out to a recruiter on LinkedIn.
Short Summary
Leverage LinkedIn to optimize your profile and build connections for an executive role.
Utilize search filters, explore company pages & job listings, join relevant groups to find recruiters.
Craft personalized connection requests with commonalities. Follow up strategically while being respectful of their time.
Want to save time?
Let us help you land your next executive position by crafting the best resume for you. Here's more information about our Executive Resume Writing Services. Book a call today to speak directly with our CEO and Founder, Arno Markus!
Industry Stats: According to the U.S. Bureau of Labor Statistics (BLS), the employment of top executives is projected to grow 6% from 2021 to 2031, which is about as fast as the average for all occupations.
How to use LinkedIn to land an executive role
LinkedIn is more than just an online resume; it's a dynamic platform that can make a significant difference in your executive job search. By optimizing your LinkedIn profile, you amplify your chances of being noticed by recruiters and hiring managers. An outstanding profile includes a professional photo, an informative headline, and a comprehensive display of your skills, experiences, and achievements. Including relevant keywords, such as the desired job title and required skills, will make your profile more discoverable in searches.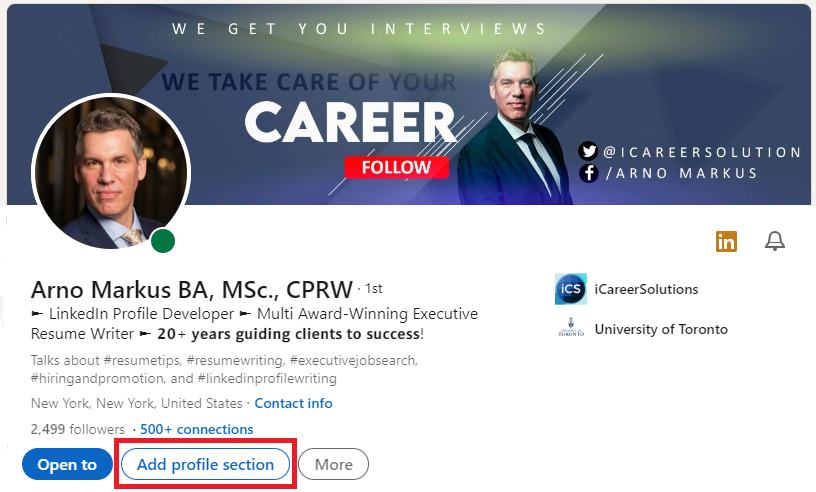 Enable "Open to Work" feature
The "Open to Work" feature on LinkedIn is a game-changer for job seekers. By enabling this feature, you communicate your interest in job opportunities to recruiters and your network. To enable it, navigate to your profile page, select the "Open to Work" button, and provide details about the type of job and location you're interested in.
Customizing this feature with a profile photo, headline, and a description of the type of job you're seeking will make you stand out to potential employers.
Obtain Recommendations and Endorsements
Recommendations and endorsements are crucial for a strong LinkedIn profile, as they validate your skills and experiences. Reach out to colleagues, managers, and other professional connections to request recommendations and endorsements. Send requests a few at a time, and follow up on them to ensure you receive a good number of recommendations.
Don't forget to express gratitude to those who provide their recommendations, as it is not only courteous but also helps maintain healthy professional relationships.
Sample Message:
Subject: LinkedIn Recommendation Request
Dear [Name],
I hope this message finds you well. It was a pleasure working with you on [Project/Role/Initiative]. Your insights and leadership greatly contributed to its success.
I am currently [looking for new opportunities/updating my LinkedIn profile/etc.], and I was wondering if you would be willing to write a LinkedIn recommendation for me? I think a few words from you about our work on [Specific Project or Role] would carry a lot of weight and would really enhance my profile.
If you're busy, I completely understand. Alternatively, if you'd like, I can draft a recommendation for you to review and edit as you see fit.
Thank you for considering my request. I would be more than happy to reciprocate should you need a recommendation as well.
Best regards, [Your Name]
Things to Remember:
Be polite and give the other person an easy way to decline.
Remember, quality is better than quantity. A well-written recommendation from a credible contact is better than several generic ones.
Keep your requests reasonable. Asking for more than one or two recommendations at a time from the same person might come across as inconsiderate.
Finding the Right Recruiters on LinkedIn
Once your LinkedIn profile is optimized, it's time to find and connect with the right recruiters. Recruiters play a pivotal role in the job search process, as they have access to job opportunities and can provide insights into the desired industry. To find recruiters who specialize in your industry or desired job role, you can use the LinkedIn search bar and filters, explore company pages and job listings, and leverage LinkedIn groups.
Remember, not all recruiters are the same; some work for recruiting agencies, while others are independent recruiters or talent acquisition specialists within a company. By targeting the right recruiters, you increase your chances of discovering relevant job opportunities and building meaningful connections.
Utilize LinkedIn search and filters
LinkedIn's search bar and advanced filters are powerful tools to help you find a recruiter on LinkedIn based on location, industry, job title, and other criteria. Use keywords like "Recruiter" or "Headhunter" in the search bar for optimal results.
Leverage the advanced search filters like location, industry, and company name to refine your search further. Once you have identified recruiters that meet your requirements, review their profiles and contact recruiters who fulfill your specifications.
Explore Company Pages and Job Listings
Visiting company pages on LinkedIn is another excellent way for LinkedIn users to find and connect with recruiters. To locate a company page, search for the company name in the search bar or navigate to the "Companies" tab. On the company page, click on the "People" tab to discover recruiters associated with that company.
Additionally, job listings on LinkedIn can provide valuable information about the role, including job requirements and the recruiter responsible for the position. Connecting with recruiters associated with job listings can potentially lead to more job opportunities.
LinkedIn groups are another resource for finding recruiters in your field of expertise or desired job role. Join relevant groups and participate in discussions to raise your visibility to recruiters who are part of these groups. You can also use the search function within groups to find specific recruiters or job postings.
Engaging with recruiters in groups demonstrates your interest in the industry and helps in building a rapport with them.
Crafting a Personalized Connection Request
Sending a personalized connection request to recruiters is crucial for establishing a connection and making a lasting impression. A generic message might not grab their attention, and it's essential to stand out from the crowd. Your connection request should include a brief introduction, your interest in their company or industry, and any commonalities you share.
Keep in mind that recruiters receive numerous connection requests daily, so it's important to be respectful of their time and keep your message concise. A personalized message increases the likelihood of the recruiter accepting your request and responding to your messages.
When crafting your connection request, maintain brevity and specificity. Keep the message to around 75 words or fewer. Introduce yourself concisely, outline your desired role and qualifications, and include a call to action, such as "Let's connect".
This approach makes it easy for the recruiter to understand your purpose in reaching out and increases the chances of them accepting your request.
Sample Message:
Subject: Seeking New Challenges in [Industry]—Keen on [Company Name]
Hello [Recruiter's Name],
I have been following [Company Name]'s work and am highly impressed by your recent [Project/Initiative]. With over [X] years in [Your Field], I am currently seeking new challenges and would love to explore how my skills could benefit your team.
Would you be open to connecting?
Kind regards,
[Your Name]
Highlighting shared connections, experiences, or interests can help establish rapport with the recruiter and set you apart from other candidates. Review the recruiter's profile to find commonalities, such as attending the same college, working in the same industry, or having mutual connections. Mentioning these commonalities in your connection request can make the recruiter more inclined to connect with you and explore potential job opportunities together.
By highlighting shared interests, you can create a more personal connection with the recruiter and demonstrate that you have shared interests.
Sending a Follow-Up Message to Recruiters
After a recruiter accepts your connection request, it's essential to send a follow-up message to express your gratitude, interest in their company or industry, and share relevant qualifications. This follow-up message helps solidify your professional relationship with the recruiter and demonstrates your enthusiasm for potential job opportunities.
Responding promptly and professionally to recruiter messages is crucial for maintaining a positive relationship. If you do not receive a response within a reasonable timeframe, follow up strategically to ensure you stay on their radar.
Express Gratitude and Interest
In your follow-up message, thank the recruiter for accepting your connection request and express your interest in their company or industry. You can mention something specific, like "I've heard wonderful things about your company's culture and would love to explore potential opportunities". This shows the recruiter that you have done your research and are genuinely interested in working with them.
Take the time to personalize your message and make sure it is tailored to the company or industry you are in.
Sample Message:
Subject: Following Up: Interest in [Job Role/Department] at [Company Name]
Dear [Recruiter's Name],
I hope this message finds you well. Thank you for accepting my connection request. I'm eager to explore opportunities in [Job Role/Department] at [Company Name] and was wondering if you have a moment to discuss this in the coming week?
Best regards,
[Your Name]
Share Relevant Qualifications
Provide a brief overview of your qualifications, skills, and experiences that align with the recruiter's needs or job openings. This will help them understand your value and suitability for the position. You can mention specific achievements or relevant skills that showcase your expertise and make you a strong candidate for potential job opportunities.
Remember to keep the message concise and focused on your purpose for reaching out to the recruiter. Highlight the value you can bring to the organization and how your skills and experience can help them.
LinkedIn Message Examples for Different Scenarios
To help you craft effective LinkedIn messages for various situations, we have compiled a few sample messages. These examples can serve as a foundation for messaging recruiters, inquiring about job openings or networking with professionals in your industry.
Use these examples as a starting point, but remember to personalize your messages based on the specific recruiter, job opportunity, or networking scenario. A tailored message demonstrates your genuine interest and commitment to establishing a meaningful connection, rather than sending the same message to everyone.
Inquiring about Job Openings
Subject: Inquiry Regarding [Job Role/Field] Opportunities at [Company Name] Dear [Recruiter's Name], I am reaching out to express my interest in [Job Role/Field] opportunities at [Company Name]. I am particularly drawn to your company's work in [specific project or initiative] and believe that my skills in [Your Skills] would make me a great fit for similar roles. Are there any current or upcoming openings that I should keep an eye on? I look forward to connecting with you. Best regards, [Your Name]
Inquiring about Job Openings
Subject: Networking with Professionals in your Industry Hello [Name], I came across your profile and was particularly interested in your work in [Area of Interest within the Industry]. I'm also in [Your Industry] and am always keen to connect with professionals in the field. Would you be interested in connecting? Best regards, [Your Name]
Nurturing a Professional Relationship with Recruiters
Once you have connected with recruiters, it's essential to maintain a professional relationship. Engage with their content by liking, commenting, or sharing their posts. This not only keeps you on their radar, but also demonstrates your interest in their industry and expertise.
Staying in touch with recruiters and providing updates on your career progress can help solidify your relationship and increase your chances of being considered for future job opportunities. Remember, your professional network is a valuable resource, and maintaining healthy relationships with recruiters can be the key to unlocking new career opportunities.
Handling Responses and Follow-Ups
When a recruiter responds to your message or connection request, it's crucial to message recruiters promptly and professionally. Express your gratitude for their response and address any questions or concerns they may have.
If you do not receive a response within a reasonable timeframe, follow up strategically to ensure you stay on their radar. Keep in mind that recruiters are busy professionals, so be patient and respectful of their time.
If you do not receive a response from the hiring manager after multiple follow-ups, it may be time for you as a job seeker to shift your focus to other job opportunities or recruiters. Remember, persistence and professionalism are crucial in navigating the job search process.
LinkedIn is an invaluable resource for job seekers looking to connect with recruiters and land their dream job. By optimizing your profile, finding the right recruiters, crafting personalized connection requests, and nurturing professional relationships, you can unlock the full potential of LinkedIn and open the door to exciting opportunities. Remember, persistence and professionalism are key. Now, go ahead and start building your professional network on LinkedIn. The world of opportunities awaits you.
Frequently Asked Questions
Employers who have Onboarded Our Clients