Navigating the executive job search landscape can be daunting, but it doesn't have to be. With the right approach, tools, and insights, you can successfully find your next executive role. This comprehensive guide will walk you through the ins and outs of executive job searching, from understanding the unique nature of the executive job market to crafting an impactful resume and acing your interviews. So buckle up and get ready to embark on an exciting journey towards your next executive opportunity.
Short Summary
Navigating the executive job search landscape requires specialized understanding of the market, networking, and optimizing your online presence.
Crafting an impactful executive resume involves modernizing design with relevant keywords and showcasing achievements to stand out from other candidates.
Executive interviews require research on common questions, rehearsing answers, reflecting on past experiences, and demonstrating leadership & vision.
Job Search for Executives
The job search landscape for executives is vastly different from that of non-executive job seekers. Typically, executive jobs are not as widely advertised, and the competition is fiercer. To succeed in finding a suitable executive position, it's crucial to understand the executive job market and the importance of networking.
Executive job search sites, such as ExecuNet and Indeed, specialize in executive-level job postings, making it easier for job seekers to find relevant opportunities. One such executive job site is particularly useful for connecting with executive recruiters who play a vital role in identifying and filling executive positions, as they have access to unlisted job opportunities and can connect you with the right people in the industry through their job site.
Therefore, it's essential to incorporate the use of executive job search sites and build relationships with executive recruiters in your job search strategy.
Understanding the Executive Job Market
The executive job market is unique, with fewer public job postings on executive job sites and a heavier reliance on networking and recruiters to identify potential opportunities. This is due to the fact that many senior-level positions are not openly advertised, making it essential for executives to tap into the hidden job market to find executive-level jobs.
Reverse recruiters are invaluable resources for executives seeking new opportunities. Reverse recruiters, with their industry contacts, can tap into unadvertised opportunities. A traditional recruiter works on behalf of a company to find the right candidate for a job opening. A reverse recruiter, on the other hand, works on behalf of a job seeker, particularly high-level professionals or executives, to find them suitable job opportunities.
Staying up-to-date with industry trends and engaging with professionals in your field through platforms like LinkedIn can also help you uncover unadvertised job openings. You can also use google alerts for jobs to receive regular updates.
It's equally important to avoid job search mistakes when you're looking for your next executive opportunity.
The Role of Networking in Executive Job Searches
Networking is a vital component of the executive job search process. Not only does it help you build connections with potential employers and industry influencers, but it also uncovers job opportunities that may not be advertised on traditional job sites. Leveraging platforms like LinkedIn for networking can be highly beneficial, as it allows you to connect with other professionals in your field and create a professional identity.
By engaging in online forums, sharing industry insights, and attending industry events, you can expand your network and increase your visibility to executive recruiters, ultimately opening doors to unadvertised job opportunities.
Optimizing Your Online Presence for Executive Job Searches
With the rapid growth of technology and the digital world, optimizing your online presence has never been more critical for executive job searches. A well-crafted LinkedIn profile and a strong personal brand can make a significant difference in catching the eye of recruiters and potential employers.
1. Update your Professional Headline:
Start by updating your professional headline to align with your desired position and ensure that your profile is consistent with your resume. It sends a consistent message about your professional identity and can significantly enhance your chances of being noticed by the right people in your desired industry or role. See the professional headline below: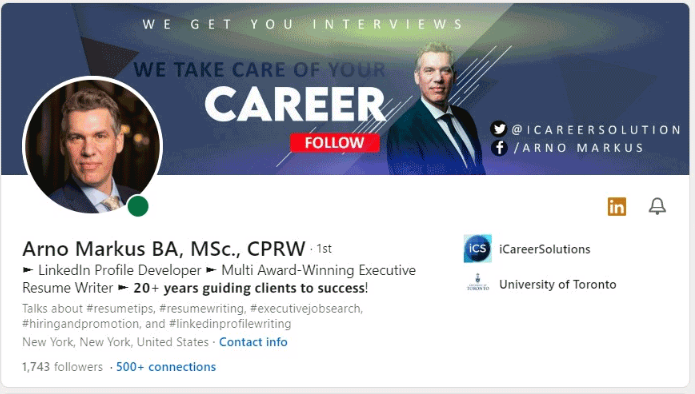 Include a summary that highlights your expertise and achievements. your LinkedIn summary should be tailored to your unique experiences and goals. It should give readers a snapshot of who you are professionally, what you've achieved, and what you aspire to do. It's a mix of your professional story, your achievements, and a hint of your personality.
3. Use the experience section to showcase your career progression:
Use the experience section to showcase your career progression and notable accomplishments. Always list your experiences in reverse chronological order (latest to oldest). This allows viewers to see your most recent role first. Your job titles should be clear and understandable. If you had a unique or uncommon job title, consider adding a more universally recognized title in parentheses.
Remember, your LinkedIn profile is an extension of your personal brand, so make sure it accurately reflects your unique skills and experiences.
Building a Personal Brand
A strong personal brand is an essential element of a successful executive job search. It sets you apart from other candidates and positions you as an expert in your field. Establishing a consistent online presence involves crafting a professional profile on social media platforms like LinkedIn and regularly updating it with pertinent information.
To further bolster your personal brand, share industry insights and knowledge through writing blog posts, engaging in online forums, and interacting on social media. Establishing yourself as a thought leader can showcase your expertise and provide valuable insights to others, ultimately increasing your visibility and credibility in the industry.
Working with Executive Recruiters
In addition to using executive job search sites and networking, working with executive recruiters can be a highly effective strategy for finding unlisted job opportunities and navigating the job search process. These specialized professionals have access to a broad range of employers and can provide helpful advice and direction throughout your job search effort.
To make the most of working with executive recruiters, it's essential to find the right recruiter for your industry and location. This involves researching their specialization, success rate in placing executives, and their knowledge of your specific field.
Finding the Right Recruiter
Finding the right executive recruiter for your job search can significantly impact the success of your job search. To identify the right recruiter, consider their industry specialization, location, and success rate in placing executives in your field. Networking, online job boards, and professional associations can all be useful tools for identifying executive recruiters.
Once you've found a few potential recruiters, reach out to them to discuss your career goals and gauge their expertise in your industry. By partnering with the right recruiter, you'll increase your chances of finding your dream job and navigating the executive job search process more efficiently.
Navigating the Recruitment Process
Navigating the recruitment process with an executive recruiter involves understanding their role, maintaining open communication, and being prepared for interviews. Recruiters play a pivotal role in the recruitment process, from identifying job vacancies to selecting the most suitable candidates for executive positions. To ensure a successful collaboration, respond promptly to their emails and phone calls, provide timely updates on your progress, and inquire as necessary.
Additionally, preparing for interviews by researching common questions and rehearsing your answers can help you make a strong impression on potential employers.
Crafting an Impactful Executive Resume
An impactful executive resume is crucial for capturing the attention of hiring managers and executive recruiters. It should effectively showcase your achievements, qualifications, and unique skills, setting you apart from other candidates.
Modernizing your executive resume is vital to align your social media profiles and highlight your accomplishments and qualifications. This involves using a clean design, incorporating relevant keywords, and ensuring your resume is consistent with your online presence.
Modernizing your executive resume is essential to make it stand out in today's competitive job market. An outdated resume can hinder your chances of being noticed by hiring managers and executive recruiters.
To modernize your resume, start by using a clean design that is easy to read and visually appealing. Incorporate relevant keywords that align with the executive roles you're seeking, and ensure that your resume is consistent with your online presence, such as your LinkedIn profile. By modernizing your resume, you'll increase the chances of it being noticed by the right people and improve your job search success.
Showcasing Achievements and Results
An impactful executive resume should showcase your achievements and results, highlighting your unique skills and expertise. This includes using strong action verbs, quantifying accomplishments, and highlighting special talents and knowledge.
Begin by incorporating powerful action verbs, such as "developed," "managed" or "increased," to describe your accomplishments. Next, quantify your achievements wherever possible, using percentages, dollar amounts, or other relevant metrics to showcase your impact. Finally, emphasize any unique skills and expertise that set you apart from other candidates, such as proficiency in a specific software program or familiarity with a particular industry.
Interview Preparation for Executive Roles
Preparing for interviews is a crucial aspect of the executive job search process. Executive interviews often involve questions related to your experience, leadership style, and vision for the role.
By researching common interview questions and rehearsing your answers, you can increase your confidence and ensure that you're well-prepared to make a strong impression on potential employers.
Navigating Behavioral Interviews
Behavioral interviews are a common interviewing technique for executive roles, as they focus on how you've handled past situations and challenges to predict your future performance. To prepare for a behavioral interview, reflect on your past experiences and identify concise stories that illustrate your critical contributions and problem-solving abilities.
Practice your responses to common behavioral interview questions, such as "Describe a situation where you had to make a difficult decision," or "Share an example of a project you led and the outcome."
Demonstrating Leadership and Vision
During executive interviews, it's essential to demonstrate your leadership and vision to potential employers. This involves showcasing your ability to drive results, inspire teams, and adapt to industry changes.
To effectively convey your leadership and vision, focus on providing examples of your past leadership experiences and outlining your vision for the role should you be selected. Be prepared to discuss how you've motivated teams, tackled complex challenges, and driven positive outcomes in your previous roles.
In conclusion, navigating the executive job search landscape requires a comprehensive approach that encompasses understanding the executive job market, optimizing your online presence, working with executive recruiters, crafting an impactful resume, and preparing for interviews. By following the insights and strategies provided in this guide, you'll be well on your way to landing your next executive role and achieving your career goals.
Frequently Asked Questions
Employers who have Onboarded Our Clients