Every day more professionals are securing jobs via LinkedIn, and social recruiting and Artificial Intelligence that matches profiles to recruiters are on the rise. If you've been affected by this economy (& who hasn't been) this is what you need to plan and make your next move.  Odds are high that like me you were focusing on the wrong things and being reactive rather than proactive.
Not wasting time applying for advertised roles.
More than 90% of all jobs are in the hidden job market.
Yet the surprising and paradoxical truth is that the vast majority of job seekers focus on the open job market for a tiny minority of positions, face crushing competition and eventually rejections, again and again.
With CIO's becoming CISO's, CTO's and CMO's sharing responsibilities, and start-ups requiring interim CEOs rapidly, the business of being an executive has its challenges. You need to start thinking of your search as an executive rather than someone looking for executive jobs.
Many senior positions are filled by headhunters. If you want to be considered for one of these positions, you'll need to know the executive headhunter – or else he or she will have to discover you. There are no other possibilities; there is no advertising for the position, so you cannot apply.
That is why enhancing your professional LinkedIn profile is critical for senior executives. A tiny percentage of leads is enough to bring you a job offer that otherwise would never materialize!
The problem is that your current profile will discuss your career history. Your previous and current roles. You want to be found for your next role – without making it appear obvious that you're on the lookout for a new position!
Hiring managers and Linkedin recruiters
According to our own research, around 75% of potential job candidates longlisted on an executive search are not known to the recruiter at the start of the recruiters' search. To put it another way, if you are the ideal applicant for the position, it is up to the executive headhunter to discover you! In the world of LinkedIn, this means that a recruiter searching for the ideal candidate for a specific position with a certain organization needs to sift through more than 500 million potential candidates' profiles in the LinkedIn search results.
Why am I not being contacted by recruiters on LinkedIn?
Some searches find people who work for a certain company and have a certain title. Other searches can find people who were in a different job with a different company. Some people want to be found when they are not working as their current job title. For example, if you were the CFO of one company and now want to be the CEO for another, you would not be found by your current job title because you do not have that title.
But sometimes companies will look for people with different skills and maybe that person can be found even though it isn't their current job title.
The best executive LinkedIn profiles
LinkedIn, in a nutshell, creates a "picture" of what a (CEO, CFO, or other) should look like based on big data analysis. It does so by looking at the current profiles of individuals who are already employed in that role. As a result, if you want LinkedIn to consider you a potential match for a certain role, your profile must display the necessary skills. You must "make LinkedIn believe."
At its core, executive LinkedIn profile optimization is a science – it's a form of SEO (Search Engine Optimization). A great example of when science comes into play is in your career history. It's critical to optimize it. Consider it for a moment – if LinkedIn thinks you've shown your "key skills" in your previous three jobs, you'll appear more experienced than someone who hasn't. Repeating your keywords through your employment history is a great way to tell the LinkedIn algorithm that you have "lots" of experience in a particular field.
In order to achieve this, there are certain strategies that executives can apply.
Feature-rich content and keywords for job seekers
Unfortunately, many self-help books on how to optimize LinkedIn profiles offer little for an experienced executive job hunter. This is where Executive LinkedIn profile optimization comes in.  Simplistically, LinkedIn profile optimization involves the following steps:
Consider the EXACT position you want
Research the skills required for that role
Find out what terms executive head hunters might search for
Build your profile around those terms
Look up CEOs in job roles comparable to the one you want. Look at how they describe themselves and the abilities and endorsements they have, and try to replicate it. You'll need to go through a lot of profiles.
Another option is to look for relevant job descriptions; if they exist, this allows you to see how the words used by recruiters to describe a job – it's a safe bet that they will use similarly phrased keywords in their search.
Using your keywords in your LinkedIn Profile
Once you've drafted your keywords, the next step is to lay them out. There are certain areas in your LinkedIn profile that are key to the search algorithm. These include the tagline, the summary, and the employment history. Figuring out relevant keywords and positioning them in the appropriate context is vital.
A keyword-rich tagline is more likely to be found by executive recruiters. The tagline (the tiny block of text at the top of your profile) is critical. You have a word count of 120 characters (including spaces) to highlight your priority skills and talents. There's no need to spell out full job titles; LinkedIn understands that a CEO and a Chief Executive Officer are the same thing.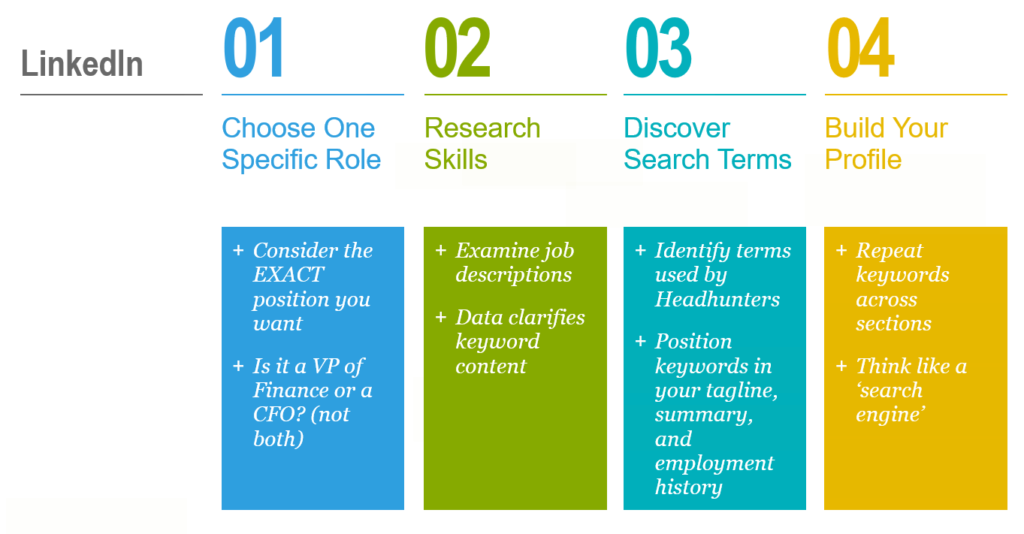 How do I get more attention from recruiters on LinkedIn?
Your reputation is everything. Strategic and thoughtful self-promotion is essential and I am very clear on how to accomplish this. The ability to craft branded, engaging, conversational, value-based LinkedIn profiles (and an understanding that a great LinkedIn profile is born from a great resume) will get you found.
Once you've created an executive LinkedIn profile that is discoverable, the next step is to raise your exposure. This means participating on the site – growing your network (the typical CEO has 930 connections), joining organizations, and sharing or commenting on material. Doing this will get you "closer" to recruiters, and will also cause the LinkedIn algorithm to rank you more highly than a member who is not actively engaged on the platform. Also – make sure your profile is public and you accept InMails!
Will executive recruiters expect a resume?
Yes! And it should match your LinkedIn profile. Having a different career branding title in your resume is a red flag to recruiters who may think you are not serious about the role! The key is to target one position at a time even if you think that a VP of Sales or a CMO position would be acceptable to you. To a recruiter looking, these are vastly different job titles.
How do I get noticed by recruiters on LinkedIn?
In a nutshell, changing careers as an executive is a complex and time-consuming process. It's one that requires lots of preparation and is easier if you undertake it from a position of strength. My final advice to an executive considering how to make a career change? Always be visible. If an executive recruiter can't find you, or if they don't know what you are capable of, they won't contact you.
If they don't contact you, you don't get a job offer. As a result, think about the role you want. Work out what the role requires and how you meet those requirements. Aim to create an executive brand and make it visible always.  Schedule a complimentary career strategy call with me now!
I can help you with key details about how to deal with HR managers, Miring Managers, and get a better understanding of the roles of Recruiters and Headhunters.
I also provide insight into the executive placement process and assistance in preparing for a job transition.
What my clients have said
"Arno was very patient throughout this process being that this took longer than expected. He was always easy to communicate with and met every deadline."
"Arno works quickly and efficiently. He is a great communicator and writes very well. You can expect a top-notch resume at the end of a painless and quick process."
"The treatment was so professional. The communication was clear, and the delivery of the work on time. "
"He takes the time to understand the details of the job and gets it done well."
"I was impressed by how well he carried on the work and with a great level of expertise."
"He went above and beyond to help me with my career choice as I couldn't make up my mind regarding two different industries…he created an extra resume for me to accommodate."
"Arno created crucial formats for me that were classy and sophisticated!"
"Attentive to details and flexible with my schedule. Definitely would recommend his extensive experience for anyone in need of services. My project was completed to my satisfaction well before the deadline."
More Executive Job Search Articles