Crafting a compelling executive resume is no easy task, but with the right words to describe yourself in an executive resume, you can make a lasting impression on potential employers. In this blog post, we'll guide you through the process of selecting powerful words to describe yourself, your experiences, and your accomplishments. You'll learn how to analyze the job description, align with company culture, showcase leadership qualities, and avoid overused and ineffective words. By the end, you'll be well-equipped to craft a resume that stands out from the competition and increases your chances of landing that dream job.
Short Summary
Choose the right words to effectively demonstrate your leadership and management skills on an executive resume.
Align with company culture by tailoring your resume to their values and mission.
Incorporate action verbs, relevant keywords, and professional language into your summary for maximum impact.
Want to save time?
Let us help you land your next executive position by crafting the best resume for you. Here's more information about our Executive Resume Writing Services. Book a call today to speak directly with our CEO and Founder, Arno Markus!
Industry Stats: According to the U.S. Bureau of Labor Statistics (BLS), the employment of top executives is projected to grow 6% from 2021 to 2031, which is about as fast as the average for all occupations.
Choosing the Right Words for Your Executive Resume
Selecting the right words for your executive resume is crucial in making a favorable impression on prospective employers and increasing your chances of landing a job interview. By utilizing powerful adjectives, action words, and industry-specific skills, you can effectively portray your profile and set yourself apart from other candidates. The optimal place to incorporate these descriptive words is in the profile section of your resume, whether it be a resume summary or a resume objective.
It's important to consider the context and intended audience when selecting words to describe yourself in a resume. Balancing self-description with humility is essential for showcasing your positive traits without appearing overly boastful. Reflecting on your strengths and accomplishments can help you recognize the competencies that have enabled you to generate positive results for your colleagues, customers, or organization. By studying the job description and researching the company and role, you can effectively optimize your word choice in both your resume and cover letter.
Analyzing the Job Description
Analyzing the job description is a crucial step in determining the most appropriate words to use in your executive resume. By reviewing the job description, you can gain insight into the qualities and skills sought for the position, making the job search process more efficient. It's essential to consider the qualities outlined in the job description when selecting adjectives to portray yourself in an executive resume, as this can help grab the hiring manager's attention.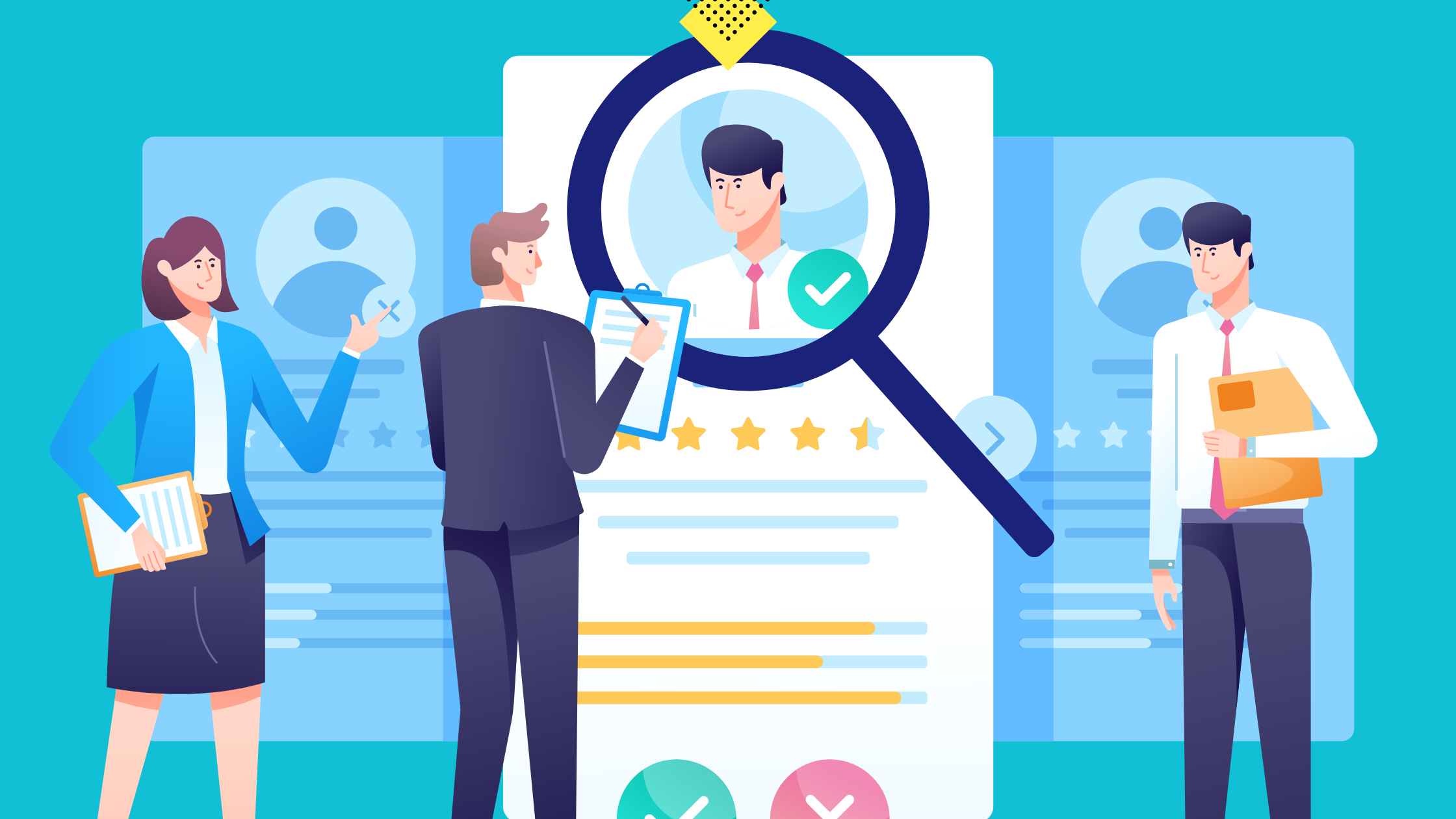 To tailor your executive resume to the job description, carefully review the essential skills and qualities required for the position and adjust your resume to reflect them. This can be extremely influential in securing an interview, as it demonstrates your alignment with the requirements and the value you can bring to the role. By using two or three words that best describe your alignment with the position's requirements, you'll increase your chances of catching the hiring manager's eye and securing that coveted interview. Here are the stes you can follow:
Step 1: Read the Job Description Carefully
The first step is, of course, to read the entire job description from top to bottom. Pay attention to the skills, qualifications, and responsibilities mentioned.
Step 2: Identify Key Phrases and Skills
Look for specific skills, qualifications, or requirements listed in the job description. These could range from "strategic planning" and "team leadership" to more technical skills like "budget management" or "data analysis." Highlight these phrases as you identify them.
Step 3: Categorize the Keywords
Divide the keywords you've identified into categories such as "Technical Skills," "Soft Skills," "Qualifications," and "Responsibilities." This will help you in placing them naturally into different sections of your resume.
Step 4: Match Your Experience with Keywords
Go through your existing resume and see how your experience aligns with the identified keywords. If you find a match, consider rephrasing that part of your resume to include the exact keyword. For instance, if the job description mentions the need for "strategic leadership," and your resume includes experience in "corporate strategy," you might edit it to say "strategic leadership in corporate strategy."
Step 5: Quantify Achievements
If the job description mentions specific metrics—such as "increase sales by 20%" or "manage a team of 50+ employees"—try to quantify your achievements in similar terms. This will show that you can deliver results that match the employer's needs.
Step 6: Incorporate Keywords into Summary and Skill Sections
The Career Summary and Skills sections offer excellent opportunities to incorporate multiple keywords. Make sure to include some that reflect both your technical and soft skills, aligning them closely with the job description.
Step 7: Use Action Verbs
Pair the keywords with strong action verbs. For example, if the job description mentions "budget management," you might say "Administered a $5 million budget" rather than just "Responsible for budget."
Aligning with Company Culture
Tailoring your resume to the company culture is an essential step in making a positive impact on potential employers. By incorporating language that reflects the company's values and mission, you demonstrate your understanding of their culture and your ability to contribute to it. This alignment can make a powerful impression on hiring managers, increasing your chances of being noticed and ultimately landing the job.
To effectively communicate your personality and work habits to a potential employer, consider obtaining feedback from colleagues to gain insight into how they perceive you. Additionally, providing clear explanations or examples of your character using professional words can help accurately convey your personality and work habits.
In your cover letter, be sure to demonstrate alignment with the organization's values and objectives, and include relevant data that corroborates the assertions made.
Best Action Verbs for an Executive Resume
In your executive resume, it's essential to emphasize the most sought-after attributes. Below are 10 action verbs that executives should consider including in their resumes:
Strategized: This verb implies a high level of thinking and planning, highlighting your ability to look at the bigger picture.

Example: Strategized and executed a corporate restructuring that increased overall efficiency by 25%.

Spearheaded: Indicates you didn't just participate in a project, but led it. This verb is especially useful for emphasizing your leadership skills.

Example: Spearheaded the development of a new SaaS product that increased company revenue by 20%.

Optimized: This shows that you don't just perform tasks; you make them as efficient as possible.

Example: Optimized operational processes to reduce costs and improve quality.

Implemented: This verb showcases your ability to see a plan or strategy through to completion.

Example: Implemented a customer relationship management (CRM) system, increasing customer satisfaction by 15%.

Innovated: Executives often need to think outside the box; this verb conveys that ability effectively.

Example: Innovated business models to adapt to market changes, leading to a 10% increase in customer base.

Directed: An alternative to "managed," but implies a more hands-on and focused role in leadership.

Example: Directed a team of 50 professionals across multiple departments to achieve organizational goals.

Orchestrated: This verb shows that you can pull together complex pieces and players to meet an objective.

Example: Orchestrated a multi-million-dollar merger that expanded the company's market share.

Negotiated: This showcases your ability to interact with others to achieve beneficial outcomes.

Example: Negotiated vendor contracts that reduced operational costs by 18%.

Cultivated: This verb indicates that you can not only create relationships but also nurture and grow them.

Example: Cultivated key partnerships that increased access to new markets.

Elevated: Shows that you made something better and that your presence brings improvement.

Example: Elevated the company's brand reputation through targeted marketing campaigns.
You can also incorporate skills from examples below based on your resume section:
Visionary
Strategic Thinker
Results-Driven
Decisive
Influential Leader
Change Agent
Thought Leader
Organizational Architect
Business Strategist
Analytical
Resourceful
Agile
Adaptive
Innovative
Problem Solver
Expert Communicator
Multidisciplinary
Detail-Oriented
Proficient in [specific skill]
Committed
Ethical
Proactive
Collaborative
Accountable
Diplomatic
Tenacious
Resilient
Empathetic
Reliable
Results & Accomplishments:
Growth Catalyst
Efficiency Expert
Award-Winning
ROI-Focused
High-Performer
Goal-Oriented
Exceptional Negotiator
Customer-Centric
Process Optimizer
Team Builder
Spearheaded
Orchestrated
Cultivated
Executed
Transformed
Amplified
Pioneered
Optimized
Diversified
Revitalized
Crafting a Compelling Executive Resume Summary
A compelling executive resume summary is a succinct statement at the beginning of your resume that outlines your key abilities, successes, and background. It functions as a brief overview of your qualifications and encourages the reader to read further into your resume. To create an effective executive resume summary, emphasize the most pertinent talents, experiences, and accomplishments that are relevant to the position.
See the example below for a senior executive looking for the Chief Financial Officer (CFO) role: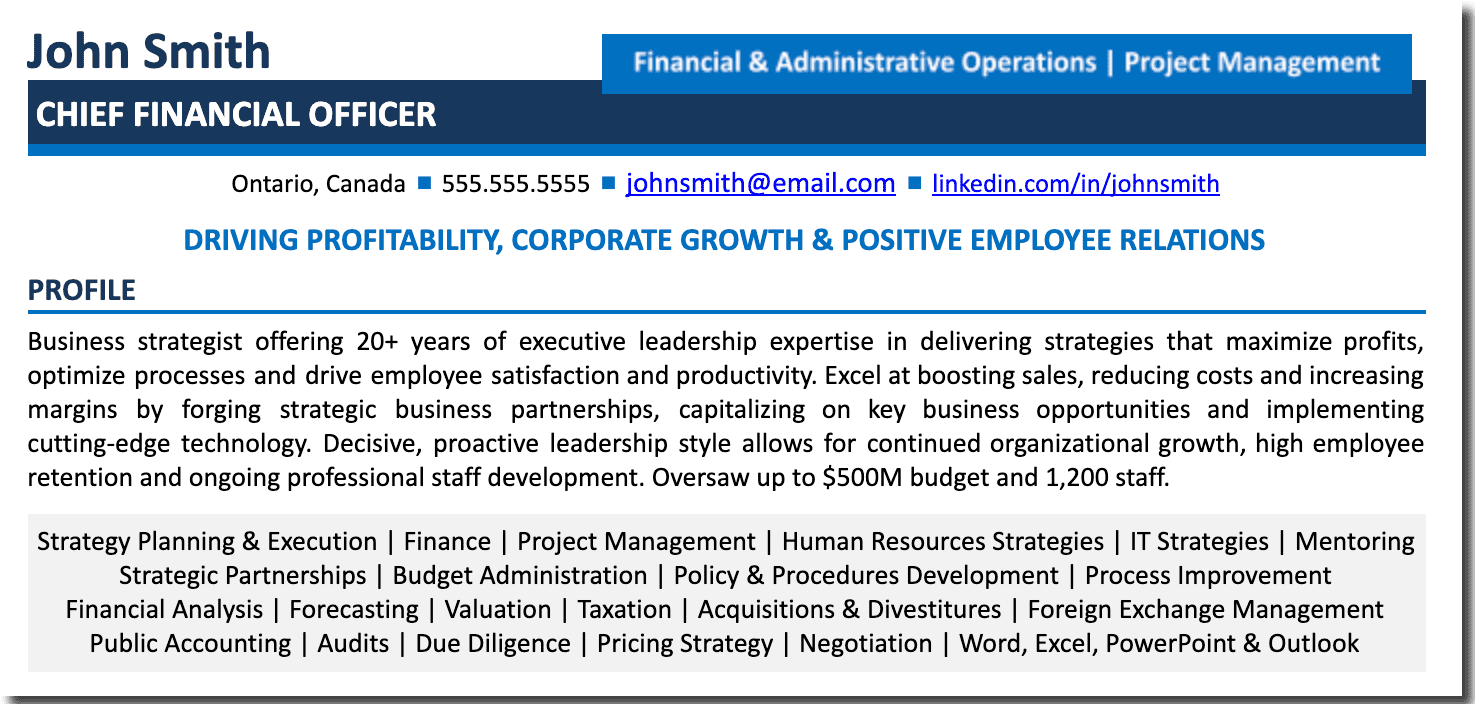 Incorporating Keywords for Applicant Tracking Systems (ATS)
Applicant Tracking Systems (ATS) are automated systems utilized by recruiters and employers to scan, sort, and rank job applications. To increase your chances of being noticed by recruiters, it's essential to incorporate relevant keywords from the job description in your executive resume. These systems are designed to efficiently identify the most suitable candidates for a job by searching for relevant keywords and phrases in resumes.
To identify relevant keywords, carefully review the job description and take note of the job title, job duties, and required skills outlined in the job description. Look for words that are repeated throughout the job description and ensure they are included in your resume. By incorporating these keywords in a natural way, such as in the summary statement, job titles, job descriptions, and skills section, you'll optimize your resume for ATS and increase your chances of being noticed by recruiters.
Avoid Overused and Ineffective Words
When crafting your executive resume, it's crucial to avoid overused and ineffective words that can weaken your resume and make it less impactful. Words such as hardworking, detail-oriented, and self-motivated are often overused and can come across as generic, making it difficult for your resume to stand out from the competition.
Instead, focus on using engaging conversational language and powerful adjectives that effectively portray your unique skills and experiences. By avoiding buzzwords, slang terms, and exaggerated descriptors, you'll create a more compelling and professional executive resume that effectively showcases your strengths and accomplishments.
In conclusion, the right word choice is essential in crafting a compelling executive resume that effectively showcases your strengths, experiences, and accomplishments. By analyzing the job description, aligning with company culture, showcasing leadership qualities, and using action verbs, you'll create a resume that stands out from the competition and increases your chances of landing your dream job. Remember to avoid overused and ineffective words, craft a powerful executive resume summary, and incorporate relevant keywords for ATS. By following these strategies, you'll be well on your way to creating a resume that leaves a lasting impression on potential employers and secures your spot in the interview room.
Frequently Asked Questions
Employers who have Onboarded Our Clients