Executive Resume Examples: How-To-Guide & Expert Tips for C-Level Resumes [What Works in 2022]
C Level and Executive resume examples are often some of the most complex resumes to write because there are more things that you need to consider.
For example, your resume not only needs to reflect all of your qualifications, but you should also include accomplishments like revenue increases or stock price growth.
Every industry has different requirements for executive-level resumes. C-level executives need to list specific goals and accomplishments from their past jobs that directly relate to the skills needed for the position. Non-profit C-level resumes need to emphasize achievements such as saving money on a limited budget.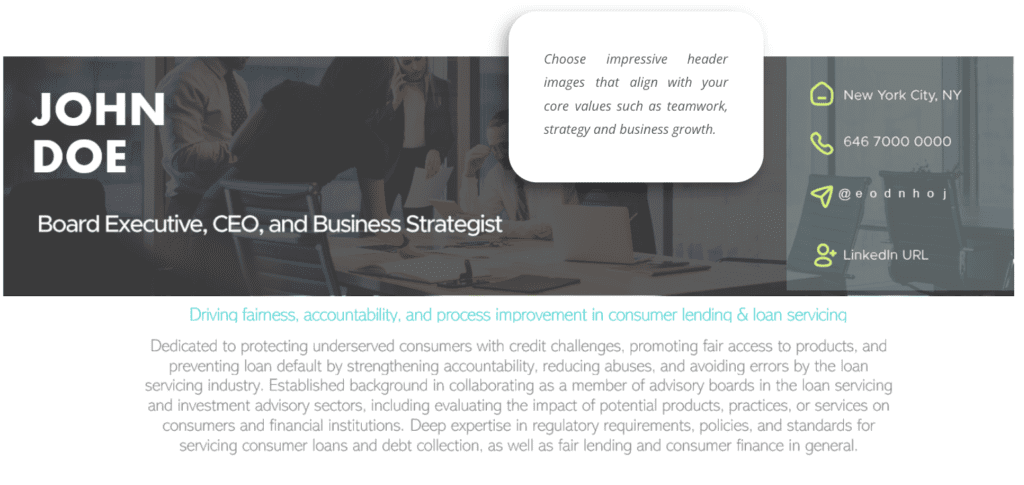 Tell me the best format for an executive resume?
Creating a winning C-level resume depends upon the level of experience you have, your industry, and what type of position you are applying for. Each section is customizable to fit your specific requirements. A good place to start with any executive resume is by focusing in on your Branding Title.
This is not necessarily the same as the exact position you currently hold, but rather the position you are targeting. This branding title should be the top header of your resume.
The second section of an executive resume header is usually a Career Profile or Summary which outlines your key qualifications, skills, and achievements that are most relevant to the job you are applying for. This section should always be customized to reflect what type of position you are seeking by using keywords from the job description to drive your content.
Executive resumes should use quantifiable statements, such as "increased sales by 25% over the previous year" but should also provide enough context in order to be justifiable.
How to write a resume summary?
Executive resumes should be more than just summaries of your professional history. Instead of focusing on dates and duties, executive resumes should instead focus on accomplishments and growth within an organization. This is achieved by adding numbers to your resume that show the impact that you made at prior positions, or how you increased revenue or decreased expenses during your time in a role.
There is no single standard for what should go into an executive summary or even how long it should be. However, experts agree that it needs to include a short brand statement, a list of skills and achievements which match the job description, and perhaps an overview of your career path. Short statements are preferable because you want to communicate a lot of information concisely. Summaries should be personalized for each position that you apply for, as well as tailored to the industry.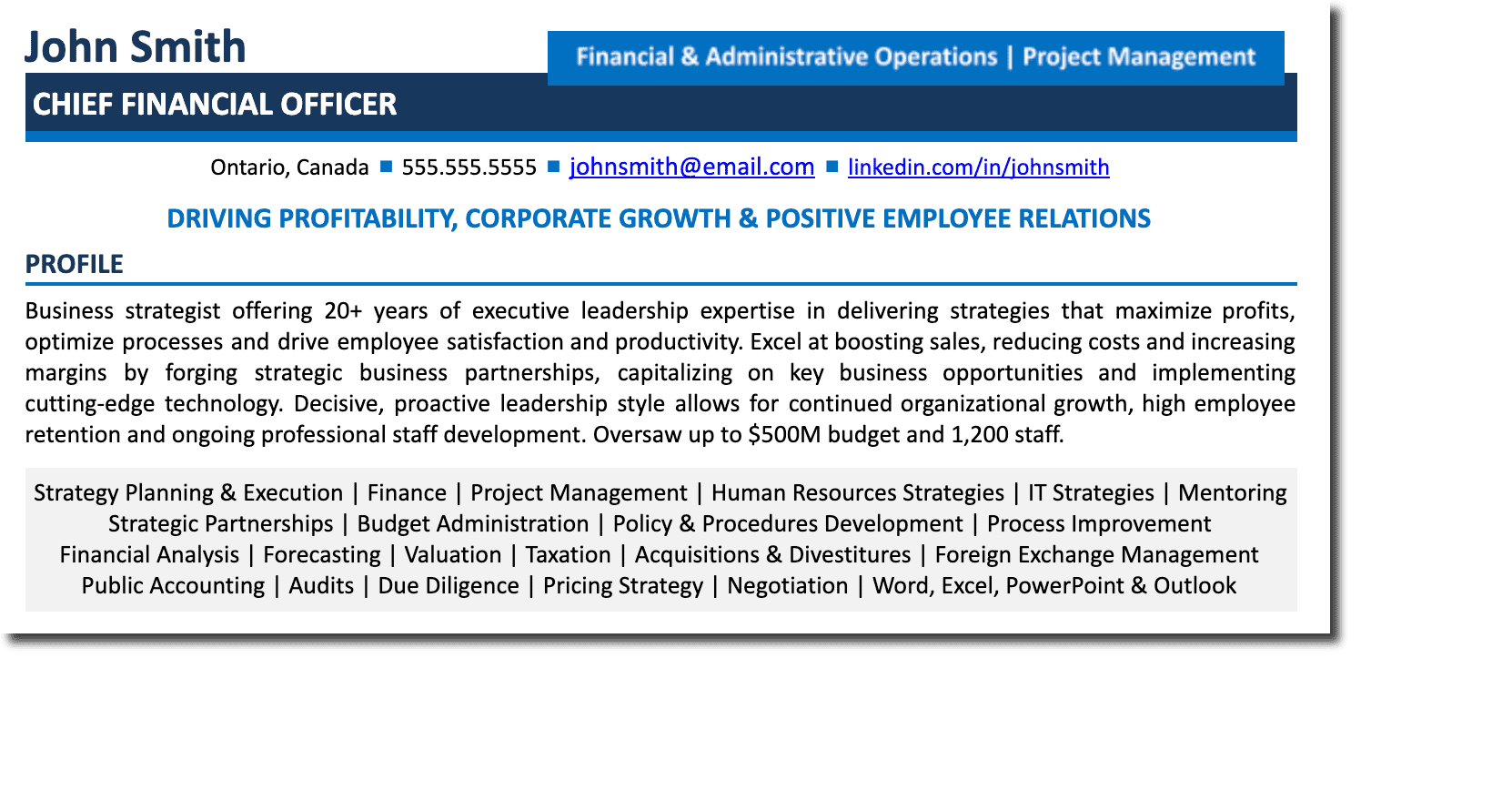 Resume Summary: Instantly Stand Out At Every Stage
The summary section provides mainly advantages in that you are free to change it quickly to any position you apply for if you understand how to write it.
An executive summary is a great way to introduce yourself to a potential employer and because it's tailored for the specific position you want, it will attract attention from employers in a competitive job market. Your resume needs to reflect the changing nature of your work while showing employers that you can meet their needs.
A well-written executive summary should be between three and five sentences long, depending upon the scope of your experience. It's best to start with an achievement-oriented statement, followed by a few key pieces of information about your history. You should include your brand statement upfront, then list your accomplishments and skills.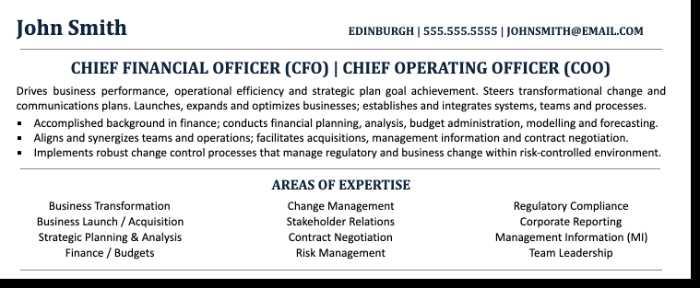 Your resume should also be updated regularly to ensure that the information is accurate and targeted for your current career goal.
How to write a Branding Title
The first thing you need to do when writing an executive summary for a resume is to include your Branding Title. This should be a short summary of what it is that makes you suited for the role you're applying for and should include information from your experience to date as well as your skills and expertise. Your brand statement might mention things like "providing solutions for major financial institutions" or "deploying staff to resolve tax issues."
Next, in an executive resume, you will want to write about what you have done in your career so far. You can list this information on a competency-based scale of achievements so that employers will not only see the value of your work but also be able to understand how you have accumulated all these accomplishments. Show only the skills and experience you have gained that are directly relevant to the targeted position.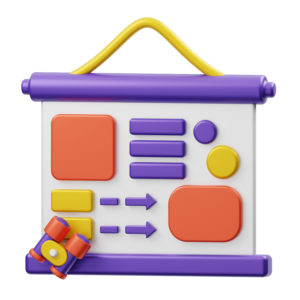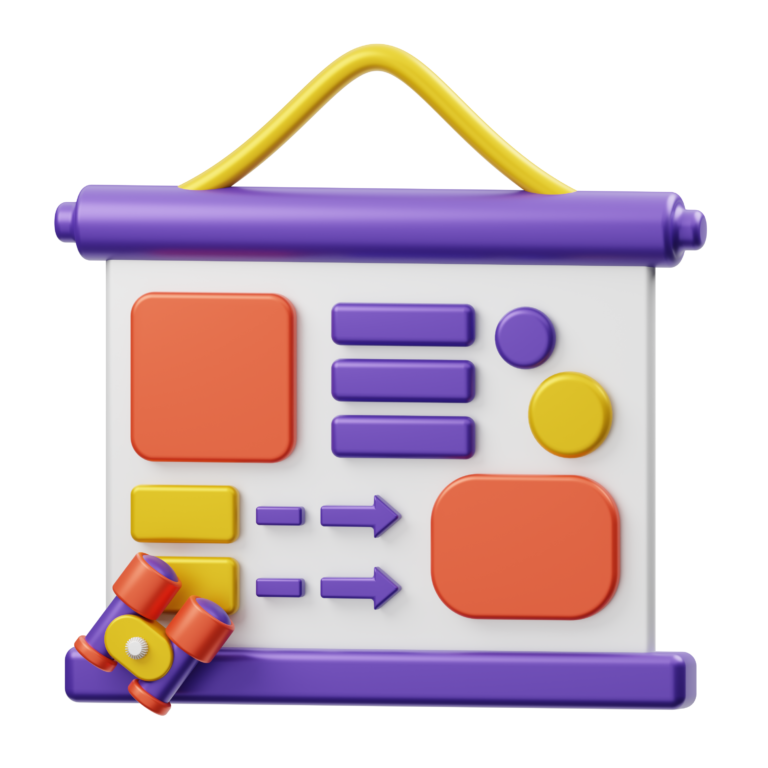 Senior Executive Resume Examples – Resume Summary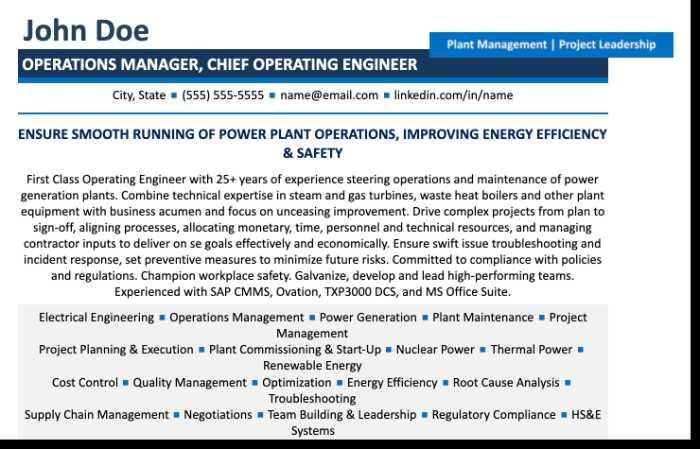 The main idea is to use your executive summary as the first impression that employers have of you. It's not about what you've done; instead, focus on what you are trying to achieve in your next position and match your achievements and results to what is in the organizations' job description.
How do I add contact information to my resume?
If you have a LinkedIn account, 87% of employers check LinkedIn before an interview. If you don't have a matching online profile you could come across as Willy Wonka rather than Tim Cook. Finally, make your LinkedIn Profile linkable in your C-level executive resume.
Recruiters also consider geographical location when vetting chief executive officer resumes. While including addresses is uncommon now, it is advisable to list your geographic location. This could be a city, state, or area depending upon how it can help you stand out.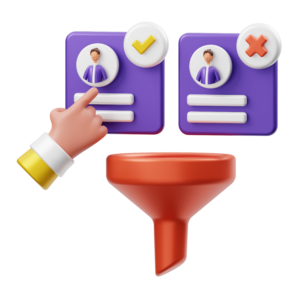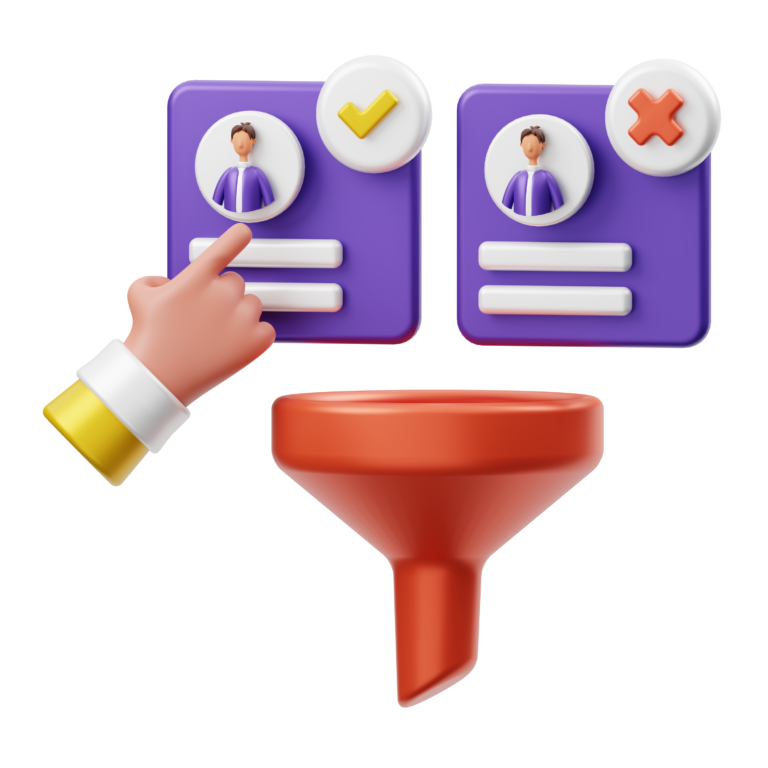 How to write an executive resume to land more interviews?
Show real impact on the business. The fact that I am a senior Chief Financial Officer is unlikely to impress anyone else. Your resume should clearly explain what you do and show why. They want somebody to help them improve by leveraging their expertise and knowledge. They want to know how you will provide them with value. If this is not apparent, it's all just fluff and no one gets the job because of a fluffy resume.
Find out what you can do for them and show them! This could include:
• Steady and significant savings for the company
• Improved cash flow through effective cash forecasting
• Turned around a team to increased profitability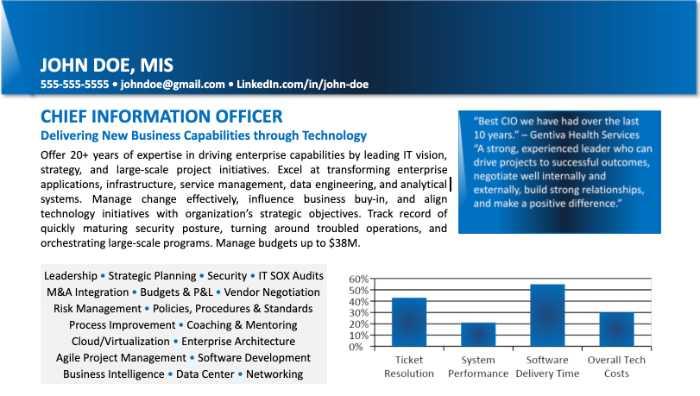 The fact that you have been in the industry as a Chief Executive Officer X years is not going to impress employers at all. Use your experience to show why you are a good fit for the role.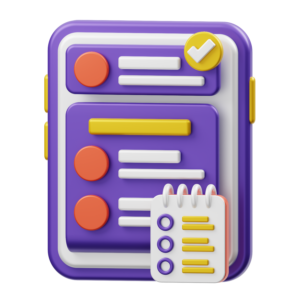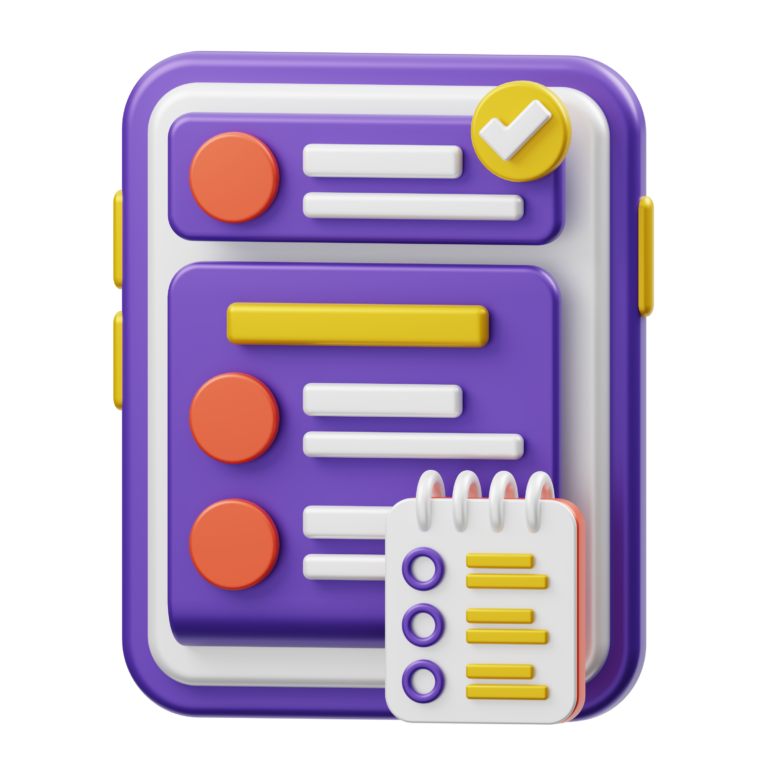 C Level and Executive Resume Examples – What Do I Include?
Chief Operating Officer (COO) – 1 Executive Level Resume Example
Executive Resume Samples
The COO is typically second to the CEO. Rather than being the leader in the corporation in public, he is responsible for internal affairs, such as payroll training, recruitment and legal services. You must be able to understand the business bottom line and communicate business requirements to the other departments. You must be able to manage existing internal activities and projects.
Use keywords found on job descriptions to keep your resume in the forefront when employers are searching for candidates. If your resume is not coming up when they search, you will never get an interview. This is because too many qualified candidates apply to any one position. If you want to remain visible, use keywords that employers would be looking for.
Examples of Keywords: Leadership and Change Management, New Product Development and Public Relations, Recruitment, Selling and Business Development.
Chief Marketing Officer (CMO) – 1 Resume Example
While a Chief Marketing Officer is a senior management position, the position remains largely tied with the sales division of the firm. Although C-suites generally focus solely upon improving profits and market share, they are often most closely connected with revenue. You should therefore focus on the promotion of your business, especially on social media and electronic commerce. You should also ensure that your marketing strategies are in line with the overall goals of the firm.
Use keywords found on job descriptions to keep your resume in the forefront when employers are searching for candidates. If your resume is not coming up when they search, you will never get an interview. This is because too many qualified candidates apply to any one position. If you want to remain visible, use keywords that employers would be looking for.
Examples of Keywords: Brand Management, Leadership and Change Management, Insurance Marketing, New Product Development and Public Relations.
Chief Sales Officer (CSO) – 2 Executive Resume Examples
Chief Information Officer (CIO) – 2 Resume Examples
The chief information officer needs to demonstrate knowledge in business planning, management, finance, and technical skills. Your resume should show executive-level leadership, communication, and management skills, as well as the hard work knowledge of software management. The technology of a business is ever-changing and requires an executive to keep up with the skill sets needed within information technology. This means knowledge in software development, system analysis, systems operation, and management. The primary responsibility of the CIO is to see that relevant technology best supports the company's business objectives.
Examples of Keywords: Application Development, Big Data Analytics, Business Analysis and Systems Design.
Executive Resume Samples Chief Information Officer (CIO) – 1 Resume Example
C-Level and Executive Resume Examples
Executive Resume Samples Chief Executive Officer (CEO) – 2 Resume Examples
C-level skills section: What recruiters really like to see here
All C level executive roles require many abilities. Add 15 years of experience to that and all executives are free to fill out blank pages and list every skill they possess. In other words, the effect of each skill is diminished. And all C level executive candidates need skills that will be needed to perform the job and they should then group them into a larger category.
Assign each skill to an appropriate category, such as customer service skills or project management skills. Then group these categories by the overlying goals so that the resume is easier to read. As a Chief Financial Officer, your job is showing leadership in a positive way. You will ensure company administration functions are efficiently managed which requires strong leadership, communication, and analytical skills. Your resume needs a strong list of hard Chief Financial Officer work skills such as accounting and financial knowledge, change management skills, business development, marketing strategies, and entrepreneurship.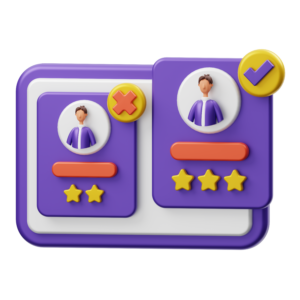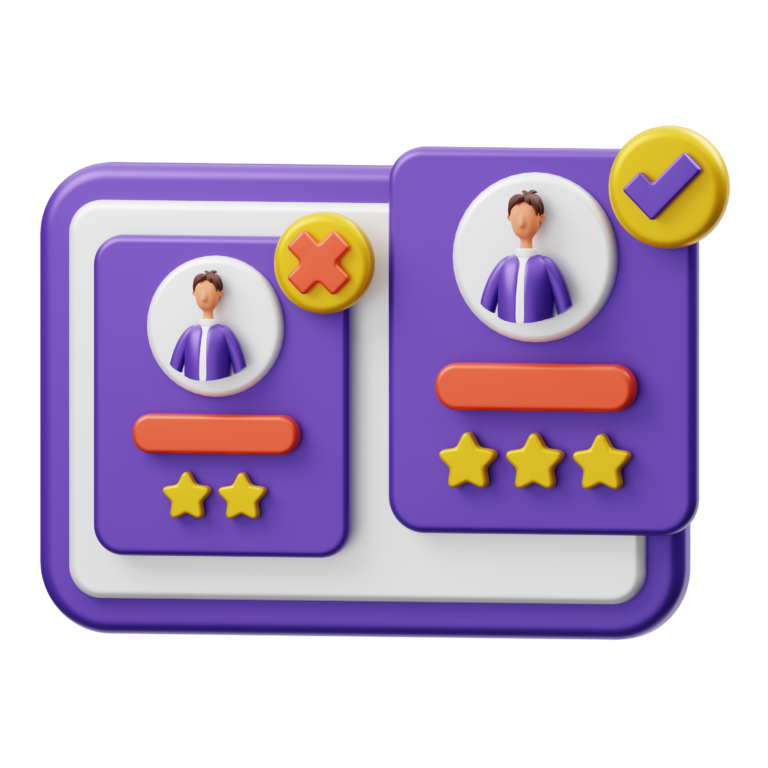 Is it necessary to hire a professional resume writer?
Executive resume writing service under $1000 usually doesn't guarantee a successful rate of interviews. You will need to be careful as many executive resume writers you find online outsource their work. This means that your resume will not be of the highest quality. The cost of the service depends on how professional they are.
You would also need to consider what industry awards have been achieved, and their background in HR and Recruitment, when choosing a resume writer for executive positions.
Here are the main considerations for hiring resume writers:
– How will I work with them?
– Do they offer one-on-one consultations and revisions?
– What guarantee do they offer on their work?
– Do they have executive resume templates and executive resume samples and awards?
Key Takeaway:
Even if you are given free templates for executive job resumes, it is difficult to write content. Can anyone explain their abilities to someone in their own words? It's a simple fact that people cannot truly explain what they do to their friends, family, and children. It is only possible through a good resume writer. A resume is not an autobiography of your career, it is really a snapshot of your career that is targeted towards a particular executive-level position.
What do recruiters want to see in your resume?
Recruiters only have a few seconds to scan an executive resume. They are not interested in reading long-winded descriptions of your work history. Their job is to find the right candidate for the available position, so they need all the information they can get within this short amount of time.
Key Takeaway:
If you want to impress a recruiter, try an executive resume template that has the information they are looking for. Arrange your resume into sections that will help them find what they need to know quickly.
Resume Header: Make sure Recruiters Keep Reading
It seems obvious: there is a lot of executive roles for companies. Chief Technology Officer, Chief Technology Officer, CTO, CSO, etc., and the list continues. There are also lots of other duties which overlap between them. In many cases, a CIO in a company will become CEO/CTO in another firm. Although it is very important to use the same title as the job you applied for in the Header as both CTO and CIO are very similar.
You should not use multiple titles at the same point in your career. It gives the recruiter a mixed signal. You will lose credibility.
Evaluating the impact of a resume header:
– The Header is your first impression on hiring managers and recruiters, so make it count. Make sure you use the same title as the job you applied for in your cover letter and resume header.
– You want to show that this role is an important part of your career path.
– Make sure you include keywords that highlight the main duties of the job role.
– Be aware that it is becoming increasingly common for recruiters to search on LinkedIn, Google, and social media instead of reading through CVs. So make sure you use keywords on your Linkedin profile, as well as add them to your resume.
– The Header should be concise, yet informative. It should highlight your main skills and highlight the impact you have had on previous roles.
– Use bullet points, as this will show all of your qualifications quickly. You can work on your wording later in your CV/Resume.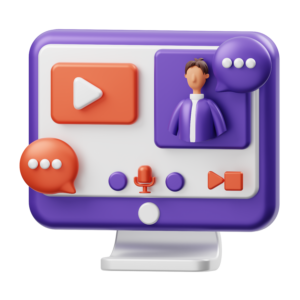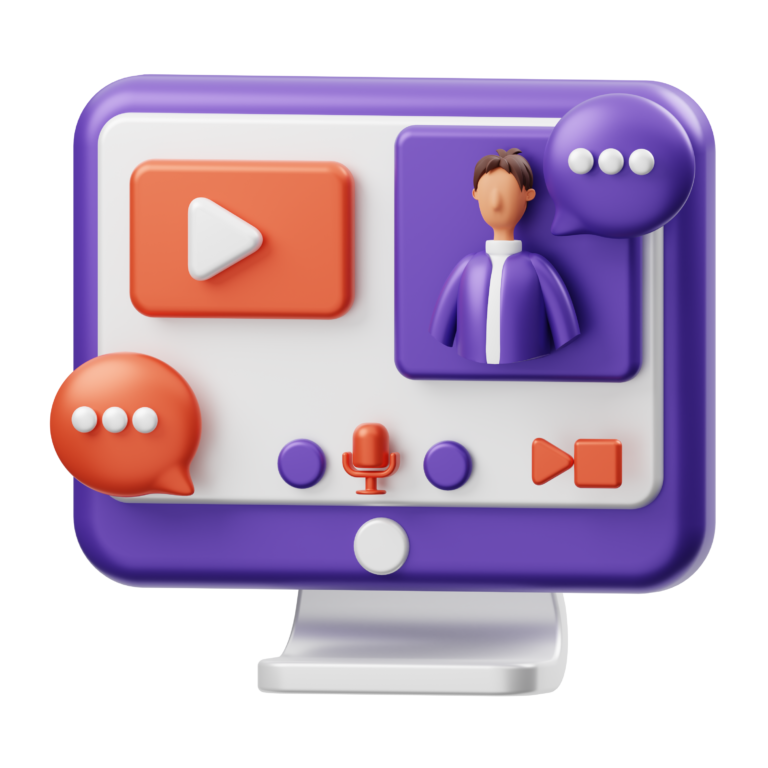 I am available for a free resume consultation. Book now for actionable advice on how to improve your chances at an interview.