So what's the best way to land that perfect job? You might be wondering if you can hire someone to find a job. The answer is – YES. Many professionals have found a solution by hiring someone to find a job for them called "reverse recruiter".
Hiring a reverse recruiter could significantly boost your chances of landing the perfect job. This unique approach is particularly beneficial for individuals seeking highly specialized roles or those in competitive industries.
Difference between recruiter and reverse recruiter
The main difference between a traditional recruiter (often just called a "recruiter") and a reverse recruiter lies in who they represent and how they operate.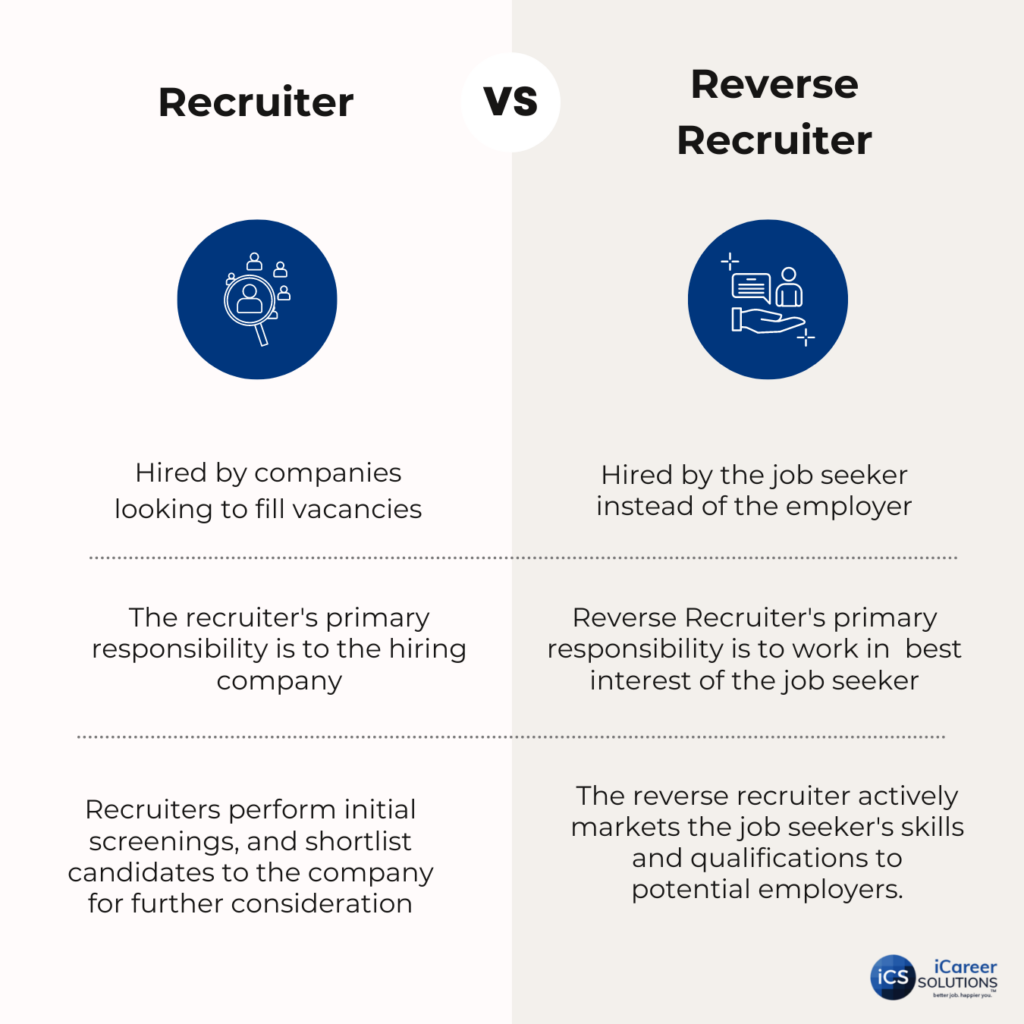 Recruiter:
A traditional recruiter is hired by companies looking to fill vacancies. They seek out potential candidates who match the qualifications and experience required for those roles. The recruiter's primary responsibility is to the hiring company. They sift through resumes, perform initial screenings, and present a shortlist of candidates to the company for further consideration. Recruiters typically have a sales or commission-based relationship with their employer-clients, earning a fee when they successfully place a candidate in a role.
Reverse Recruiter:
A reverse recruiter, on the other hand, is hired by the job seeker instead of the employer. This professional works in the best interest of the job seeker, helping them find roles that align with their skills, career goals, and personal preferences. The reverse recruiter actively markets the job seeker's skills and qualifications to potential employers, essentially playing a role opposite to that of a traditional recruiter.
The reverse recruiter's approach is more tailored and personalized to the job seeker, often helping with aspects like resume refinement, personal branding, interview preparation, and salary negotiation.
In essence, while a traditional recruiter's client is the company trying to fill a position, a reverse recruiter's client is the individual seeking a job.
Why Hiring a Reverse Recruiter is the Best Decision You'll Ever Make
Hiring a reverse recruiter can bring considerable benefits to your job search and career planning. It's an investment in yourself and your future. Here's why:
Customized Job Search:
Reverse recruiters focus on understanding your career goals, skills, and aspirations. They tailor the job search process to your needs, aiming to find the perfect fit for you, rather than attempting to fit you into an existing job opening.
Insider Access:
Reverse recruiters have insider knowledge of the job market and often have access to opportunities not available to the public. They leverage their extensive networks, giving you an edge in the competitive job market.
Expert Representation:
Your reverse recruiter becomes your representative, showcasing your skills and talents to potential employers. They actively market you, which can be beneficial especially if you're uncomfortable with self-promotion.
Time-Saving:
The job search process can be time-consuming and stressful. Reverse recruiters take on this burden, allowing you to focus on other important aspects such as improving your skills or preparing for interviews.
Constructive Feedback and Career Advice:
Reverse recruiters provide valuable feedback on your resume, interview techniques, and overall presentation. They offer professional advice, helping you to better understand your strengths and areas for improvement.
Negotiation Assistance:
Salary and benefits negotiation can be challenging. Reverse recruiters, experienced in this realm, can ensure you receive a fair deal, and can negotiate on your behalf to get the best possible terms.
Long-Term Career Strategy:
Reverse recruiters don't just help you find your next job; they can help plan your long-term career strategy. They provide guidance on career progression, skill enhancement, and personal branding, which can significantly impact your professional growth in the long term.
Selecting the Right Professional
The right reverse recruiter can be a game-changer, but selecting one can be a challenge. Here are a few tips to help you make an informed decision:
Understand Their Expertise: Check if the reverse recruiter has expertise in your industry or the kind of roles you're interested in. You'll want someone who knows the landscape of your field and can effectively communicate your value to potential employers.
Ask About Their Approach: Each reverse recruiter has a unique approach to the job search process. Ask about their methods and make sure they align with your needs and preferences.
Transparent Processes: Ensure they have a transparent process, including clear communication about potential opportunities and updates.
In conclusion, hiring a reverse recruiter can bring considerable benefits to your job search and career planning. It's an investment in yourself and your future. With their unique approach, extensive networks, and insider knowledge, a reverse recruiter could make your job search more efficient, less stressful, and ultimately, more successful. As with any professional service, ensure you do your due diligence to find a reverse recruiter who understands your career goals and can deliver the level of service you require.