Classic Executive Resume Format
This executive resume sample is great for executives, particularly older professionals who have been in the workforce far longer than Millennials. It's best for those with a longer work history and more experience under their belt.
This resume format features a traditional design, placing the candidate's Job Title and Branding Statement at the top of the page before leading into a summary section. This allows you to highlight your professional accomplishments so they can immediately see how you will be able to add value if hired.
Key Features
Focus on what matters: As an executive, your experience speaks for itself. Too much emphasis on design elements can detract from your credibility
Design Features: The top third of your resume is the most important. The use of classic bold headings, bullet points, and abridged language helps recruiters and hiring managers quickly skim your resume for key information.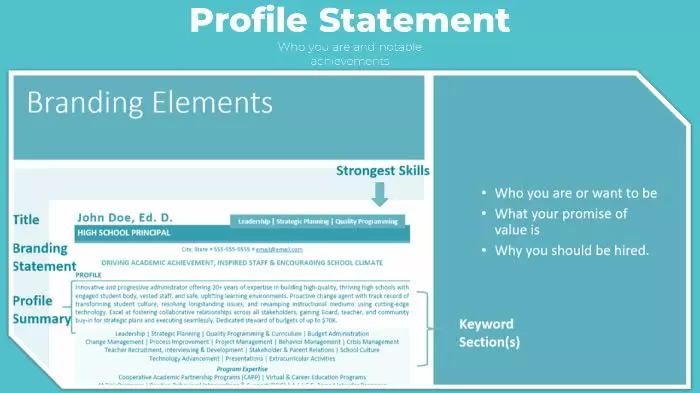 Looking for an executive resume sample?
See also How to Format a Resume for more tips, and our samples of cover letters.
Minimalist Executive Resume Format
The best executive resume design for today's competitive job market is one that doesn't look like it's from 2017.
Key Features
Minimalist design and clean fonts help jobseekers' key information stand out to a hiring manager—and quickly! This means you can convey the most important aspects of yourself in a short amount of time.
Focus on what matters: This is a more interactive approach for employers who enjoy visual content and professionals who want to add their own touch. The minimal design helps recruiters find relevant information quickly.
Design features: You may want to include an infographic or callout boxes to highlight your achievements. This helps turn your resume into more than just words on paper and can help you stand out from other candidates. The job title is prominent followed by key competencies.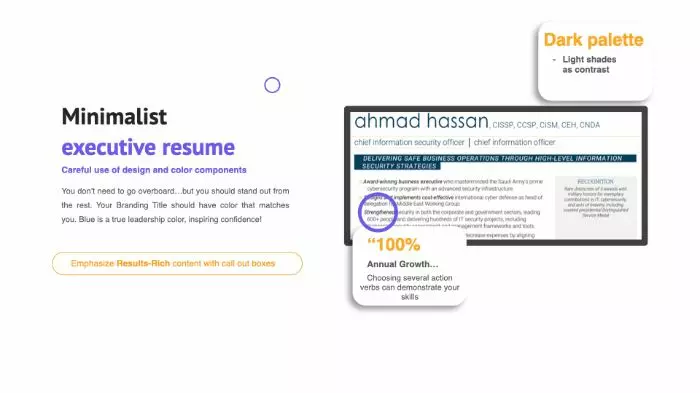 Looking for an executive resume sample?
Check out our award-winning executive resume samples:
Department Head Executive Resume Samples
Refined Executive Resume Format
Industry leaders and job seekers alike often opt for the Refined resume sample. A hiring manager could quickly skim to find achievements such as revenue growth or business development keywords.
This resume format is best for executives with a substantial professional track record to show off. It's best used by those who have been in the workforce for several years and want to highlight their extensive experience, skills, and achievements.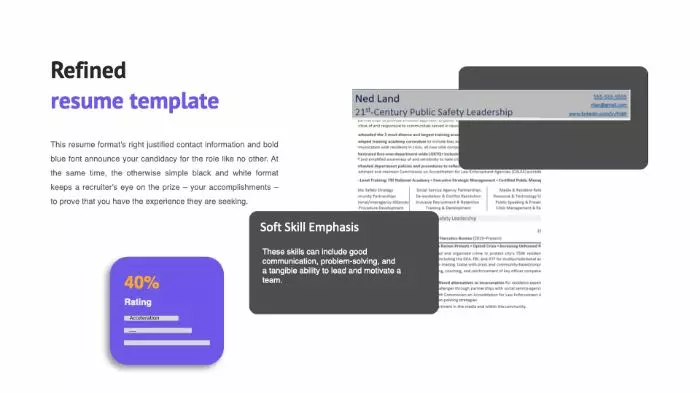 Key Features
Focus on what matters: Large sections of text, easy-to-read fonts, clear headings and simple language help a hiring manager find the key information in your resume quickly.
Design features: Simple font choices like sans serifs make this resume format clean. This resume format is perfect for executives who want to maintain a polished and refined appearance.
Looking for an executive resume sample?
Check out our Chief of Police resume sample here.
And our Executive Director resume sample here.
Modern Executive Resume Format
Your personal brand statement (job title plus top-branded core competencies) should directly follow your name, and it should also appear centered on the page. When writing your personal brand statement, remember that this portion should be a short blurb that characterizes who you are as a professional and it should tell your future employer what they can expect from you in the workplace. Sometimes a personal brand statement is funny, catchy or clever, but it should always be authentic to who you are. Your header section should also include your basic contact information.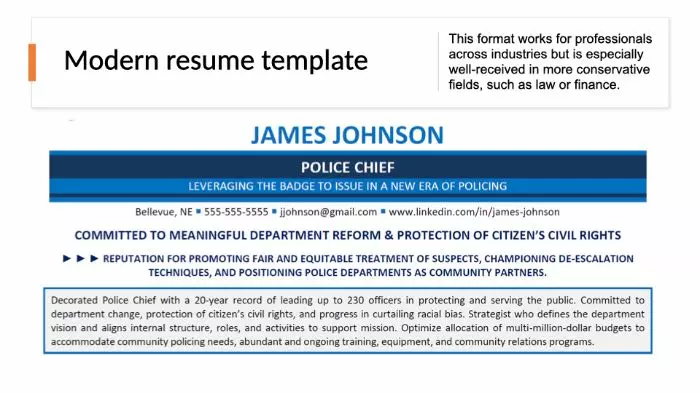 Key Features
Focus on what matters: This resume template is best for professionals who across industries but is especially well-received in more conservative fields, such as law or finance. Strong lines lead the reader down and across the template so that no section is missed.
Design features: A modern resume template is defined by exciting colors and a strong emphasis on the top of the resume. These templates offer ample space for a personalized profile summary and clever resume formatting to include all your most relevant skills.
Looking for an executive resume sample?
Our Vice President of IT won the Career Professionals top resume award in 2020.
Vice President of IT Resume Sample
See also our Chief Executive Officer sample resume, and our Chief Information Officer sample resume.
Chief Executive Officer – Executive Resume
Chief Information Officer – Executive Resume
Storytelling Resume Format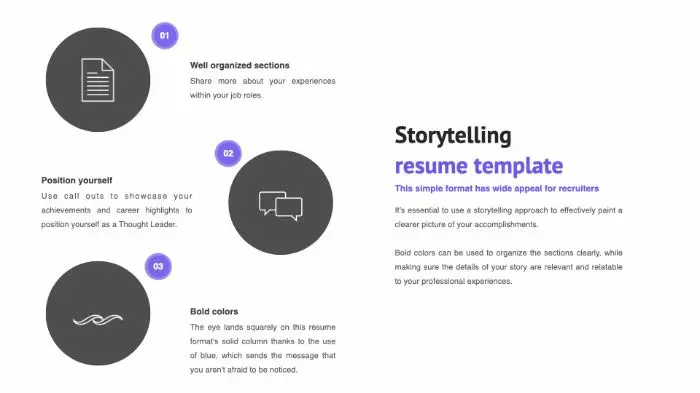 Key Features
The first step in crafting a resume using a storytelling or narrative format for an executive position is to create an eye-catching headline. Your headline and header section should act similarly to the cover of a book. Your name should appear with your Branding Title, and in large font, at the top of the section. This lead-in showcases why you are the best candidate for the job! Your top keywords should come directly from the job description. Include your key accomplishments!
Focus on what matters: More and more executives are looking for Board and C-Level positions. Use a storytelling resume format to highlight your abilities and passion! Craft your personal brand based on your unique career trajectory.
Design features: Use an eye-catching headline. Choose impressive header images that align with your core values such as teamwork, strategy and business growth. Most resumes fail to impress hiring managers because there is no key takeaway! Weave in metrics to demonstrate quantifiable achievements and use call-out boxes to draw attention to significant results.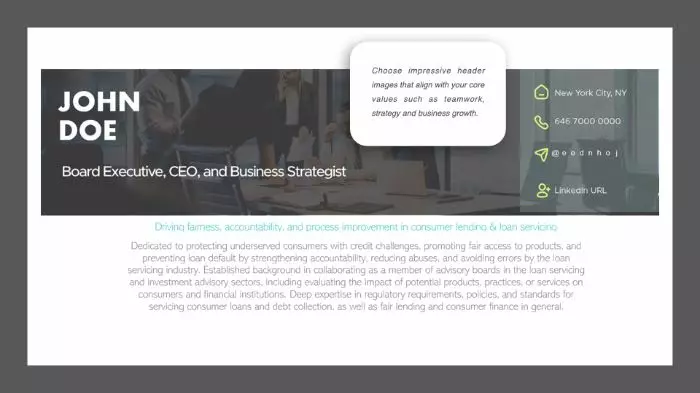 Examining executive resume templates is a good way to start to think about how your brand fits a specific executive position. For more executive resume templates, check out our Executive Resume Samples page.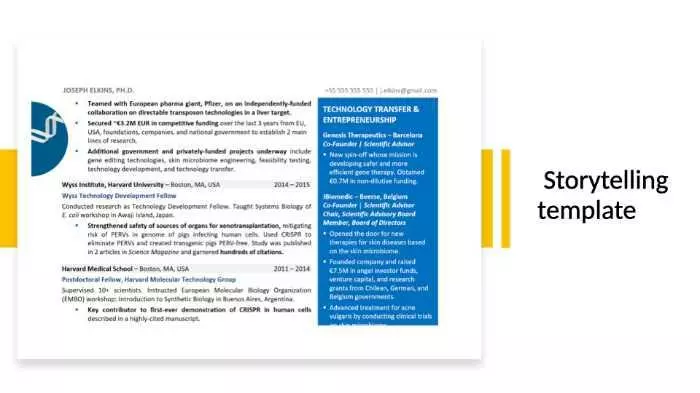 Looking for an executive resume sample?
See also our Chief Information Officer resume sample.
What is a Resume Format?
A resume format is a way of organizing the information on your resume. There are many different formats that you can use, but some are more popular than others. The best resume format to use depends on your career field, how much experience you have, and your personal preferences. A resume is a marketing document that presents your best qualities to potential employers. Most resume formats are organized into the same basic sections, but there can be some variation in what information should go where and how much weight you give each section.
A resume format is the layout or style in which your resume is organized. There are a variety of formats that you can choose from, including chronological, functional, and hybrid.
Each executive resume template has its own set of advantages and disadvantages, so it's important to choose the best executive resume template for your unique career situation.
List your core skills near the top, in an easy-to-read format
Have you noticed some themes? Even in the highest-ranked roles, like Chief Financial Officer or Commercial Officer, hiring managers usually scan a resume to find the details. If you want your executive resume to fit the immediate context, it is essential that you list your core skills in the best possible way in a readable format. A good selection of skills should also correlate to the job you want. Check this job description and tailor your resume accordingly.
Include a section on selected achievements at the top of your executive resume
If you work at a higher level, you probably have an impressive list in mind. In the "Selected Achievements," sometimes referred to as the "Career Highlights" section, the reader may easily read performance highlights. Although it is not mandatory, this section can give recruiters a good opportunity to showcase how you add value to the companies you've worked for. Showcasing your best qualities on your executive resume is key, especially if you are moving into a higher role. This section of the resume can be used to highlight some of your best accomplishments at each position you held.
Showcase your credentials at the top of your resume
This is a simple change that will make everyone's resume look more attractive no matter how long you have been on the job. It is the initial place where recruiters are looking so ensure their presence will not be missed.
Tips for writing an effective executive resume
Show me the number on your resume. Show career achievements from your previous job and use figures to put your perspective in perspective. List the most recent job you had to list in order to demonstrate how you have developed in the business.
What is an executive resume template?
The templates are aimed at people who work in administrative roles as well as for executive jobs. They provide the job seeker with an initial base to create a resume for a future position. Template resumes serve as a framework for applicants for jobs. This tool is a good tool for speeding resume writing.
What you need to know about selecting an effective executive resume template
There are many types of resume templates online; even for CEOs, there seems to be an increase in creative formats. This format often includes two columns of designs, substantial usage of colour, nonstandard section and layout and fancy fonts and charts for identifying the skill level. This stylish and sophisticated design is said to be eye-pleasing. However, use creative layouts judiciously when applying for senior roles.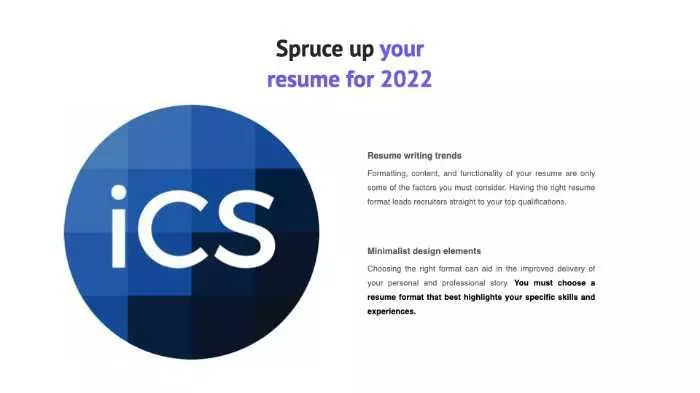 What is the best format for an executive resume?
That concludes our top picks for the best executive resume templates to use this year. We recommend choosing the executive resume template that best represents you as an individual, and remember to design your layout around the needs of recruiters and hiring managers (use the job description).
The best executive resume template in 2022 will be one that best represents you as an individual and is easy for recruiters to read.
A chronological, functional or hybrid format may best represent your experience; however, the best executive resume template I recommend is the classic executive resume template because it's simple enough not to detract from your credibility but still allows for a touch of personality.
Choose the best executive resume template for you, and be sure to focus on what matters most: your skills and accomplishments.
Resumes don't get you the job.

They are designed to get you interviews.

Keep up with the best executive resume templates by following our blog! We'll continue to update this post as new trends emerge.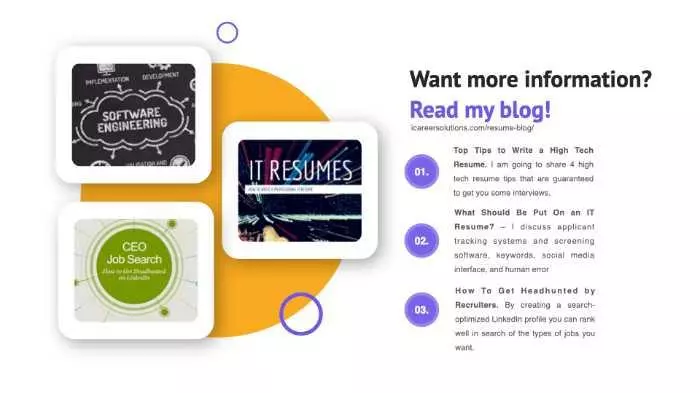 Looking for more a specific executive resume sample? We have over 50 resume templates on our website. Click here to check our resume templates!
See also How to Beat Applicant Tracking Systems for tips to format your resume for screening software.