In 2023, learning how to optimize LinkedIn profile is more crucial than ever to stand out and make a lasting impression. In this comprehensive guide, we'll walk you through 15 essential steps to elevate your LinkedIn presence, enhance your personal brand, and unlock new professional opportunities. Are you ready to transform your profile into a powerful networking tool? Let's get started!
In the following article, we embark on a journey into the heart of this transformation—from the intricacies of the specialist-to-strategist shift to the refinement of essential skills and the navigation of common challenges.
Key Takeaways
Optimize your LinkedIn profile by crafting a winning picture, designing an engaging background image and creating a compelling headline.
Showcase relevant skills and expertise while highlighting services/offerings & building credibility through endorsements.
Leverage thought leadership with publications, engage with content on the feed & use Creator Mode for increased visibility.
Want to save time?
Let us help you land your next executive position by crafting the best resume/LinkedIn profile or by managing your entire job search. Here's more information about our Executive Resume Writing Services and Reverse Recruitment Service. Book a call today to speak directly with our CEO and Founder, Arno Markus!
Industry Stats: According to the U.S. Bureau of Labor Statistics (BLS), the employment of top executives is projected to grow 6% from 2021 to 2031, which is about as fast as the average for all occupations.
1. Crafting a Winning Profile Picture and Background Image
A professional, high-quality profile picture is the cornerstone of your LinkedIn presence. Here are some guidelines to follow:
Your profile photo should be current and resemble you.

Your face should occupy approximately 60% of the frame.

Dress appropriately for your industry.

Smile warmly with your eyes.
The recommended size for a LinkedIn profile picture is 400 x 400 pixels, in JPG or PNG format, and the file size should not exceed 8 MB.
Why is a great profile picture so important? Statistics show that LinkedIn members with a photo receive 21 times more profile views and 9 times more connection requests than those without. Thus, investing in a professional-looking headshot can create a powerful first impression, increase engagement, and set the tone for your personal brand.
Your LinkedIn background image is another opportunity to capture attention and make your profile memorable. A visually appealing background image should complement your profile picture and showcase your interests or industry. The recommended dimensions for a LinkedIn background image are 1584 pixels wide and 386 pixels high.
Designing a professional background image has never been easier, thanks to user-friendly tools like Fotor's LinkedIn banner maker, Canva's LinkedIn banner templates, and the online editor EDIT.org. Experiment with different designs, colors, and images to create a unique background that reflects your personal brand and sets you apart from the competition.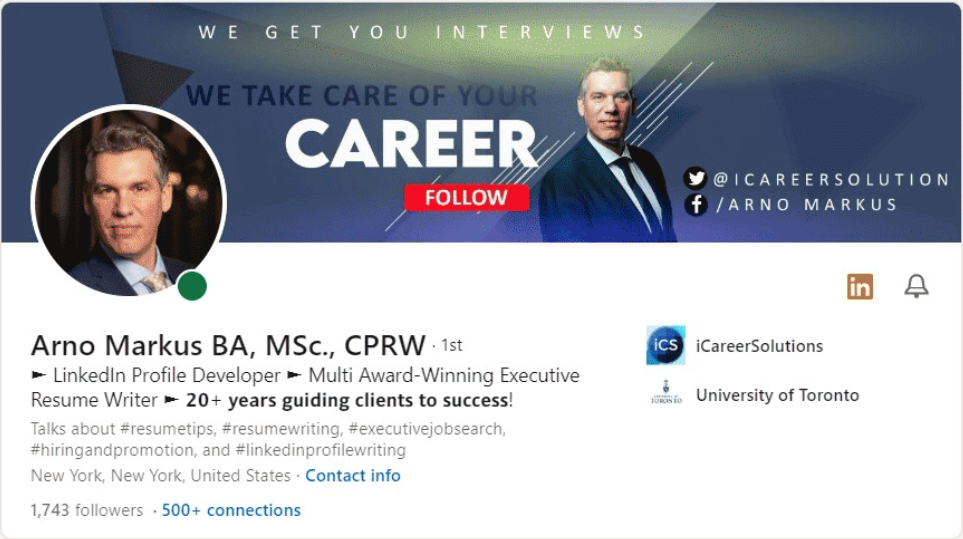 2. Creating a Compelling Headline
A well-crafted LinkedIn headline can effectively underscore your unique value proposition and expertise, differentiate you from competitors, and pique the interest of potential contacts and employers. Incorporating relevant keywords in your headline can optimize your profile ranking, boost visibility, and attract job prospects.
When crafting your headline, consider these key elements:
Keywords: Align your profile with the data your target audience is seeking.

Achievements and Value: Make your headline stand out by displaying your unique skills and accomplishments.

Personalization: Connect with others on a deeper level by sharing something special about yourself.

Elevator Pitch: Summarize your expertise and what makes you different from others in your industry.

Relevance: Ensure your headline is pertinent to your professional goals and aspirations.
3. Telling Your Story Through the Summary
Your LinkedIn summary is a platform where you can effectively narrate your story and emphasize your abilities. To make the most of this section, keep your summary under 2,000 characters and use a first-person narrative to make it more personal and approachable.
Share your professional journey, accomplishments, and goals in a narrative format, allowing your connections to understand your career trajectory and aspirations. Use this section to showcase your unique value proposition, provide context to your experience, and demonstrate your passion for your industry.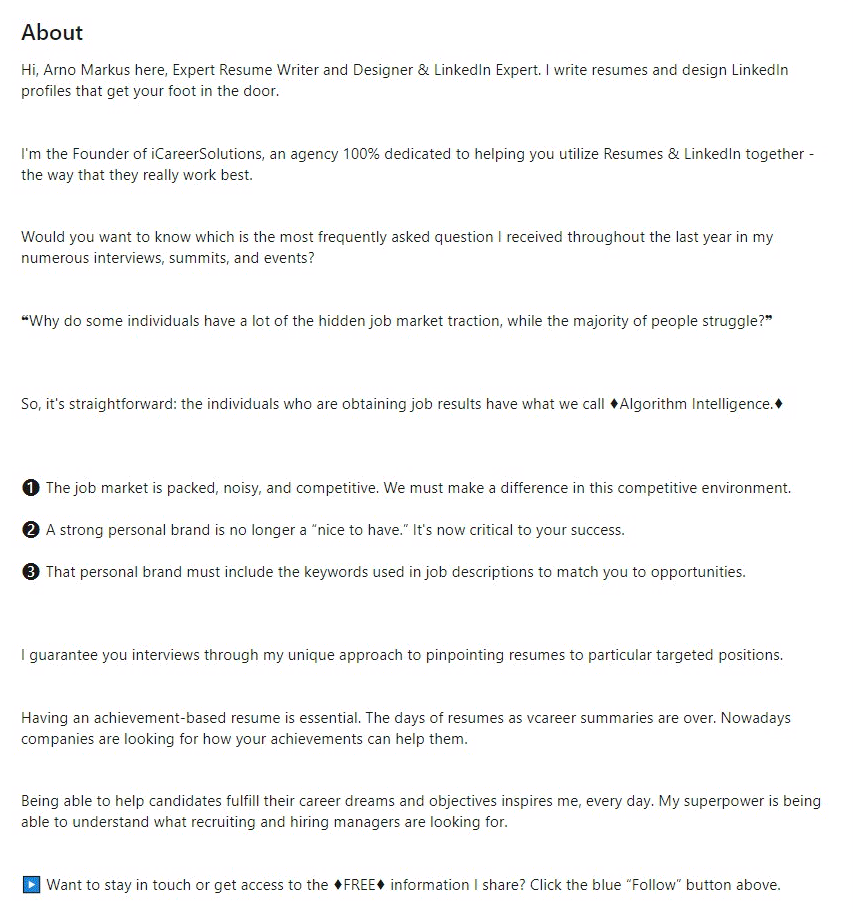 4. Avoiding Overused Buzzwords
LinkedIn buzzwords are frequently used adjectives that have become devoid of meaning. Some common buzzwords include:
"expert"

"innovative"

"passionate"

"creative"
Using these buzzwords can make your profile indistinguishable from others and fail to make an impression.
Instead, focus on providing specific, quantifiable accomplishments that are unique to your experience. For example, instead of stating "excellent communication skills," you could share an accomplishment like "guided a successful team presentation that led to a 20% rise in client satisfaction." This approach demonstrates your capabilities in a tangible way and provides evidence of your accomplishments.
5. Expanding Your Network Strategically
Strategically expanding your network is a crucial strategy for optimizing your LinkedIn profile. To build connections, search for relevant professionals in your industry or field using keywords, join LinkedIn groups, and attend industry events. Engage with others on the platform by liking, commenting, and sharing posts.
When sending connection requests, customize them by explaining why you would like to connect and how you can offer value to their network. After connecting, follow up with a personalized message or email to foster a professional relationship and maintain a strong connection.
6. Showcasing Relevant Skills and Expertise
Enumerating your significant skills and expertise on your profile not only affirms your headline and summary, but also invites others to endorse you. To identify the applicable skills and expertise for your industry, research trends, analyze LinkedIn profiles, and consider your own strengths. You can include up to 50 skills on your LinkedIn profile.
Keep your skills list up-to-date, prioritizing the most relevant and in-demand skills for your industry. Regularly evaluate your skills section to ensure it aligns with your current professional goals and showcases your expertise effectively.

7. Highlighting Your Services and Offerings
Featuring your services and offerings on your profile makes it easy for potential clients to find and hire you. To define your unique services, clearly communicate how they differ from other offerings in your industry and the value you can provide.
Showcase the impact of your projects through storytelling, using visuals like photos, videos, or infographics to demonstrate the outcomes of your work. In addition, customer testimonials can emphasize the success of your projects, further establishing your credibility and enticing potential clients.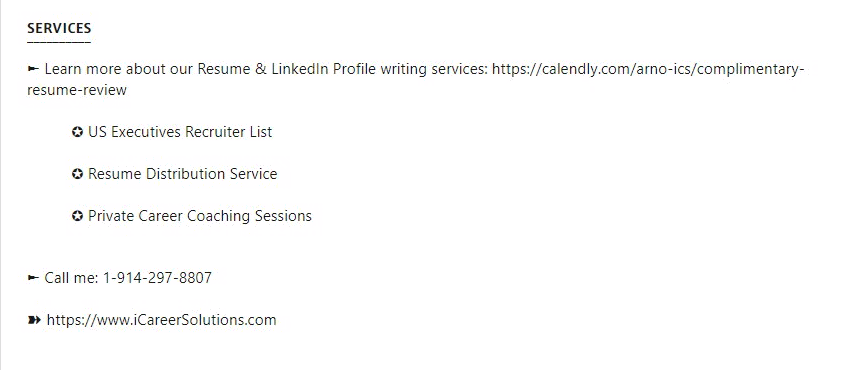 8. Building Credibility Through Endorsements
On LinkedIn, endorsements are validations of your skills and credibility, provided as recommendations by other members. To make the most of endorsements, express appreciation, request endorsements, offer endorsements, highlight key skills, and leverage recommendations.
When requesting endorsements, maintain politeness and respect, personalize your request, and express gratitude. Be proactive in endorsing others, and you may find that they'll return the favor, further boosting your credibility and enhancing your profile.
9. Proactively Managing Recommendations
Recommendations on LinkedIn serve as comprehensive references, affirming your experience and work ethic. Actively managing your recommendations can help establish your credibility and demonstrate your expertise to potential employers or clients.
To request recommendations, consider who would be the most appropriate person to provide such a reference and tailor your request accordingly. Use the Recommendations section of your profile to easily request recommendations from specific contacts. Keep your recommendations up-to-date, updating them at least once every three months.
10. Displaying Your Commitment to Learning
Showcasing your commitment to learning on your LinkedIn profile signals to employers and connections that you're dedicated to growth and development. Share your learning journey by adding course certificates, sharing what you've learned, and engaging with relevant content.
Courses such as Goal Setting: Objectives and Key Results (OKRs), and Project Management Foundations are highly sought after and can help demonstrate your proficiency in various industries. Displaying your commitment to learning can make your profile more attractive and help you stand out from the competition.
11. Sharing Media and Marketing Materials
Disseminating media and marketing materials on LinkedIn can paint a holistic picture of your profile, exhibit your passion and dedication, and offer an insight into your company's values and achievements. To successfully share media and marketing materials, you should:
Post content regularly

Incorporate rich media

Create original content

Adjust your publishing frequency
Experiment with different types of content, such as blog posts, articles, and guides, to provide valuable and in-depth information to your connections. Sharing media and marketing materials not only enhances your profile but also fosters engagement and strengthens your personal brand.
12. Establishing Thought Leadership Through Publications
LinkedIn's Publications section allows you to associate your profile with your existing thought-leadership content, which may include eBooks, white papers, and blog posts. Publishing quality content can help establish your reputation as an industry leader, build credibility, and garner recognition within your professional network.
To effectively use the Publications section, follow these steps:
Select article topics that align with your field of expertise and appeal to your target audience.

Offer valuable insights that readers can't find elsewhere.

Engage with content from other industry thought leaders. By following these steps, you can strengthen your personal brand and position yourself as a trusted authority in your field.
13. Engaging with Content on Your Feed
Maintaining an active presence on your LinkedIn feed is fundamental to fostering relationships and contributing value to your network. Here are some tips to help you do that:
Share relevant content

Engage with posts

Provide valuable insights to your connections

Monitor your feed and share content that aligns with your perspective
By following these tips, you can effectively engage with your LinkedIn network and build meaningful connections.
Adding comments to your shares can increase your visibility in the feed, demonstrate your opinion and thought-leadership, and attract additional comments that can elevate your profile on the platform. Consistently engaging with your feed helps you stay connected and informed in your industry, ultimately boosting your profile's appeal and reach.
14. Following Industry Influencers and Participating in Discussions
Keeping tabs on industry influencers can serve to keep you abreast of trends, enable your participation in discussions, and exhibit your enthusiasm for your field. Prominent industry influencers in the digital marketing domain, for example, include Neil Patel, Brian Dean, and Gary Vaynerchuk.
Engaging in LinkedIn conversations can offer multiple benefits, such as networking, knowledge exchange, credibility boost, increased visibility, and personal branding. Share relevant content with your network, participate in popular posts, and ask thought-provoking questions to generate discussions and increase your visibility on the platform.
15. Leveraging Creator Mode for Increased Visibility
LinkedIn's Creator Mode offers the following benefits:
Boosts your profile's visibility in search results

Facilitates a more personalized greeting for potential followers

Grants access to additional tools and features for content creation and audience expansion.
To enable Creator Mode, navigate to your LinkedIn profile and select "Creator mode: Off" under "Your Dashboard". Once activated, you'll gain access to features like LinkedIn Live, Audio Events, and the ability to share topics (hashtags) and stream live on LinkedIn from your profile.
Optimizing your LinkedIn profile is a crucial step toward enhancing your personal brand, increasing visibility, and unlocking new professional opportunities. By following these 15 essential steps, you'll transform your LinkedIn presence into a powerful networking tool that reflects your passion, expertise, and commitment to growth. Now, more than ever, is the time to make your profile stand out and leave a lasting impression.
Frequently Asked Questions
Employers who have Onboarded Our Clients