How do you write a cover letter if you don't know the hiring manager?
If you absolutely cannot find out to whom your cover letter should be addressed, you may use the classic "To Whom It May Concern" as a last resort. Although it's not ideal, it's still better than sending a note with no greeting—or worse, addressing it to the wrong person (which could happen if you blindly guessed the name of the hiring manager).
This is probably the most common—and therefore, least effective—way to address a cover letter. "To Whom It May Concern" tells the employer absolutely nothing about why you're writing or what you have to offer. It's best to take the extra time to research who you're writing to so that you can offer a more personalized greeting.
When in doubt, don't hesitate to reach out to the company directly and ask for the name of the person overseeing your desired position. A little extra effort could go a long way in getting your application noticed.
What is the correct way to write to whom it may concern?
Here's a tip: Always format "To Whom It May Concern" with a capital letter at the beginning of each word. Follow it with a colon.
You should still try to research the name of the person who will be reading your letter if at all possible
It's always acceptable to use "Dear Recruitment Manager" in your cover letter, but if you want to be more specific, you could address it to the specific manager of the department you're applying for a job with. You could also just address it to the department in general, like this: Dear Finance Department.
Dear/Hello [Name of Person Who'd Be Your Boss]
The best thing you can do for yourself when it comes to addressing your cover letter is to figure out who the person filling the open role would report to, which is generally your potential future boss.
It's not just challenging; it may be simple at times: I was told that my new position would report to the editor-in-chief, for example, in the job description. I went to the company's LinkedIn page, found the editor in chief, and composed my letter to her. However, it may not always be as apparent. Check out the company's social media profiles and see who you know there to find out who it is.
Try to figure out how formal the company culture is while conducting your research:
Whether to begin with "Dear" or "Hello" (or maybe neither—you may also use their name)
Is it appropriate to use titles, such as Mr., Ms., Dr., Prof. , etc?
Whether it is appropriate to use a full name or just a first name
If unsure, go formal. Make sure you don't mistake someone's gender with the incorrect honorific (if you can't confirm it 100%, drop any gendered language and just use the name).
Even if you don't have the name of your potential employer, ask yourself the same questions about formality and tone whether you pick one of the alternatives below or not.
How do you address cover letters when you don't know who to address it to?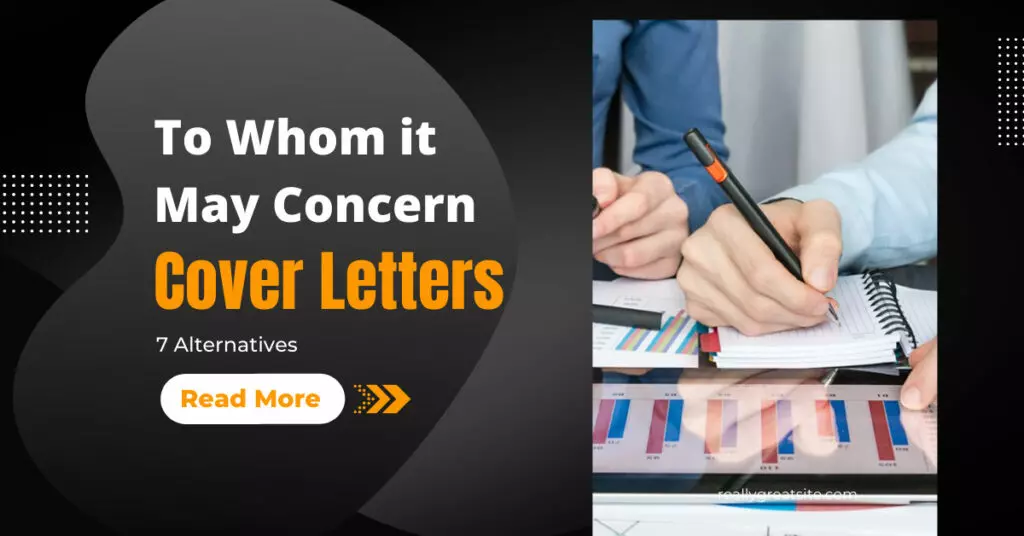 1. Dear [Name of the Head of the Department for Which You're Applying]
Don't worry if you've tried your best to figure out who your employer would be and have come up empty-handed. It's not always feasible to discover that information at this point in the process.
You may also address your cover letter to a certain individual if you simply select the department head for the position it is applying for. Yes, it may be your prospective supervisor's boss or superior, but you'd still be reporting to them up the chain in some way. It also shows that you took the time to consider what part of the firm you'd be joining and how you would fit in, demonstrating initiative.
2. Dear [Name of Department for Which You're Applying]
If you can't discover the name of a department head, you may address your cover letter to the team or department instead. For example, you might write "Dear Finance Department" or "Hello Product Team."
3. Dear [Name of Recruiter]
But there's one more way to reach out to upper management, and it doesn't require you to know the name of the person in charge: writing a note to their recruiter or talent acquisition specialist (or head of recruiting). After all, they'll most likely be the first ones to read it and decide whether you should advance to the next stage.
4. Dear [Whatever This Company Calls Their Recruiting Team or Department]
But if you can't come up with a name, you may still address the team—just look up what this firm calls it in order to get something like "Dear Recruiting Department" or "Dear Talent Acquisition Team."
You could also put the company's name in there and make it "Dear Ivy Talent Acquisition Team," so you'll give a personalized first impression.
5. Dear Recruiter/Hiring Manager
Another alternative is to more generally address your letter to the recruiter or hiring manager by utilizing those titles, such as "Dear Recruiter."
This is a good option if you truly can't discover any specific information about who will be reading your cover letter.
6. Dear [Role for Which You're Applying] Search Committee/Hiring Manager/Hiring Team
Can I write Dear hiring manager on a cover letter?
Addressing a cover letter to the hiring manager is appropriate in most situations. It's always better to include a generic greeting, like "Dear Hiring Manager," if you don't know the name of the hiring manager. It's also preferable to use if you're not sure of the accuracy of the hiring manager's information. If the hiring manager's name is nowhere to be found and the company is unwilling to give you his or her name, you should use 'Dear Hiring Team' in your cover letter salutation. By addressing your cover letter to the hiring team, you increase your chances of getting it in front of the right pair of eyes. even then, you might want to be a little more specific by incorporating the role you're applying for into the salutation. For example, you might say "Dear Account Executive Search Committee."
At the absolute least, you're demonstrating that you know what position you're applying for and have done some degree of tailoring to your application than a "Dear Recruiter" would immediately reveal.
7. Dear Madam or Sir
This is the most formal way of addressing a cover letter without knowing the name of your potential employer. You might use this salutation if you're applying to a very large company, such as a bank, through an online job board that doesn't include contact information for specific people at the company.
The most common ways to address a cover letter when you don't know the name of the hiring manager include:
Dear Hiring Manager.
Dear Sir/Madam.
Dear Human Resources Director.
To Whom It May Concern.
Dear [company name] Recruiter.
What Makes Our Service Different?
Highly Qualified Team: Our writers are certified professionals with years of experience in HR and career coaching.
Fast Turnaround: In a rush? No worries. We offer express services to meet your deadlines.
Ready to Make a Lasting Impression?
Stop settling for the ordinary and embrace the extraordinary with our specialized "To Whom It May Concern" writing services. We are committed to turning your generic introductions into attention-grabbing opportunities.
Conclusion
Don't worry, you're not alone! A lot of people find themselves in the same boat when it comes to addressing cover letters. The best way to go about it is by doing a little detective work. You can start by looking at the company's website or LinkedIn page to see if they've listed any of their employees' names. If all else fails, you can always call the company and ask who the appropriate person would be to send your resume to. Once you have that information, be sure to personalize your documents by addressing them directly to the hiring manager. It'll show that you've put in extra effort and that you're genuinely interested.
In today's digital age, there are plenty of ways to get in touch with potential employers, so don't let this obstacle stop you from applying for your dream job. Ready to take your job search one step further? Book a complimentary consultation with our team today!
Frequently Asked Questions