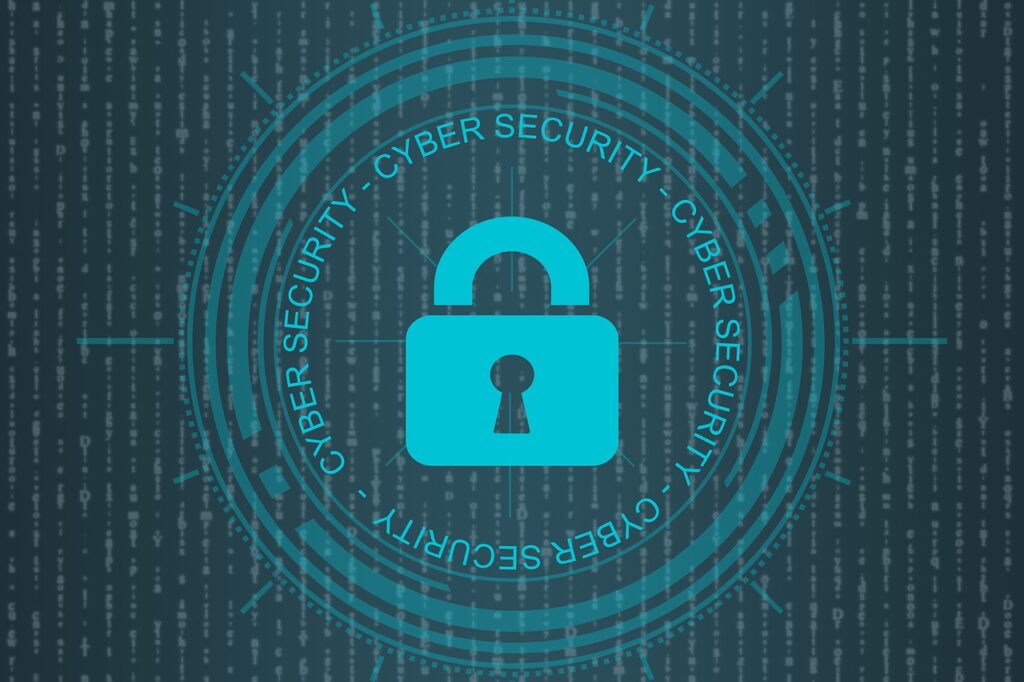 IT jobs are among the most lucrative job positions. They pay anywhere from $60,000 to $200,000 a year. Cybersecurity is the fastest growing.
The average tech salary is up 6.9% between 2020 and 2021, exceeding six figures at $104,566 – the highest salary ever recorded by the Dice Salary Report
Cybersecurity is a great career to enter right now, as there is a high demand for professionals with these skills. The U.S. Bureau of Labor Statistics estimates that the employment of information security analysts will grow 31 percent from 2019 to 2029.
Cyber security professionals are certainly becoming increasingly important in 2022.
The news has been littered with headlines of major security breaches at companies both large and small with the associated damage measured in dollars. Cyber security professionals are in demand and will be for the foreseeable future
As with most careers at Tech, being a security professional requires more professional skill sets than education. However, certification in industry fields can often be useful if not more important. Cyber security professionals begin their careers by focusing on cyber security software development or system administrators. Even those working in cybersecurity are finding that industry certification helps them get coveted jobs at top levels.
 How to Write Cybersecurity Resumes
While I don't hold any computer-related certifications or degrees myself, I do speak with C-level executives in cybersecurity and recruiters on a regular basis and frequently ask them for their impressions of today's cybersecurity job candidates.
Many candidates, according to C-suite executives, simply lack hands-on expertise with the more practical concerns of running, maintaining, and defending their businesses' information systems.
A recent survey to suss out which skills companies find most useful in job candidates, and which are most frequently lacking showed some interesting trends.
The survey asked respondents to rank various skills from "critical" to "not needed."
Fully 85 percent ranked networking as a critical or "very important" skill, followed by a mastery of the Linux operating system (77 percent), Windows (73 percent), common exploitation techniques (73 percent), computer architectures and virtualization (67 percent) and data and cryptography (58 percent).
Perhaps surprisingly, only 39 percent ranked programming as a critical or very important skill.
What's the Best Format for a Cyber Security Resume?
Here's how to organize a cyber security analyst resume:
Start at the top with a compelling IT security Branding Title and summary statement.
Highlight achievements in your past experience, including relevant cyber security duties.
Write an education section with relevant IT and cyber security coursework.
Add your cyber cryptography and criminology skills.
Any cyber qualifications, clearances, or other components that may distinguish you from your competition.
Cyber Security Resume Samples: Resume Summary
Pro Tip: On any cybersecurity specialist resume, the Branding Title and Career Summary goes at the top. However, it doesn't mean you have to write it first! Save it for the end so you have the rest of your resume to help inform the writing of your heading statement.
Working as an information security analyst for the last three years, I've implemented firewalls, managed access control, quarantined infected machines, and reported security breaches.
Compare this example to the one below:
Strategic and performance-driven professional steering organizational effectiveness by creating security awareness, establishing and launching security requirements, mitigating potential risk, and ensuring outstanding customer service. Design robust processes and streamline operations. Collaborate cross-functionally to achieve daily business objectives.
In the wrong example, you give examples of some duties, but they have no idea how well you fulfilled them. It's not describing your duties that will distinguish you from other candidates, it's your results and achievements in fulfilling these day-to-day tasks.
-The right example gives a winning accomplishment with numbers to back it up—
The duties-based description is as weak as a 4-digit password, while the second achievement-based summary is as secure as quantum encryption.
Include your name, position, contact info, branding title at the top of your summary section. Here is an example of how to do it effectively: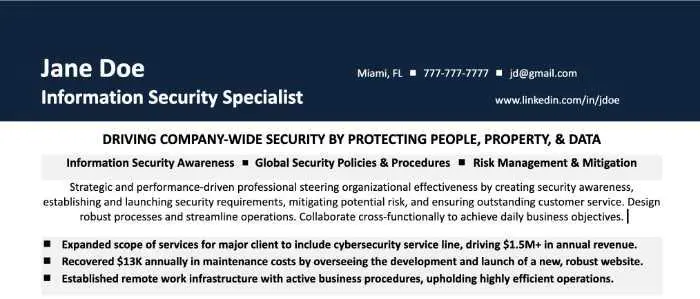 Your branding statement should sum up your value proposition, encapsulate your reputation, showcase what sets you apart from others, and describe the added value you bring to a situation.
No experience?
No problem!
Use a resume summary objective when you don't have paid cyber security experience.
The summary objective uses relevant experience, skills, and achievements to beef it up.
Here is cyber security analyst resume sample objectives for entry level cyber security resume:
Entry-Level Cyber Security Resume Samples: Resume Objective
I'm a recent college graduate, and my background with cyber security is limited. However, I am a quick learner, so I believe I could make an excellent addition regardless.
Computer science student with years of classroom hours in cloud security, automation, and digital forensics under my belt. Seeking to use my newly-obtained top-secret security clearance and 4.0 GPA to become the next network engineer at Astoria Tech.
Skills For Cyber Security Resumes

CSA Domains
Malware Analysis
Communication Skills
App & Interface Security
Risk Analysis
Attention to Detail
Audit Assurance & Compliance
Python Scripting
Problem Solving
Business Continuity Mgmt & Operational Resilience
Intrusion Detection
Collaboration & Teamwork
Change Control & Configuration
Data Analytics
Time Management
Data Security & Information Lifecycle Mgmt
Programming
Creative Thinking
Datacenter Security
Cloud Security
Accountability
Encryption & Key Mgmt
Encryption
Interpersonal Skills
Governance & Risk Mgmt
Automation/Devops
Works Well Under Pressure
Identity & Access Mgmt
Security Analysis
Critical Thinking
Infrastructure & Virtualization
Risk Mitigation
Decision Making
Interoperability & Portability
Reverse Engineering
Technical Skills
Mobile Security
Secure Software Development
Analytical and Diagnostic Skills
Security Incident Mgmt, E-Discovery & Cloud Forensics
Incident Response
Management Skills
Supply Chain Mgmt, Transparency & Accountability
SIEM Tools
Computer Skills
Threat & Vulnerability Mgmt
Information Security Analyst—Skills Section
Data encryption.
Malware detection.
Virus deletion.
Effective at technical evaluation and penetration testing
Skilled at development of security controls
Enthusiastic about personal growth and improving security skills
How to Describe Your Cyber Security Experience
Cyber Security Analyst
January 2015–December 2018
Hackers With Ethics, New York, NY
Key Qualifications & Responsibilities
Monitored organization's networks for security breaches and investigated violations.
Prepared reports which documented security breaches and extent of damage caused by breaches.
Conducted penetration testing and located vulnerabilities in systems before they could be exploited.
Key Achievement
Identified over 350 new viruses and malware in under 4 years.
Entry-Level Cyber Security Resume No Experience
Website Consultant
January 2016–December 2018
WordPress Workplace, New York, NY
Key Qualifications & Responsibilities
Reviewed a number of client issues to see which approach would be the most successful in defending WordPress sites from attack.
Monitored websites for malware and security risks.
Performed validation and removed any security issues found.
Built a credible reputation by successfully securing and monitoring over 50 websites with zero major assaults.
What Are the Top Trending Cybersecurity Keywords?
I'd like to offer you a free keyword tracker that I've used with my clients to identify recurring trending keywords in job descriptions.
The premise is simple: Identify trending keywords and then count their occurrence across the job descriptions. Use these keywords to optimize your cybersecurity resume and LinkedIn profile.
Optimize your resume and profile around these top skills and you will secure interviews!
Education Section
If you don't have the right permissions, hiring managers are like identity management systems: they won't let you pass.
How can you obtain permission to the cyber security interview?
Whether you're creating an IT security manager resume or a cyber cryptography internship, your education section must deliver.
Cyber Security Analyst Resume Samples—Education Section

What if you're still working on your degree?
Add an unfinished degree like this:
Majoring in Cybersecurity (Cyber Operations Concentration)
Excelsior College, Albany, NY
Expected Graduation: 2021
Relevant Coursework: Cyberattacks and Defenses, Computer Forensics, Cryptography, Risk Management, Web Architecture, Access Control and Intrusion Detection Technology, Security Defense Countermeasures.
Only have high school?
Most cyber security jobs require at least an associate degree and/or a valid cyber security certificate. Check the job ad for the educational requirements.
If applying for a lower-level job, such as for a cyber security intern or junior cyber security analyst, add high school like this:
Townsend Harris High School, Flushing, NY
Graduated: 2014
Want more tips for writing the skills section for security resumes? Book a complimentary resume consultation!
Want more tips for writing the skills section for security resumes? Book a complimentary resume consultation!