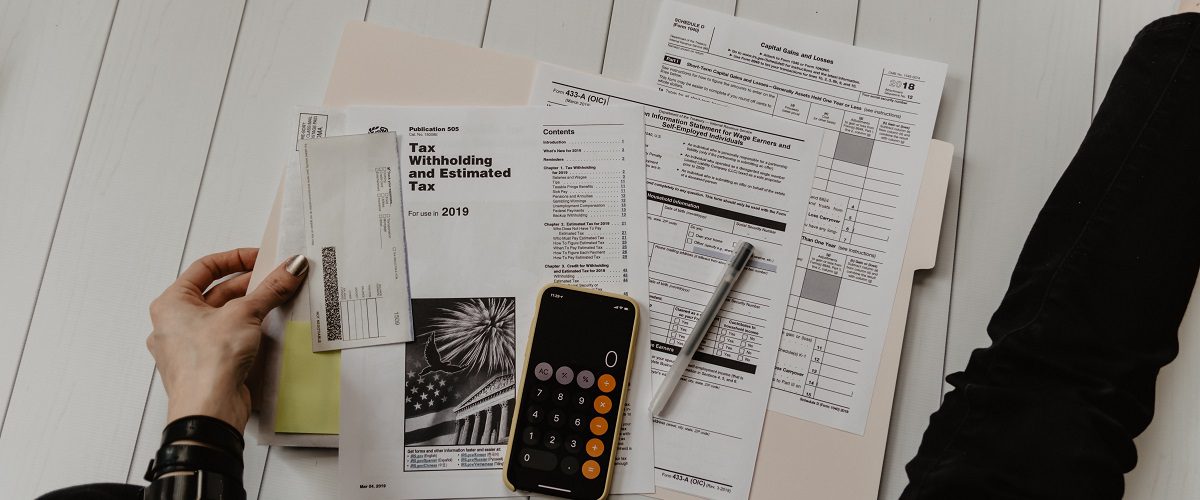 CFO Resume Samples & Writing
Taking Chief Financial Officer Resumes
to the Next Level
Have a look at our great CFO resume examples and learn how we can help you create a better resume for yourself so that you can land your dream job.
A Chief Financial Officer (CFO) resume should be a C-level resume showcasing account, financial, and mathematical capabilities. CFOs should be data-driven, profit-orientated, and have the ability to maximize revenues for a company.
The Best CFO Resume Samples
A hiring manager or recruiter will only spend a few minutes or even seconds to review each resume as they can receive hundreds for each job posting. It is important to highlight the elements of your resume that clearly demonstrate why you are a great candidate for the position. You only have one chance to make that great impression!
Chief Financial Officer (CFO) Resume Example
This CFO resume example was written for a top finance executive. The sample demonstrates metrics-driven accomplishments to propel the career of this upwardly-mobile executive. We drive the recruiter's attention by presenting the client's chief achievements within the bold graphics., stating she "saved $450K annually" and "removed $750K in global reporting costs".
Here are a couple of examples of our awarding-winning resumes samples and some other examples of C-Level resume samples.
Here is more information on our Chief Financial Officer Resume Packages.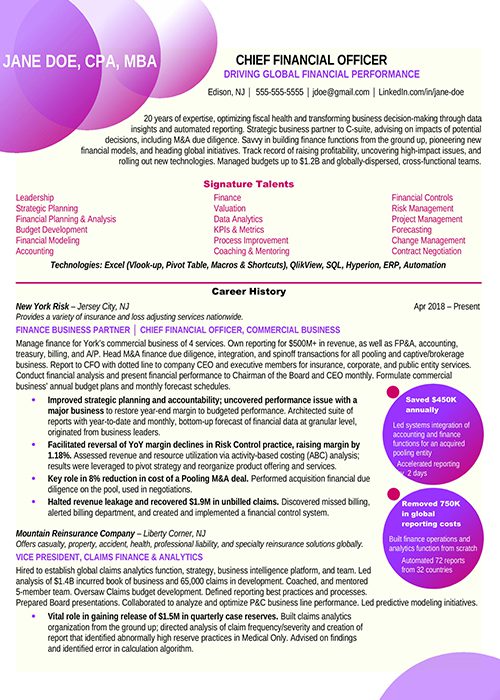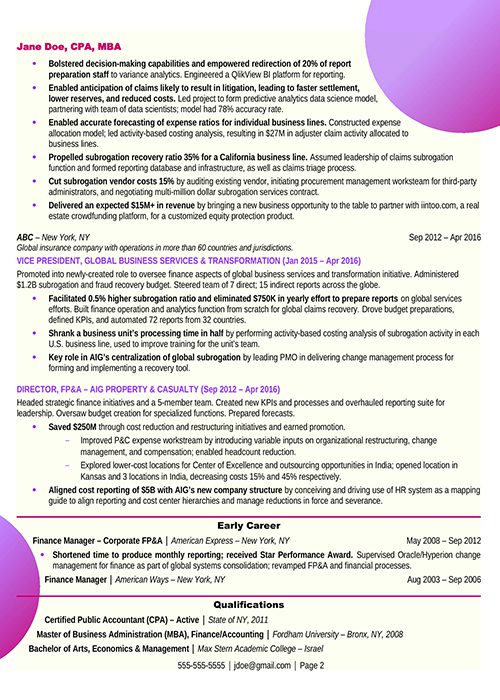 Do you need a CFO Resume? Let us help you land more interviews by helping you create the best resume for you. Click on the button below to book a time to speak directly with Arno Markus, CEO, and Founder.
Tips For Writing the Perfect CFO Resume
The perfect CFO will quickly demonstrate your accomplishments and provide quantifiable results that prove you are the best candidate for the job! Avoiding listing your duties and responsibilities which anyone in your position would do. Instead, use the CAR (Challange Action Result) method to highlight your achievements
---
Make Your Summary Stand Out
The first thing a recruiter will read on your Chief Financial Officer Resume is the Branding Title. Under your name at the top of your CFO Resume, it should be in big bold letters, CHIEF FINANCIAL OFFICER. This makes it clear to recruiters and hiring managers which position you are applying for. It is your goal, not your current position. Of course, you have to be able to back it up with relevant experience! We cannot brand a waitress as an airline pilot.
The summary should be 5 lines or less – no "fluff" language related to soft skills ("detail-oriented," "successful," "organized"). It should be targeted to the desired role and cover the breadth of experience, including things like national or global experience, Fortune 500 clients, industries if relevant to the job target, maximum teams, and largest budgets managed.
---
Formatting Tips
Here are some tips to follow when creating your CFO resume:
Always use easy-to-read fonts on your CFO resume with a maximum of 2 different styles. Some of the most common fonts to use in order to avoid compatibility issues are Times New Roman, Calibri, Arial, Tahoma.
Your CFO resume should always have sufficient white space to guide the reader through the document. Recommended font size should be 10.5 pt (10 or 11 pts are acceptable in special cases).
The multiple roles should be listed separately underneath, with the dates for each role in parenthesis.
CFO resumes should be one or maximum two pages.
Our CFO resume example above will give you some ideas about eye-catching resume formats. As you'll see, the achievements are bolded to draw the reader's eye, and we have used color to make this candidate's resume stand out from the crowd.
---
Skills to Include
As a Chief Financial Officer, you need to not only prove your financial skills but also your ability to work alongside the executive management team. Your CFO Resume should present your accomplishments from your previous employment that highlight your strong working relationships with the CEO and other team members.
The skills in your chief financial officer resume should be relevant to the job posting. If the recruiter is looking for someone with experience with capital expansion projects then give them an example of that experience and ideally a great achievement that matches their requirement! Include financial management areas where have you led and directed.
It is not just about your accounting, debt financing, fiscal management, and risk management skills but also about business development by increasing company revenue and company growth; maintaining healthy working relationships to fulfill the company mission. Which financial leadership functions do you perform and/or oversee in support of the firm's mission and objectives? Describe how you implemented financial planning and measured performance against operating plans while monitoring market trends.
Describe in what ways do you spearhead the firm's financial, capital-raising strategies to drive profitability including reducing operating costs, increasing revenues, ensuring sufficient cash flow towards future business growth and economic outlook. What do you do to establish standardization in all aspects of financial planning that ensures alignment with strategic objectives? How do you ensure your company's financial goals and objectives are met in a timely fashion? We also want to know if you have formulated and implemented any accounting and control systems, policies, and/or procedures. Perhaps you have you orchestrated any mergers or acquisitions? These are all important skills to include in your CFO Resume.
---
Experiences to Include
The best CFO resumes show an employment progression culminating in a CFO experience that makes you a great candidate. Normally we would only go back 15 years, but if you have a great accomplishment that perfectly matches the job description requirements then include it!
Do not add irrelevant experience especially if it is in a totally different industry. It is important to only add experience that will help sell you as the best candidate for the job. A professional resume writer can help you decide which information you should include and what information would hurt you as you search for jobs.
Some of the experience you should include in your CFO resume are which company financial activities have you managed and overseen? These could include employee benefits, facilities operations, financial recordkeeping, as well as information systems, and long-term financial planning.
Ask yourself questions like "What type of financial planning guidance and oversight do you facilitate to ensure consistency with best practices, drive profitability, and ensure compliance with all regulations?" Or " What administrative, operational, financial, or investment strategies, policies, and procedures, or internal control did you develop, implement, and monitor to ensure accuracy and efficiency?'
It is also important to list your experience with financial reporting systems, accounting procedures, investment activities, collection policies evaluated on your chief financial officer resume. In what ways do you make sound, proactive recommendations for financial, system, procedural, or budgetary control? Which financial records do you analyze to determine compliance with all federal, state, and/or local regulations?
---
Some Additional Tips
It is also extremely important to Keyword Optimize your CFO resume in order to make it past the dreaded ATS system. These Applicant Tracking Systems are designed to weed out 80% of the candidates who do not have the right keywords for that position. Not having the right keywords will mean you will automatically be rejected and receive a "Thank you but no thank you!", without ever knowing why. This simple mistake can cost you the job as your resume will never even be read by a human. Your CFO resume needs to be keyword-optimized for EVERY posting you apply to! It is not difficult and our resume writers will show you how to do it!
---
Frequently Asked Question
What Makes a Strong Chief Financial Officer (CFO) Resume?
A strong CFO Resume highlights everything you're able to do with regard to saving and generating money. By reading our article, you'll get a clear idea of how to best achieve this.
Should Non-Profit CFO Resume Examples Be Different?
Non-profit CFO Resumes should be somewhat different. Instead of focusing on profit generated, you should focus more on the amount saved since non-profits usually have limited budgets.
---
Summary
Most job seekers looking for a chief financial officer resume are looking for the perfect resume template. But the best CFO resume example is written by professional resume writers. Recruiters view hundred of CFO resumes for every position. Make sure your financial officer CFO resume is easy to read and presents you in the best light as recruiters will only spend seconds scanning your CFO resume. Make sure your summary section doesn't contain fluff words and is ATS keyword optimized. The best CFO resumes are achievement-based and no more than 2 pages.