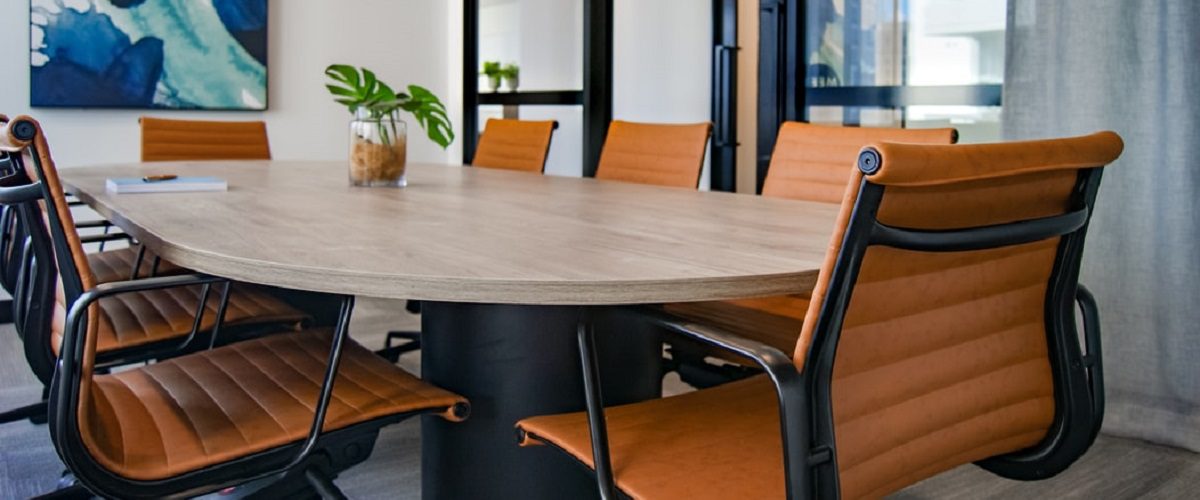 Chief Compliance Officer CCO Resume
The Perfect CCO Resume For You!
Take a glance at our amazing Chief Compliance Officer CCO resume example which is eye-catching, strong, error-free, and helps represent your best abilities and experiences.
Are you Looking for the Best Chief Compliance Officer Resume Examples?
A resume is a valuable asset in your career quest because it provides you with a page or two to highlight your best strengths and attributes. Employers use resumes to make recruiting choices, and they will also help you get your first interview. That is why it is important to consider how you organize your resume and what material you provide.
CCO Resume Example
This Chief Compliance Officer Resume Example was written for a CCO seeking her next challenge. This CCO resume sample demonstrates this leader's results-driven advancements in risk management and regulatory compliance. This resume is a great example of an achievement-based resume with strong branding and clear formatting.
The resume is clearly branded, our candidate as a Chief Compliance Officer. Besides the branding title, we have used the color red to highlight her branding statement "Protecting Against Global Compliance Risks". Our resume experts have also keyword-optimized this Chief Compliance Officer resume example, including a keyword section labeled "Signature Skills"
These keywords are used not only to highlight your skills but to help the candidate's resume to be seen by a human being. Executive Recruiters use applicant tracking systems to weed out those potential employees that do not "match" their required skills. These ATS systems are the first gatekeeper that hiring managers use to narrow down potential clients who have not read their job descriptions!
It is vital to read the job description to determine which keywords are important to that particular hiring manager or recruiter and target your resume and cover letter to that job posting. For example, one job description may require "experience working with the operations and communications team", so we recommend providing a specific example of this experience, not just matching keywords or skills.
In all of our Chief Compliance Officer Resume examples, we recommend our clients use the C-A-R approach. Providing achievement statements that describe what the Challenge was, what was the Action taken, and most importantly what was the Result. Then we bold the results so a recruiter can quickly scan the resume to determine that you are a great candidate and book an interview! Remember there are hundreds of resumes, so employers only spend a few seconds on each before creating that coveted shortlist!
And finally, we have used an easy-to-read format with plenty of white space. We have used a pop of color to help our candidate stand out. Remember the second gatekeeper is the junior recruiter or HR assistant. They are looking for that branding title and the color helps catch their attention as these are normally younger people who respond to visual impact. The results of her achievements are bolded so "Delivered seamless management of complex global regulatory examinations" jumps out at the reader!
Looking for a different C-Level Resume Sample? Here is more information on our Certified Professional Resume Writers and our Chief Compliance Officer Resume Writing Services.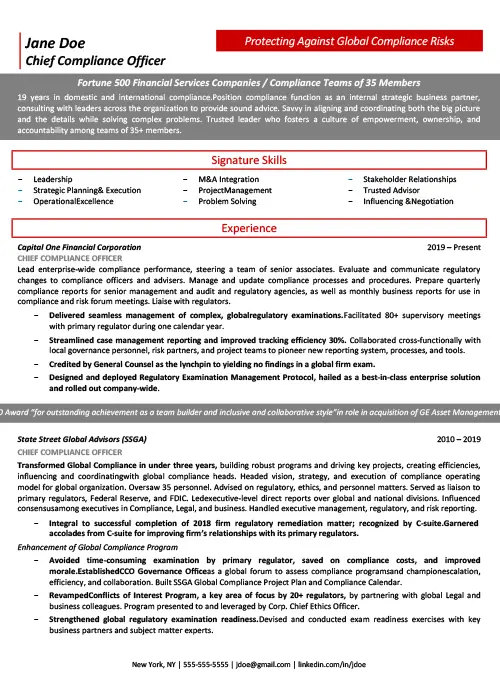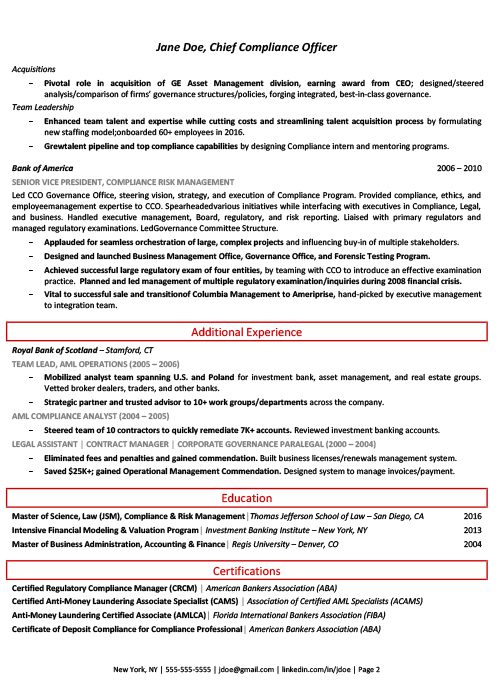 Are you looking for your next CCO position? Let us help you land more interviews by helping you create a great Chief Compliance Officer Resume. Put the best version of you forward and land your dream CCO job. Book an appointment to speak directly with Arno Markus, our CEO and 15x Award-Winning Executive Resume Writer.
Some of Our Top Resume Writing Awards