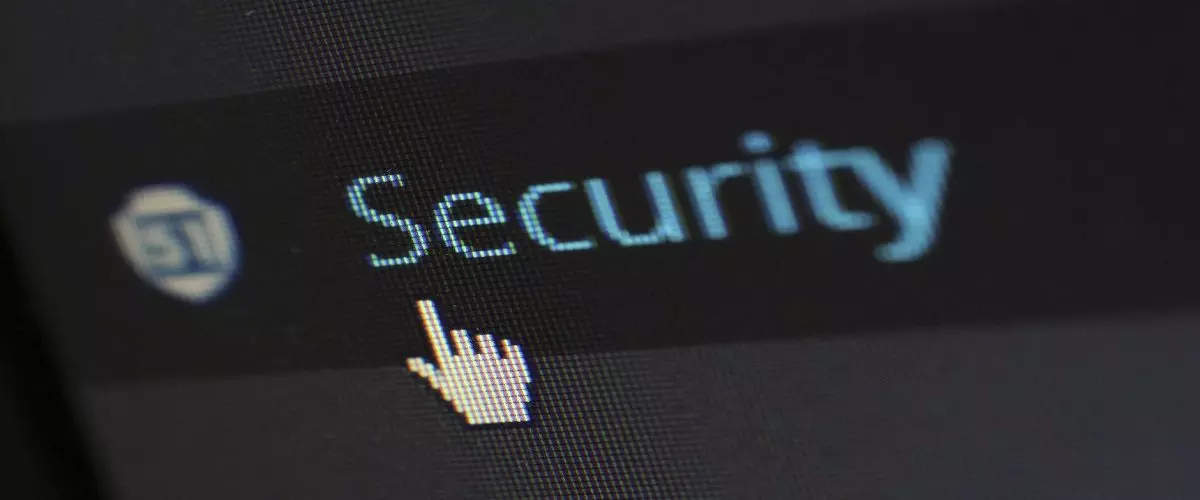 Chief Information Security Officer CISO Resume
Taking CISO Resumes to the Next Level
Take a glance at our amazing CISO Resume examples and see how we can assist you in writing a stronger resume so you can secure your dream project or job.
Searching for the Best CISO Resume?
A Chief Information Security Officer/CISO Resume should include leadership, strategy, and planning. It should highlight the candidate's team collaboration, project management, and superior communication skills. A chief information security officer (CISO) is a senior executive in charge of developing and managing an organization's vision, policy, and program to ensure that information assets and technology are properly secured.
To land your dream career, you will need a strong resume. Writing one is worthwhile and the benefits could be beyond the wildest dreams. If you have tailored your current resume to fit the needs of a specific job, your enthusiasm will rub off on your recruiter, who will be overjoyed that you have made it simple for them to find a perfect candidate for their next opening.
CISO Resume Sample
This Chief Information Security Officer resume sample was written for a top information security executive. This CISO resume sample demonstrates metrics-driven accomplishments to propel the career of this upwardly-mobile executive.
This Chief Information Security Officer resume uses Jane's accomplishments to clearly demonstrate that she is the best candidate for the position. By presenting achievement in easy-to-read bullets and highlighting the results it quickly draws the eye, as you normally only have a few seconds to grab someone's attention. We use the CAR approach to clearly show the Challenge, Action, and Result of each accomplishment which allows the reader to see how her experience can meet the needs of the job posting.
In today's job market Recruiters and HR professionals receive dozens if not hundreds of resumes for each position. By using a professional resume writing service, you can rise to the top of the pile. We have provided a keyword section to ensure that this CISO resume is ATS compatible and will help Jane to be seen by a real person! But more importantly, to inspire them to call her to book an interview!
Are you looking for other IT resume samples? Check out our 2020 Best IT Resume. For more information on our Certified Professional Resume Writers have a look at our Chief Information Security Officer Resume Writing Services.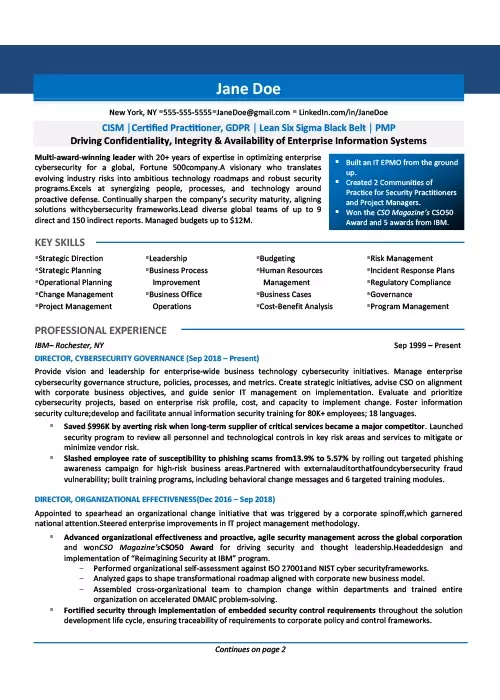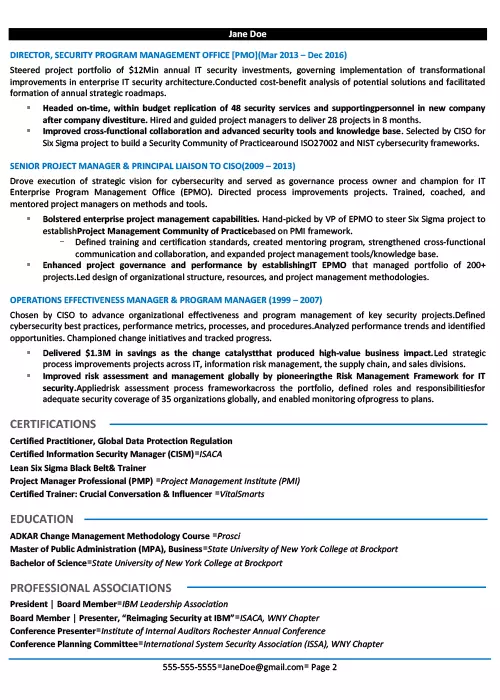 Are you ready to start your new career? Let us help you land more interviews by helping you create the best CISO resume for you. Book your appointment to speak directly with our CEO and 15x award-Winning Executive Resume Writer.
Some of Our Top Resume Writing Awards