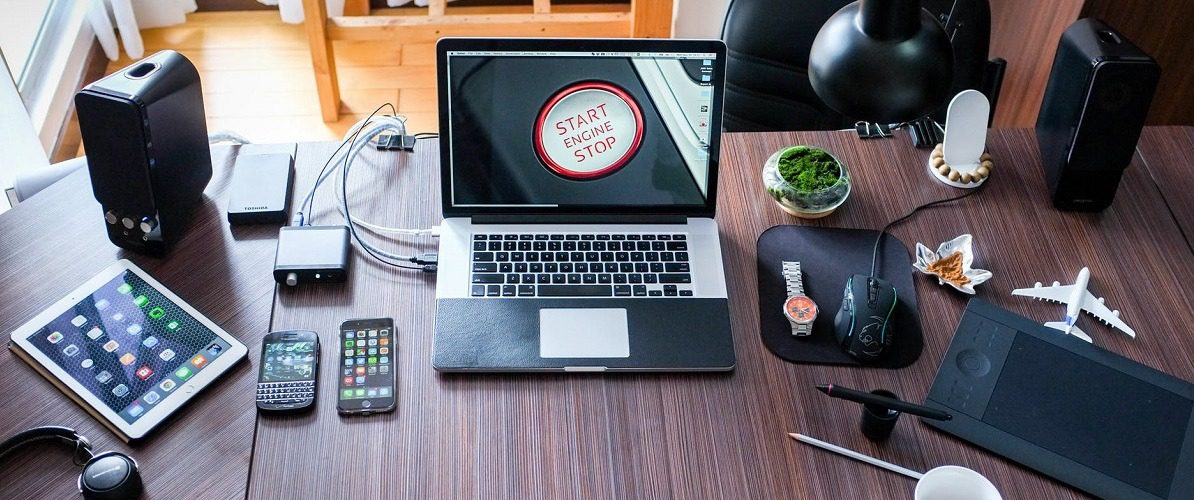 Chief Transformation Officer Resume
Create Your Job Winning Chief Transformation Officer Resume!
An expertly written and keyword-optimized Chief Transformation Officer Resume that is eye-catching, strong, and error-free and represents your best abilities and experiences.
Looking for a the Best Chief Transformation Officer Resume Sample?
A Chief Transformation Officer Resume should include excellent verbal and written communication skills. A Chief Transformation Officer must have strong interpersonal and conflict resolution skills, as well as a strong sense of both the technical side of transformation and all the roles and departments that support it. Your CTO resume should also talk about your strong supervisory and leadership skills. The CTO's job is to look at the big picture and think about staff, data, and technology in a cross-functional way, maintaining a smooth transition through the company. This executive is in charge of overseeing the integration of all company processes while anticipating improvements and roadblocks.
A strong Chief Transformation Officer resume has the ability to unlock doors. Employers and recruiters will notice you. A good CTO resume sells your most valuable talents and achievements and shows how you are a good fit for a job or a project. And notably, it will land you a career interview!
Chief Transformation Officer Resume Example
Chief Transformation Officer Resume Example of an executive resume written for a senior transformation consultant seeking his next challenge. This resume sample demonstrates this leader's metrics-driven advancements in business efficiency and change management.
It is another great example of an Achievement-Based Resume that has been keyword-optimized with good formatting. Why are these important? When you apply for a Chief Transformation Officer position, remember there are gatekeepers before you reach the executive recruiter, CEO, or the Board of Directors.
Almost all executive recruiters and hiring managers use Applicant Tracking System to shortlist candidates. These ATS systems are designed to weed out clients that do not possess the appropriate keywords on their resume. They scan your resume before it is ever seen by a human eye.
How do you know what are the right keywords for your Chief Transformation Officer Resume?
It is important to add keywords that represent your experience with business transformation, but it is also extremely important to review the job description to see what keywords are important to that particular recruiter. Include your communication skills, but do not just say you have strong communication skills. You must give a specific example of when you demonstrated strong these skills.
In this CTO example, we have created bulleted achievement statements. Ideally, these accomplishments should include measurable metrics. For example, "Scaled technology to accommodate explosive business growth, bolstering process efficiency 15%..". We use the C-A-R approach to help the candidate demonstrate his accomplishments.
We have also added a personalized logo created from the client's initials as well as a pop of color. There is also a graphic to highlight Operations Improvement, including increased Service Speed, Customer and Employee Satisfaction.
There is just a hint of color and a strong brand title to help pass the second gatekeeper, the junior HR manager, or recruiter. They have been told to look for a Chief Transformation Officer so that is what they need to see.
Do not make the mistake of expecting the human resources personnel to decide by desiphering your resume that you would be a good fit for their job. Your CTO resume needs to make it very clear that your are the best candidate for their Chief Transformation Officer job.
Are you looking for a different resume sample? Here are some of our other C-Level Resume Examples.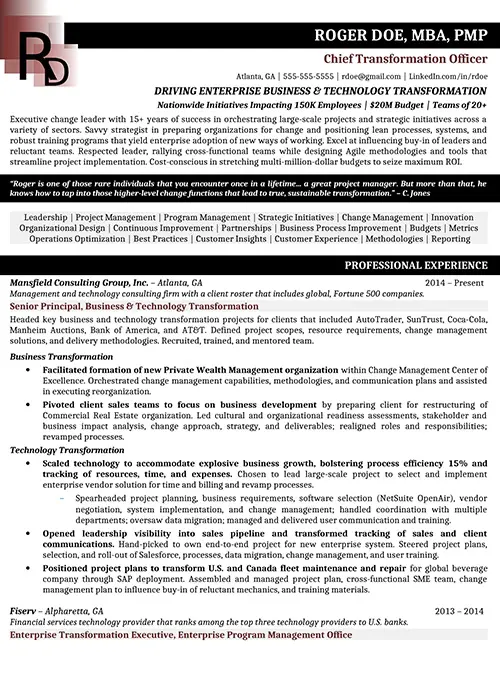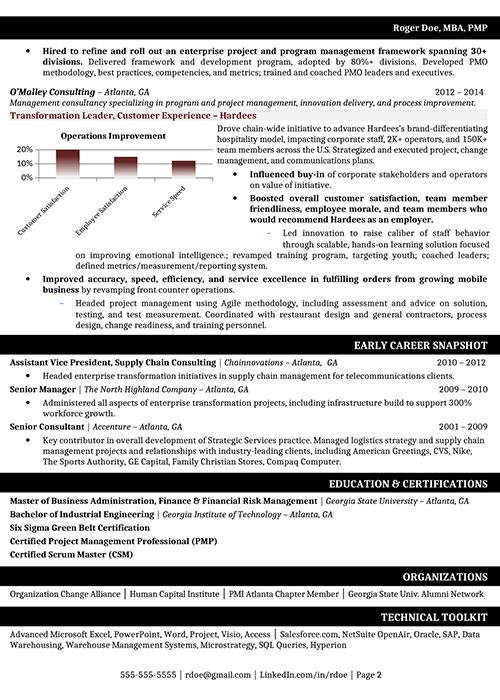 Do You Need a Chief Transformation Officer Resume?
Check out our site for more information on our Chief Transformation Resume Writing Services. Let us help you land more interviews by helping you create the best CTO resume for you. Book a call today to speak directly with Arno Markus, 15x Award-Winning Certified Professional Resume Writer.
Some of Our Top Resume Writing Awards