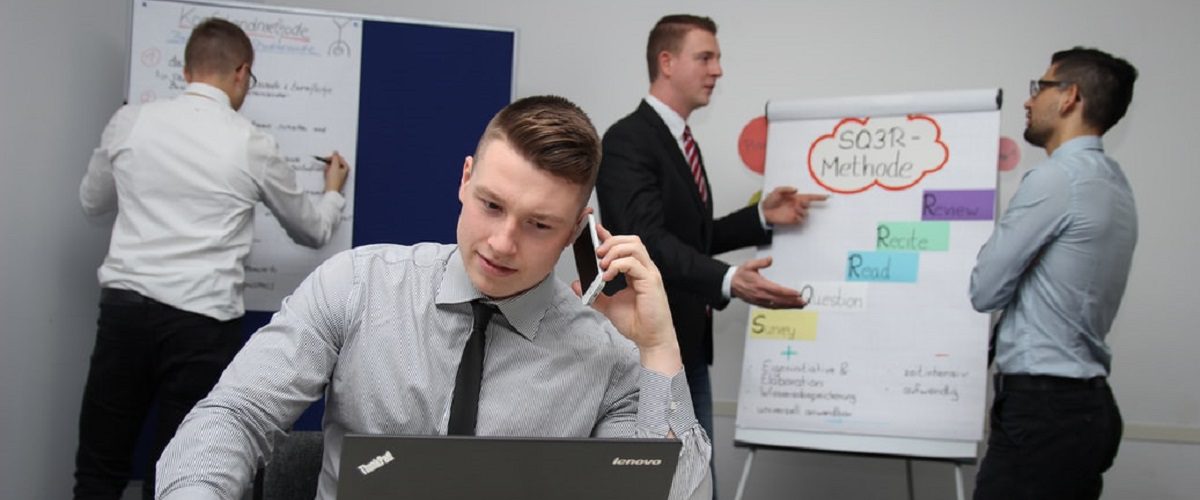 Chief Operating Officer COO Resume
Creating a COO Resume That Operates!
Take a glance at our amazing COO Resume examples which are eye-catching, strong, and error-free and represent your best abilities and experiences.

The Best Chief Operation Officer Resumes Examples
A Chief Operating Officer COO Resume should include integrity, excellent organizational and leadership abilities. It should demonstrate the Chief Operations Officer's aptitude for decision-making and problem-solving, as well as their strong interpersonal and communication skills. The chief operating officer (COO) is a senior executive in charge of a company's daily managerial and organizational functions. A COO is the second in command and works directly with the rest of the executive team.
The aim of a COO resume is to make a good first impression on a potential employer. Consider your COO resume as a medium for self-promotion. It is more than a document: it details your history, qualifications, and education so that a prospective employer can immediately and efficiently see how your unique perspectives can lead to the success of a business. A prospective employer's first view of you is always based on your resume.
The Best COO resumes clearly demonstrate the candidate's achievements, are branded and keyword-optimized to target the Chief Operating Officer job posting. Ideally, the resume will track your transition from Operations Manager to Director of Operations or Vice President of Operations, showing your career progression. But recruiters do not want your whole career story unless it directly relates to their job.
When creating a COO resume, we need to review the keywords and requirements of the job posting. There is nothing worse than applying for a position without carefully reviewing the job description. Why is this so crucial? Because if you do not review it you will not have the right keywords in order to make it past the dreaded applicant tracking systems. These ATS systems are the first gatekeepers. They weed out potential candidates by scanning the resumes looking for the keywords that they have programmed in.
Have you ever replied online and received one of those "thank you but no thank you" letters and never know why? Well, the sad truth is your resume was probably never seen by a human! No matter how great a candidate you are if your resume is never seen you will never be considered for the position. All Chief Operating Officers need a great Chief Operations Officer Resume!
Chief Operating Officer COO Resume Sample
This Chief Operating Officer resume was written for a top executive. This COO resume sample demonstrates metrics-driven accomplishments to position this upwardly-mobile executive having experience and dramatic success in the telecommunications industry.
All CCO resume examples should be clearly branded. Directly beneath the candidate's name, it states "Chief Operating Officer". This title is the position you are applying for. So if in the job description it says "Chief Operations Officer" change it! You must use the exact name of your title under your employment history, but the branding title is aspirational. It is the position you are applying to.
Using a duties and responsibilities format is doing a disservice to yourself! We only create achievement-based COO resumes. In this COO resume example, you can see we have taken the candidate's accomplishments and created bolded bulleted achievement statements using the C-A-R approach. Showing what he did, the Challenge, what he did, the Action, and most importantly the Result. We have bolded these results for easy readability.
We have also used an easy-to-read format as well as some graphs to even further highlight his achievements as a Chief Operations Officer. A splash of color sets this COO resume apart from the hundreds of boring black and white resumes. We have also added a telecommunications graphic to refer to the candidate's industry.
If you are a Chief Operations Officer check out our sample below. Looking for a different C-Level Resume Sample?
Here is more information on our COO Resume Writing Services.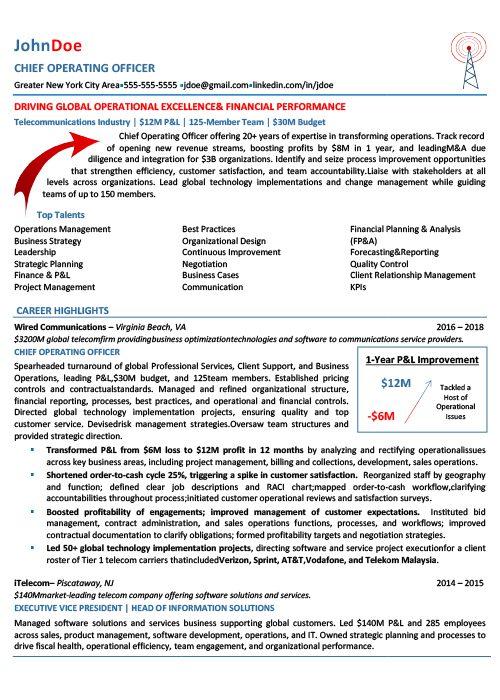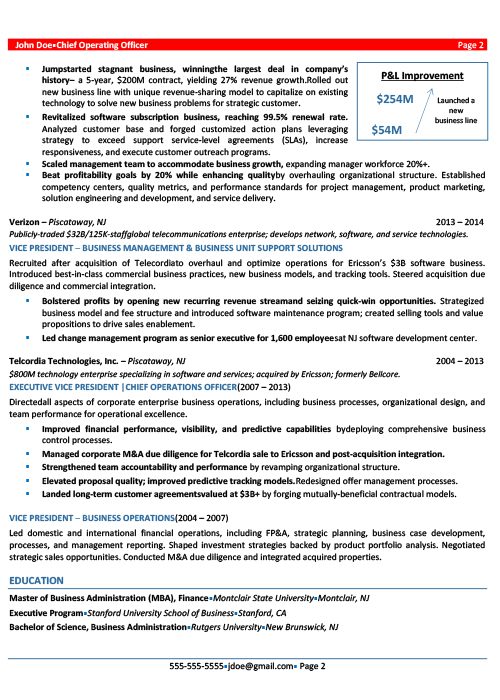 Do you need a new COO Resume? Let us help you land more interviews by helping you create the Best Chief Operating Officer resume for you. Book your appointment to speak with CEO and Founder, Arno Markus!
I have had the recent pleasure of working with Arno after transitioning careers from start-up back to corporate. Arno gave me an appropriate critique regarding my resume (tough love) and guidance on how LinkedIn can work for me instead of against me. After working with him and his team I feel like I'm moving in a direction that will lead me to the best NEW career home. Thank you, Arno! Charles
Working with Arno was an absolute pleasure. His process is very organized and structured, which means a lot to me, and he met all of the deadlines he committed to. He completely transformed my resume and gave me excellent insight into and strategy on how to enhance my LinkedIn profile as well as how to get it to really work for me. I thoroughly enjoyed working with Arno and highly recommend him to anyone who is looking to take their resume and career to the next level.
I recently worked with Arno and his team to revise my resume. I was extremely pleased with the finished product. Arno's team was very thorough in their work and produced a resume that I absolutely love. I recommend him without hesitation.