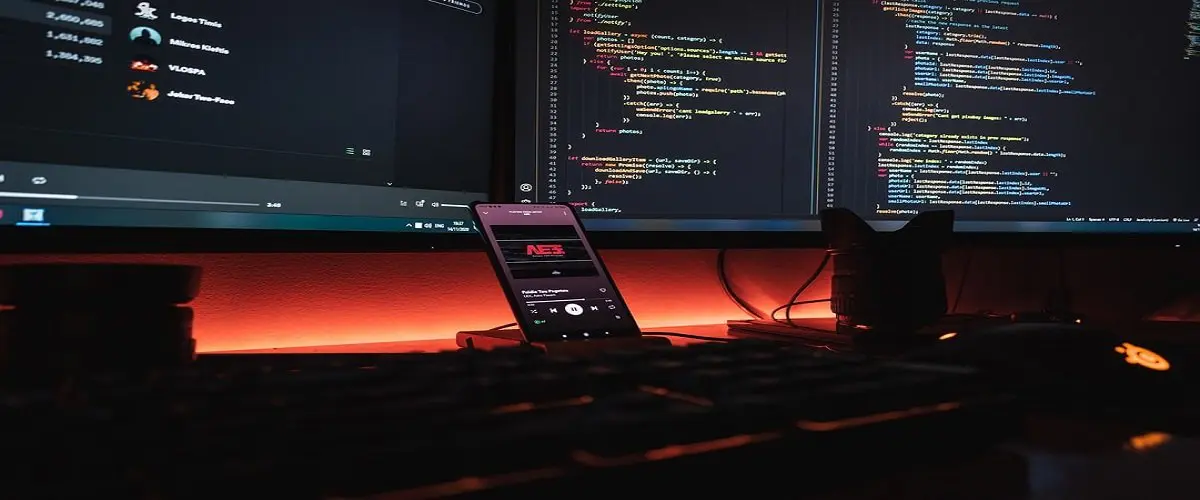 Director of Software Development Resume
Taking Director of Software Development Resumes to the Next Level
Take a glance at our amazing Director of Software Development Resume examples and see how we can assist you in writing a stronger resume so you can secure your dream project or job.
Are You Looking for a Great Executive Director of Software Development Resume?
An Executive Director of Software Development Resume should include strong leadership skills, having a vision to put the mission into a long-term view, problem-solving, and business acumen. The executive director is a leadership role for an organization and often fulfills a motivational role in addition to office-based work.
A strong director of software development resume has the ability to unlock doors. Employers and recruiters will notice you. Sells your most valuable talents and achievements. Shows how you are a good fit for a job or a project. And notably, it will land you a career interview!
What Type of Skills Should You Have on Your Director of Software Development Resume?
In order to know which skill to include you need to not only look at your own software engineering experience but at the actual job description. Review each job posting and "tweak" your keywords to include those that are relevant to each job you are applying to by remembering to keyword optimize for the ATS system. Ideally, if they are looking for experience with web application and process improvements, then give them an actual example of an achievement that demonstrated these skills.
Remember each executive recruiter has programmed their ATS with the keywords that they personally think are important and may not be the same as the next company. They may be looking for a candidate with strong communication skills, experience with product strategy. Then another job posting could focus on your web applications skills or software architect experience.
Executive Director of Software Development Resume Example
This Executive Director of Software Development Resume was designed for an experienced Vice President /Director who specializes in software development. John is transitioning to the next level as Executive Director. I used common technology colors and added a "Highlight" section to help bring attention to his accomplishments. I stated John's title under his name for clarity to the reader on his goal. This is a great example of personal branding that is essential in today's job market.
On the second page of this Executive Director Resume, I have added bulleted accomplishments under each position, highlighting the result in order to grab the readers' attention. A Testimonial Box offers two personal endorsements further demonstrating his positive competency and skills.
I have also used graphics to highlight John's achievement and a dash of color to make sure his director of software development resume makes him stand out from the hundreds of other software developers. This software development resume is also ATS keyword optimized. I have created a Signature Talents Section that can be easily "tweaked" for other positions.
This is a great example of an achievement-based resume, using eye-catching but easy-to-read formatting. It is branded and instantly tells the reader what position John is applying for and why he is an excellent candidate for the Executive Director job
Are you looking for more executive resume samples? Here is more information on our Executive Director Resume Packages or Software Developer Resumes Packages.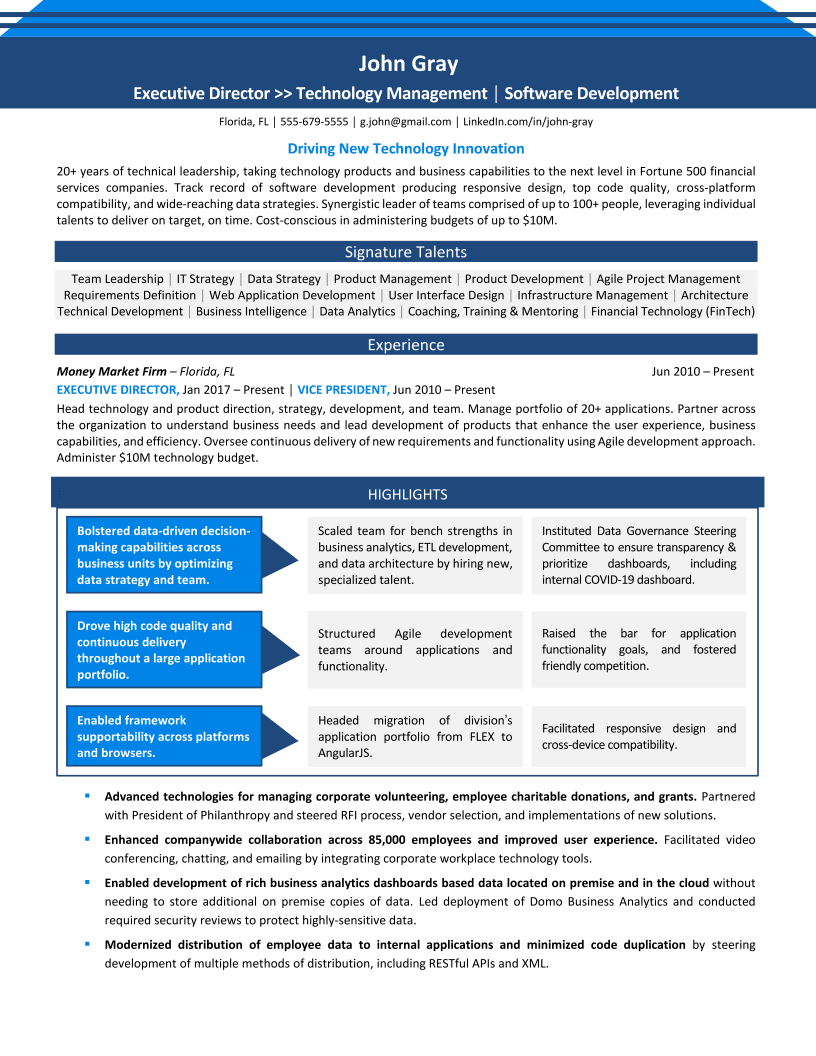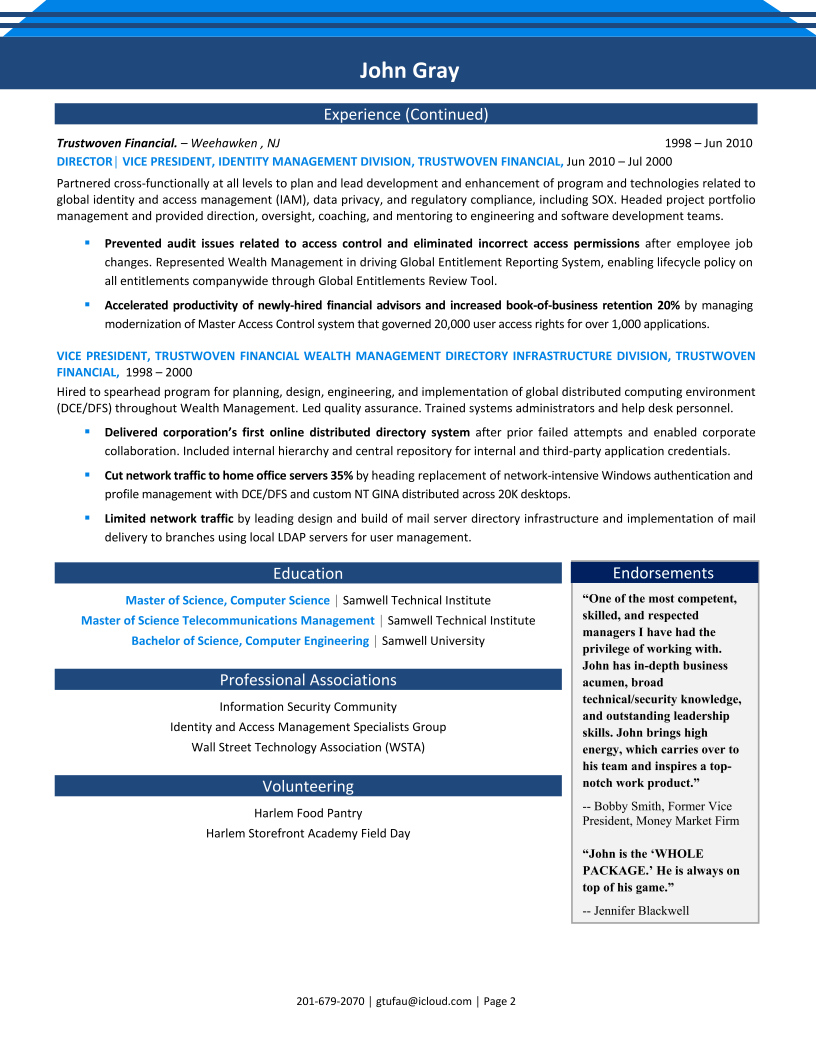 Are you looking for a great Director of Software Development Resume? Let us help you land more interviews by helping you create the best resume for you. Book an appointment to speak to Arno Markus, our CEO and Founder, directly!
Some of Our Top Resume Writing Awards