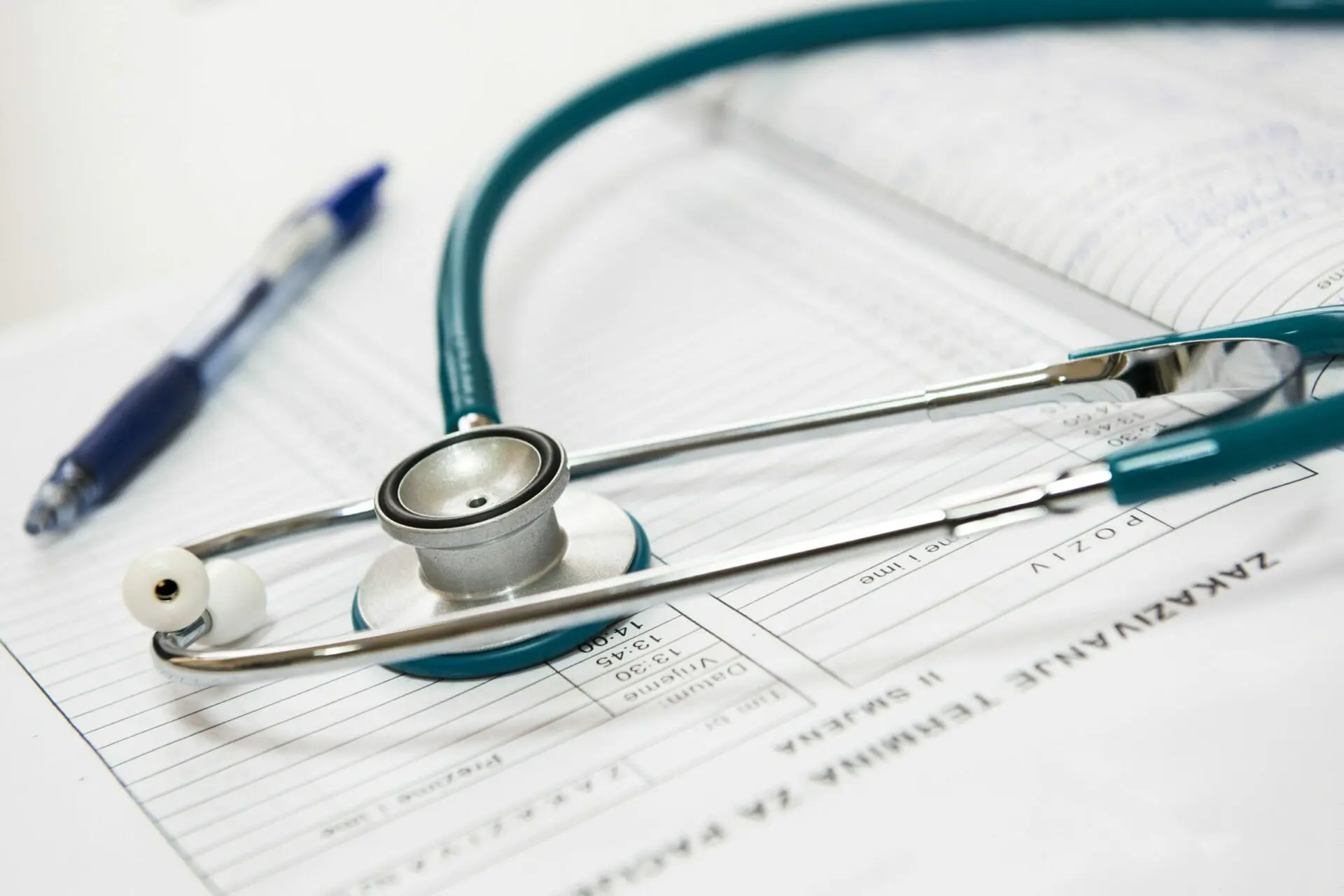 Medical Resume
Taking Medical Resumes to the Next Level
Take a glance at our amazing Medical Resume example and see how we can assist you in writing a stronger resume so you can secure your dream job.

Are You Looking for the Best Medical Resume Examples?
Medical Resumes should include strong leadership skills, management skills, communication skills, teamwork ability, work ethics, and business acumen. More than a top-notch degree program or hands-on experience is needed for a promising career in health care. Employers of healthcare professionals look for more than just your clinical skills on your resume. It's also important that you hone your so-called "soft skills," also known as "personality skills."
Your medical resume is made up of several parts that highlight your skills and experience, but the final product must be both impressive and easy to read, and you might need some assistance in doing so. All medical resume examples should be ATS-Keyword Optimizes and achievement-based. A professional medical resume writer can help you ensure recruiters see your medical resume by making sure you have the right keywords. Let us help you build a medical resume that highlights your best abilities and will help you make a perfect impression on the one reading it.
Award-Winning Medical Resume Sample
This Clinical Pharmacy Leader Resume is written for a medical professional seeking a role in a hospital setting. This medical resume sample demonstrates this leader's metrics-driven advancements in patient care and pharmaceutical treatments.
Joe's medical resume example begins with a logo highlighting "Med" in his last name, Medlin (in green with the remainder of his name in gray). The strategy I used for Joe's resume was based on a prescription theme. The box to the right of his name states his position and that he is a patient champion, including his brand: "Authoring Winning Prescriptions for Optimal Patient Outcomes for 15 Years." The branding title of Clinical Pharmacy Leader can be adjusted to match the position title for any other job descriptions that Joe may be applying to.
The first box below his contact information states Joe's "prescription" for pharmacy health, including two bullet points that emphasize the ability to convey technical information to hospital personnel and "dispense, socialize, and apply credible and balanced scientific knowledge."
To round out the prescription theme in this box, the last line reads, "Use as needed for optimizing patient care." The box below that, Joe's "formulary," indicates how he qualifies for the roles above, including his years of experience and knowledge of provider needs to achieve the "prescription" in the first box. The image to the right, titled "My Formulary of Compounds & Elements," contains Joe's key skills in the areas of pharmacy leadership, therapy assessment, and provider education around a picture of some pills.
Each of Joe's roles at Mercy Philadelphia Hospital, Mercy Health System dating to 2006 are described in paragraph form, followed by bulleted achievements. His current role's accomplishments are divided into those that directly impacted patients (elaborating on the "Patient Champion" theme) and those that benefitted the hospital and pharmacy ("Pharmacy Health" theme) on the first page. A graph to the right showcases how Joe drastically reduced patient falls through a drug therapy change, which is elaborated upon in one of the bullet points.
Page two continues with Joe's current role, listing his committee involvement at the hospital as a third section for his bullet points. His effectiveness in one particular committee is called out in a quote in the box to the right. A listing of Joe's presentations to staff at Mercy Philadelphia Hospital is contained in a box to illustrate the breadth of pharmacotherapy education he has provided. Joe's early pharmacist roles are briefly mentioned in an "Additional Experience" area to validate his claim of 15 years of experience. His education, licensure, and organizations are listed below that.
We are very proud that this medical resume example received the prestigious global 2019 TORI award in the Best Healthcare/Medical Resume Category, the International Resume Writing Industry's most prestigious Toast of the Resume Industry™ (TORI) Resume Writing Competition by Career Directors International. The Top Resume Writing Awards are based on Visual Formatting and Design, Personal Branding, understanding of Employer/Position Requirements, and the use of powerful language. These Awards represent the Best Professional Resume Writers in the US.
Here is more information on our Medical Resume Writing Services or Executive Medical Resume Writing Services.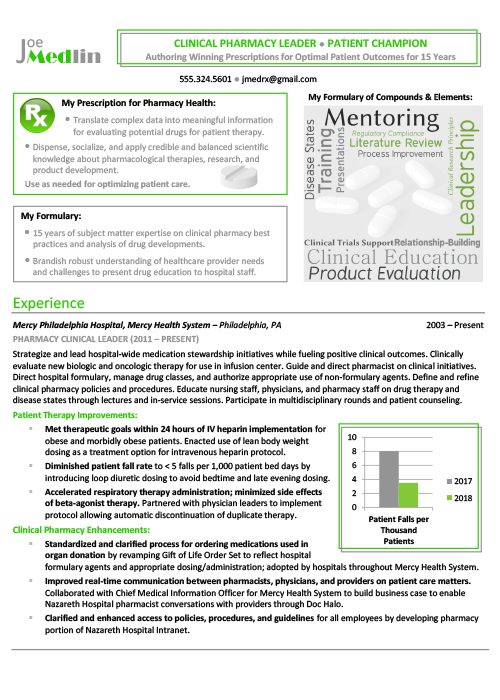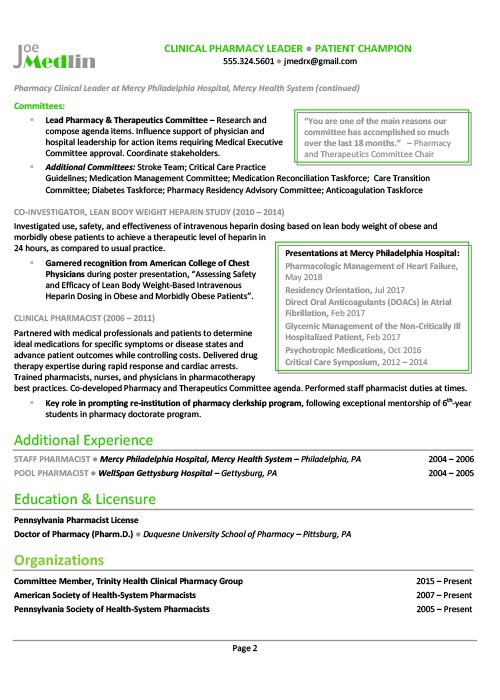 What are the skills needed for a great medical resume?
Below are just some examples of skills required for a remarkable medical resume. Remember, you can't just copy and paste this skill into your resume. They must be relevant to you and the job application and medical skills that you actually possess. You should include all of your hard skills, including certifications and technical proficiencies, as well as any soft skills that are mentioned in the job posting. Each of your key achievement statements can contain these keywords. We use actual examples to demonstrate this skill. Writing a medical resume is not about "stuffing" medical jargon but providing specific achievement states that are rich with the relevant keywords.
All medical professionals will have different keywords or medical skills. The medical field is wide and varied. Below are some of the keywords that may relate to you and other medical professionals, but there are many more specialized keywords that you may need as well. By carefully reviewing the job posting and working with a professional resume writer, you can ensure that your medical resume has the right keywords!
Why are these skills so important to have on your medical resume? Because of the dreaded Applicant Tracking Systems used by hiring managers and medical recruiters when creating the medical job description. These ATS systems are programmed with the keywords that the hiring manager feels are most appropriate for their position. These keywords could be slightly different from the exact same job but at a different hospital created by a different HR manager. It is important to not only match the job title with your branding title but also to match the keywords. A professional medical resume writer can assist you with keyword optimizing your medical resume.
Whatever your medical field, as a medical professional, you must present your medical skills and any soft skills that match the medical job you are applying for. Failing to have the right keywords could result in your resume being rejected before it ever is ever seen by a human!
MEDICAL UNITS | DEPARTMENTS
Ambulatory Care                            
Coronary Care Unit (CCU)         
Cardiovascular ICU            
Emergency Medicine
Intensive Care Unit (ICU)
Maternity Ward
Neonatal ICU
Neuro ICU
Open Heart Recovery
Operating Room
Recovery Room
Surgical Step-down
Surgical Intensive Care Unit
Telemetry Monitoring
Triage
MEDICAL AREAS OF SPECIALIZATION
Allergy
Anesthesiology
Audiology
Cardiology
Chiropractic
Dentistry
Dermatology
Dietetics
Endocrinology
Fertility
Gastroenterology
Gerontology | Geriatrics
Gynecology
HAZ-TAC
Holistic Wellness
Immunology
Internal Medicine
Kinesiology
Laboratory Technology
Maternity
Medical-Surgical
Nephrology
Neonatal
Neurology
Nutrition
Obstetrics
Occupational Therapy
Oncology
Ophthalmology
Orthodontistry
Orthopedics
Otolaryngology
Pathology
Pediatrics
Phlebotomy
Plastic Surgery
Podiatry
Psychiatry
Physical Therapy
Pulmonology
Preventive Medicine
Prostheses and Orthotics
Radiology
Rehabilitation
Rheumatology
Respiratory | Ventilation
Speech Pathology
Sonography
Surgery
Toxicology
Urology
Vascular Technology
NURSING AREAS OF EXPERTISE TO ADD TO YOUR MEDICAL RESUME
Abnormal Growth Development
Accident and Injury Prevention
Adolescent Nursing
Advocacy and Linkage
After-School Activities
Assistive Devices Usage
At Risk Populations
Athletic Physicals
Blood Pressure Monitoring
Cardiopulmonary Resuscitation
Child Development Stages
Child Find Program
Child Support Resources
Chronic Health Conditions
Classroom Modifications
Communicable Disease Control
Community Agency Networking
Community Health Promotion
Community Nursing
Community Policing Partnership
Community Resource Programs
Coping With Physical Challenges
Corrective Action
Crisis Intervention
Crisis Team Member
Current Health Care Laws
Current Health Issues
Current Health Practices
Diagnoses and Treatment
Direct and Indirect Student Care
Direct Nursing Health Care
Disease Prevention
Disease Symptoms
Educational Changes
Emergency Room Nursing
Emergency Treatment
Emotional Health
First Aid Training
First Aid Treatment
Follow-Up Evaluations
Health and Wellness Education
Health and Wellness Enhancement
Health And Wellness Promotion
Health Appraisals
Health Consulting Services
Health Disorders Treatment
Health Issues Identification
Health Maintenance
Health Office Activities
Health Plan Development
Health Policies and Procedures
Health Precautions
Health Problems Intervention
Health Program Coordination
Health Program Development
Health Program Management
Health Program Modification
Health Risk Factors
Health Screening Program
Health Screenings
Health Screenings Assessments
Health Services Coordination
Health Services Delivery
Health Supplies Purchasing
Health Teaching and Guidance
Health Training
Hearing and Vision Screening
Height and Weight Monitoring
High Standards of Nursing
Illness Assessment
Illness Prevention
Immunization Programs
Immunizations Coordination
Indirect Nursing Health Care
Individual Education Plans (IEP)
Individual Health Plans (IHP)
Infection Control Programs
Injury Prevention
Instructional Materials
Insulin Therapy Management
Interpretation of Regulations
Least Restrictive Placements
Legislative Issues
Medical Disorders
Medical Findings Interpretation
Medical Resource Linkage
Medical Services Upgrades
Medically Prescribed Services
Medication Administering
Mental and Emotional Screenings
Mental Health Issues
Mental Health Nursing
Multicultural Values and Beliefs
Multidisciplinary Team Member
Nursing Assessments
Nursing Case Management
Nursing Coordination
Nursing Diagnoses
Nursing Education
Nursing Interventions
Nursing Policies and Procedures
Nursing Principles and Techniques
Nursing Quality Assurance
Nursing Regulations Compliance
Nursing Work Standards
Optimal Health Maintenance
Optimum Health Services
Parent Liaison
Pediatric Emergency Assessment
Pediatric Health Issues
Pediatric Nursing
Pharmaceuticals Safekeeping
Physical Health Screenings
Primary Health Care Linkage
Progress Update Reports
Public Health Problems
Purchasing of Health Supplies
Purchasing of Special Equipment
Quality Nursing Health Services
Quality School Health Programs
Quality Student Health Services
Rash Treatment
Record Keeping
School Health Care Services
School Health Programs
School Health Regulations
School Health Services Planning
School Nurse Orientation
School Safety
Self-Care Education
Self-Care Encouragement
Sexual Health Education
Social Health
Special Education Placement
Special Nursing Interventions
Staff Wellness
State and Federal Regulations
Student Goal Establishment
Student Academic Success
Student Assessment Findings
Student Progress Monitoring
Student Safety and Protection
Student Treatment Plans
Substance Abuse Identification
Technology-Dependent Care
Temperature Monitoring
Treatment Coordination
Treatment Procedures
Workshop Leader
Workshop Preparation
Wound Dressing Changes
Do you Need Help with your Medical Resume?
Some of Our Top Resume Writing Awards