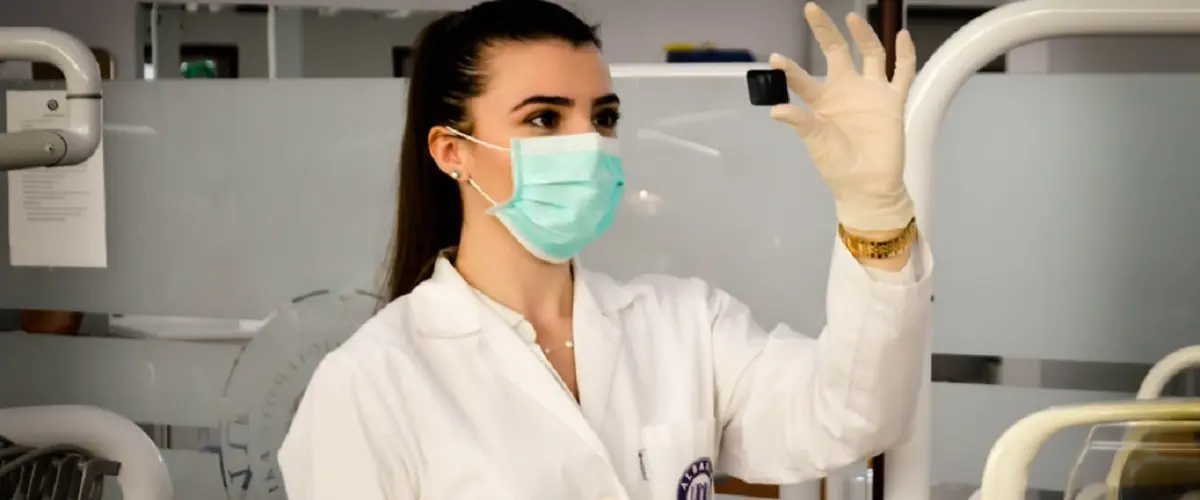 Best Healthcare Resume
Taking Healthcare Resumes to the Next Level
Take a glance at our amazing Healthcare Resume example and see how we can assist you in writing a stronger resume so you can secure your dream job.
Looking for the Best Healthcare Resume Examples?
A Healthcare Resume should include strong leadership skills, management skills, communication skills, teamwork ability, work ethics, and business acumen. More than a top-notch degree program or hands-on experience is needed for a promising career in health care. Employers of healthcare professionals look for more than just your clinical skills on your resume. It's also important that you hone your so-called "soft skills," also known as "personality skills."
Your healthcare resume is made up of several parts that highlight your skills and experience, but the final product must be both impressive and easy to read, and you might need some assistance in doing so. Every healthcare resume should be ATS-Keyword Optimizes and achievement-based. A professional healthcare resume writer can help you ensure your healthcare resume is seen by recruiters by making sure you have the right keywords. Let us help you to build a healthcare resume that highlights your best abilities and will help you to make a perfect impression on the one reading it.
Award-Winning Healthcare Resume Example
This Senior Director of Clinical Research Healthcare resume example was written for a physician-scientist seeking a clinical R&D role in that pharmaceutical industry. It demonstrates this healthcare leader's metrics-driven accomplishments in clinical research and medical affairs. This executive healthcare resume sample was awarded the prestigious global 2019 TORI award in the Best Healthcare Resume Category by Career Directors International.
The International Resume Writing Industry's most prestigious Toast of the Resume Industry™ (TORI) Resume Writing Competition by Career Directors International. The Top Resume Writing Awards are based on Visual Formatting and Design, Personal Branding, understanding of Employer/Position Requirements, and the use of powerful language. These Awards represent the Best Professional Resume Writers in the US.
Senior Director, Clinical Research Resume Sample
Jim is a client who wants to leverage his experience in drug clinical trials, advisory expertise as a medical affairs leader, and background in clinical practice as a physician to move to a similar position focused on research for drug discovery and building awareness and support for new drugs.
The branding title, "Senior Director, Clinical Research," along with the branding tagline, "Driving Delivery of the Pharmaceutical R&D Portfolio," tells the reader upfront who he is and what he does. The summary paragraph that follows provides an overview of the expanse of his experience (14 years), breadth of his expertise (R&D programs, pre-launch, and commercialization) specialty medical areas, the caliber/size of pharma companies where he has worked (global pharmaceutical industry giants), and what he does with the results (translating findings into clinical development opportunities and advising on future design of studies).
The box below the profile summary statement begins with an additional branding statement that demonstrates how he contributes to the patient world through his work (Synergizing Efforts for Drugs that Restore Patient Vitality) and contains supporting bullet points that illustrate how he does it. The box concludes with a list of his key skills and medical specialties.
Because the candidate needs to demonstrate both his clinical research skills and his background in clinical practice and teaching, I created two separate experience sections, leading with the more relevant clinical research and medical advisory roles. The roles contain a summary of his duties, followed by bullet points that demonstrate his effectiveness in the key areas mentioned in the box – building networks, planning, and leading clinical trials, and driving awareness of new drugs, as well as any added value, such as growing internal teams. The graphic illustration at the top of page two brings together into a chart some of the specific drugs for which Jim played a major role over the course of his career.
The second experience section provides a brief overview of his teaching and clinical practice experience, punctuated by a few key achievements. The healthcare resume example concludes with a listing of Jim's board certifications, education, and professional associations.
Here is more information on our Professional Healthcare Resume Writing Services or Executive Healthcare Resume Writing Services.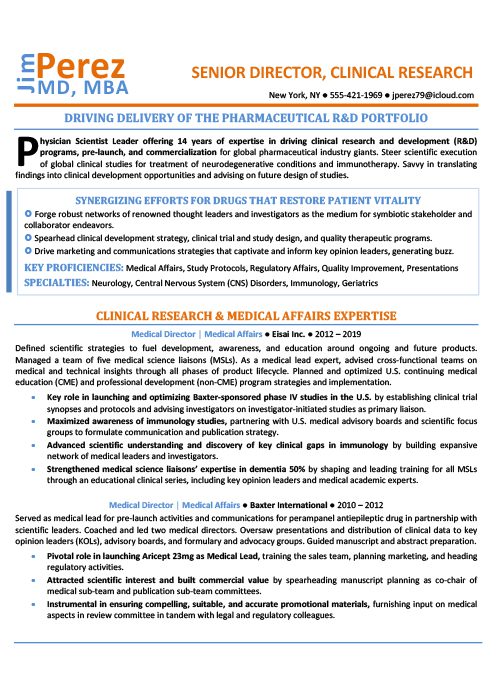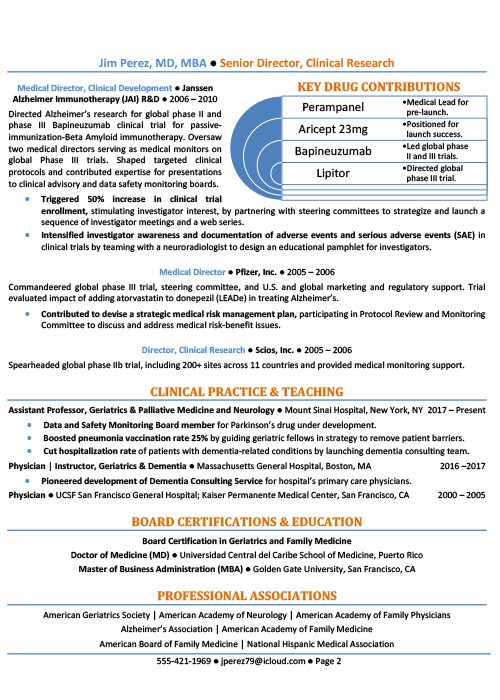 What are the Skills Needed for a Effective Healthcare Resume?
Below are just some examples of skills required for a remarkable healthcare resume. Remember, you can't just copy and paste this skill into your resume. They must be relevant to you and the job application and medical skills that you actually possess. You should include all of your hard skills, including certifications and technical proficiencies, as well as any soft skills that are mentioned in the job posting. Each of your key achievement statements can contain these keywords. We use actual examples to demonstrate this skill. Writing a healthcare resume is not about "stuffing" medical jargon but providing specific achievement states that are rich with the relevant keywords.
All healthcare professionals will have different keywords or healthcare skills. The medical field is wide and varied. Below are some of the keywords that may relate to you and other healthcare professionals, but there are many more specialized keywords that you may need as well. By carefully reviewing the job posting and working with a professional resume writer, you can ensure that your healthcare resume has the right keywords!
Why are these skills so important to have on your healthcare resume? Because of the dreaded Applicant Tracking Systems used by hiring managers and healthcare recruiters when creating the healthcare job description. These ATS systems are programmed with the keywords that the hiring manager feels are most appropriate for their position. These keywords could be slightly different from the exact same job but at a different hospital created by a different HR manager. It is important to not only match the job title with your branding title but also to match the keywords. A professional healthcare resume writer can assist you with keyword optimizing your healthcare resume.
Whatever your medical field, as a healthcare professional, you must present your medical skills and any soft skills that match the medical job you are applying for. Failing to have the right keywords could result in your resume being rejected before it ever is ever seen by a human!
HEALTHCARE UNITS | DEPARTMENTS
Ambulatory Care                            
Coronary Care Unit (CCU)         
Cardiovascular ICU            
Emergency Medicine
Intensive Care Unit (ICU)
Maternity Ward
Neonatal ICU
Neuro ICU
Open Heart Recovery
Operating Room
Recovery Room
Surgical Step-down
Surgical Intensive Care Unit
Telemetry Monitoring
Triage
HEALTHCARE AREAS OF SPECIALIZATION
Allergy
Anesthesiology
Audiology
Cardiology
Chiropractic
Dentistry
Dermatology
Dietetics
Endocrinology
Fertility
Gastroenterology
Gerontology | Geriatrics
Gynecology
HAZ-TAC
Holistic Wellness
Immunology
Internal Medicine
Kinesiology
Laboratory Technology
Maternity
Medical-Surgical
Nephrology
Neonatal
Neurology
Nutrition
Obstetrics
Occupational Therapy
Oncology
Ophthalmology
Orthodontistry
Orthopedics
Otolaryngology
Pathology
Pediatrics
Phlebotomy
Plastic Surgery
Podiatry
Psychiatry
Physical Therapy
Pulmonology
Preventive Medicine
Prostheses and Orthotics
Radiology
Rehabilitation
Rheumatology
Respiratory | Ventilation
Speech Pathology
Sonography
Surgery
Toxicology
Urology
Vascular Technology
Do you Need Help with your Healthcare Resume?
Let us help you land more interviews by helping you create the best healthcare resume for you. If you need assistance with your healthcare resume design, book a time to speak with our CEO and Founder, Arno Markus using the button below.
Some of Our Top Resume Writing Awards