According to the U.S. Bureau of Labor Statistics (BLS), employment of top executives, which includes executive directors, is projected to grow by 6% from 2021 to 2031. This is about as fast as the average for all occupations. About 318,100 openings for top executives are projected each year. This can be a perfect time for executive looking for their next role! First things first, craft a resume that showcases your achievemenets and watch your career soar.
Executive Director Resume should include strong strategic planning, business management, leadership and project management skills. As an executive director, you have a lot of experience and achievements that you want to showcase in your resume. Executive directors are expected to be strong leaders, so highlight your experience in managing teams, developing strategies, and leading change. Use metrics to show the impact you have made on previous organizations. Tailor your resume to the job description and the organization you are applying to. Use keywords from the job description, and make sure your experience matches the requirements of the role.
Have a look at our job-winning executive director resume and writing guide included below: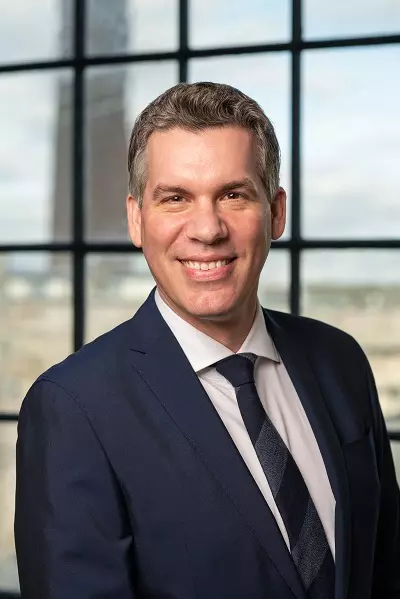 Arno Markus ​BA, MSc., CPRW
iCareerSolutions CEO and Founder
Arno Markus is a 20X Award-winning Certified Professional Resume Writer and founder of iCareerSolutions. Arno has worked with Fortune 500 Executives, North American Professionals, and Strategic-Thinking Leaders across all industries to assist them in landing Top Positions at Billion-Dollar Companies, Start-Ups, and everything in between.
"Arno did a really nice job with my resume & cover letter. He also helped me craft the content to refresh my linked in profile. Outside of a clear and honest articulation of my past experiences, he brings out the critical few value proposition statements that would stand out and differentiate my skills to a recruiter / hiring manager, in my case for corporate boards. Thank you for your help, Arno!"
Active Members of The National Resume Writers' Association (NRWA) │ The Professional Association of Resume Writers & Career Coaches (PARW&CC) │ Career Directors International (CDI) │ Career Professionals (CPC) │ Forbes Coaches Council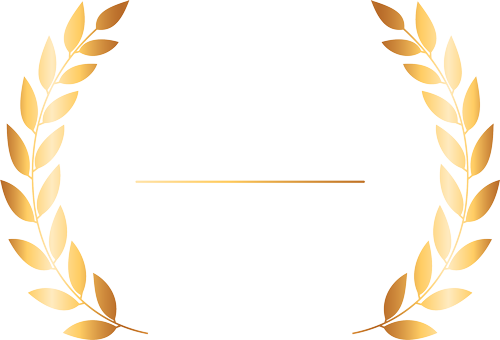 Executive Director/ COO Resume Sample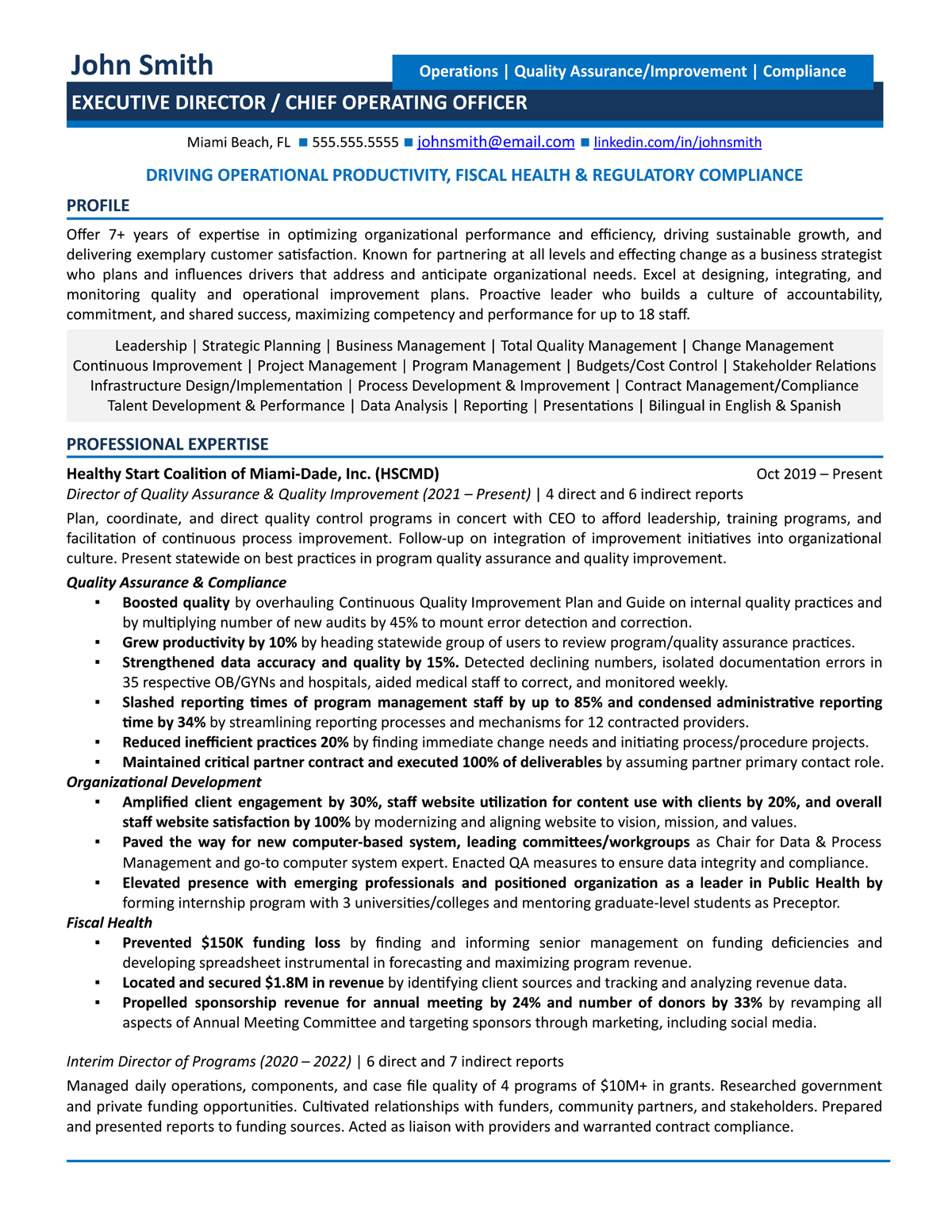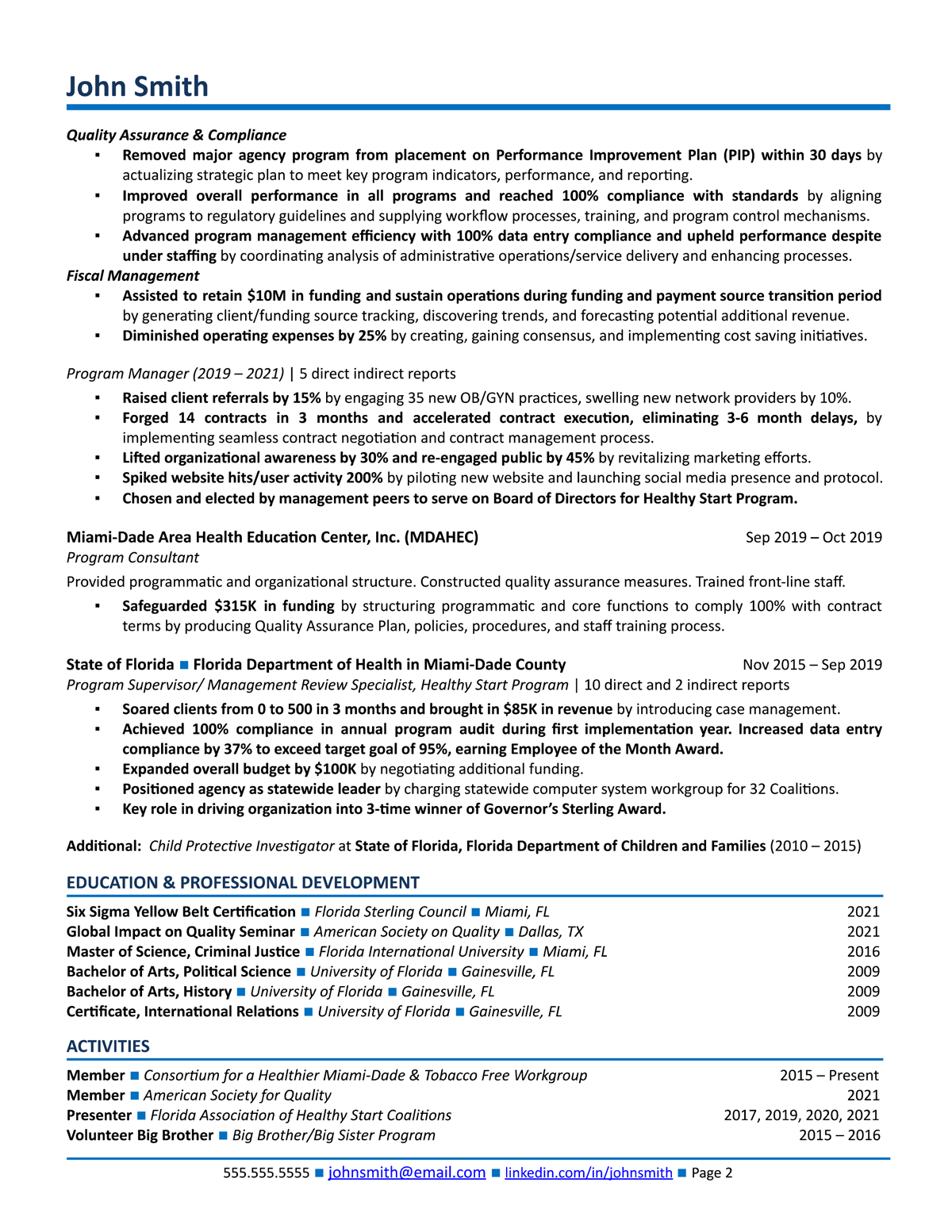 Do you need an Executive Director Resume? Let us help you land more interviews by helping you create the best resume for you. Click on the button below to book a time to speak directly with Arno Markus, CEO, and Founder.
Executive Director Resume Sample II
Resume Strategy: Douglas felt he had fulfilled all challenges in his current role and was looking for an exciting new Executive Director opportunity with a startup organization. He was looking for an opportunity where he could combine complex analytics with team building/leadership and setting corporate strategy.
His career was built in analyzing corporate banking, but he also always gravitated towards behavior design in each of his positions. He understood people as much as he understood numbers and economics and he wanted to continue to utilize his strengths in his next role. We needed to showcase his leadership, initiative, innovation, big-picture thinking, business development, and financial/analytical skills.
He instinctively understands and identifies problem areas and quickly turns around those problems in creative ways. It was important to establish him as an innovator in not only processes but also behavior changes, with sound, quantifiable results.
He was very satisfied with the end product and his resume has opened many doors to date.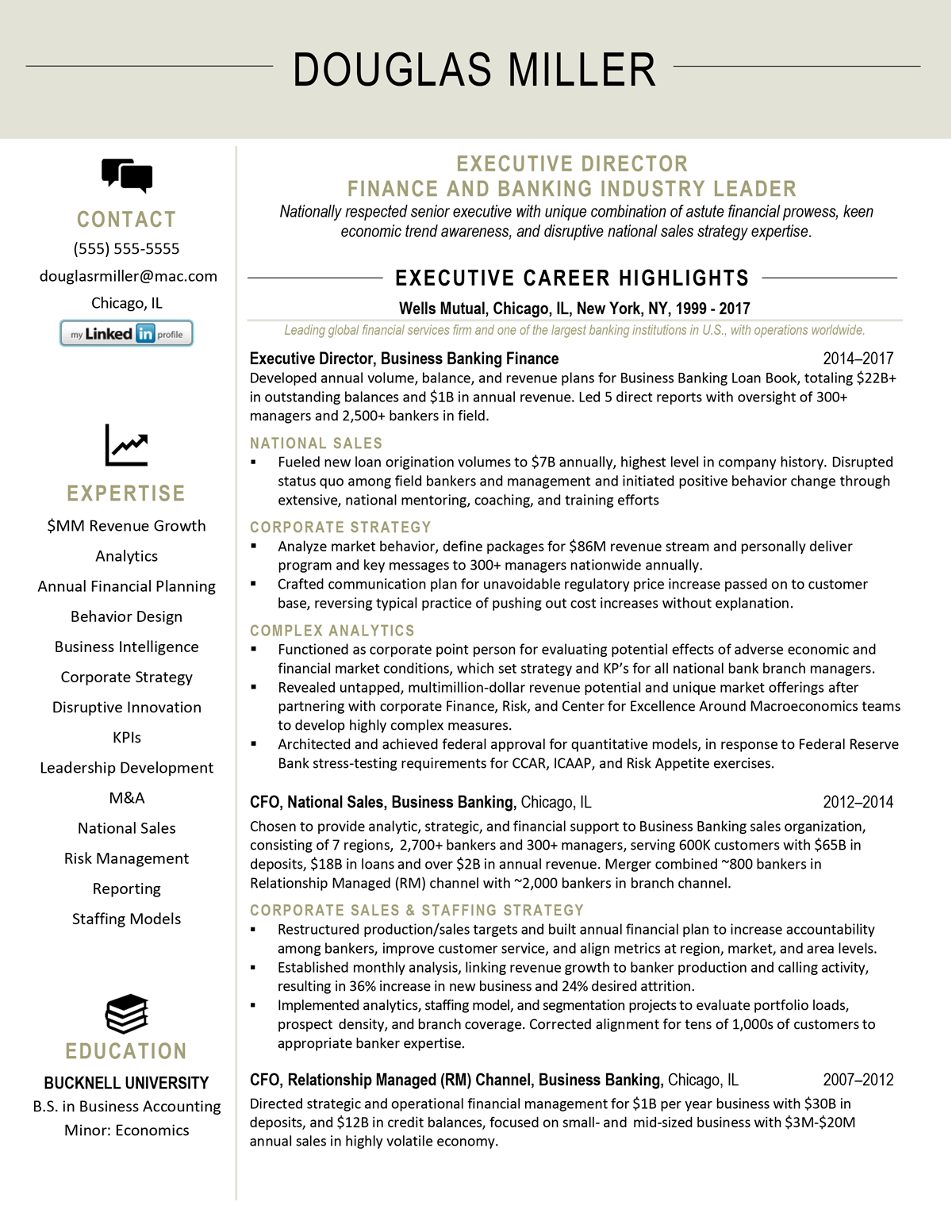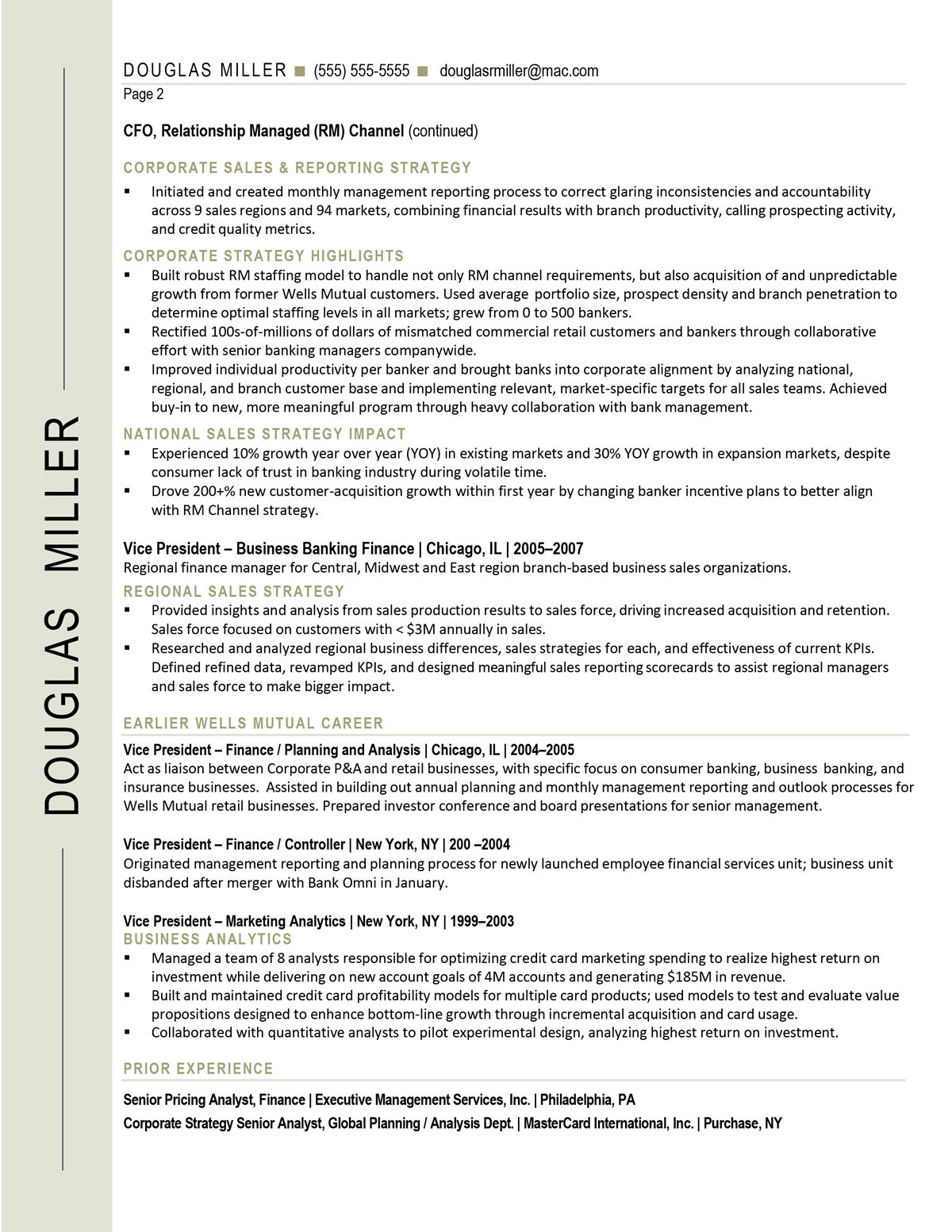 Let us help you land more interviews by helping you create the best resume for you. Click on the button below to book a time to speak directly with Arno Markus, CEO, and Founder.
Executive Communications Director Resume Sample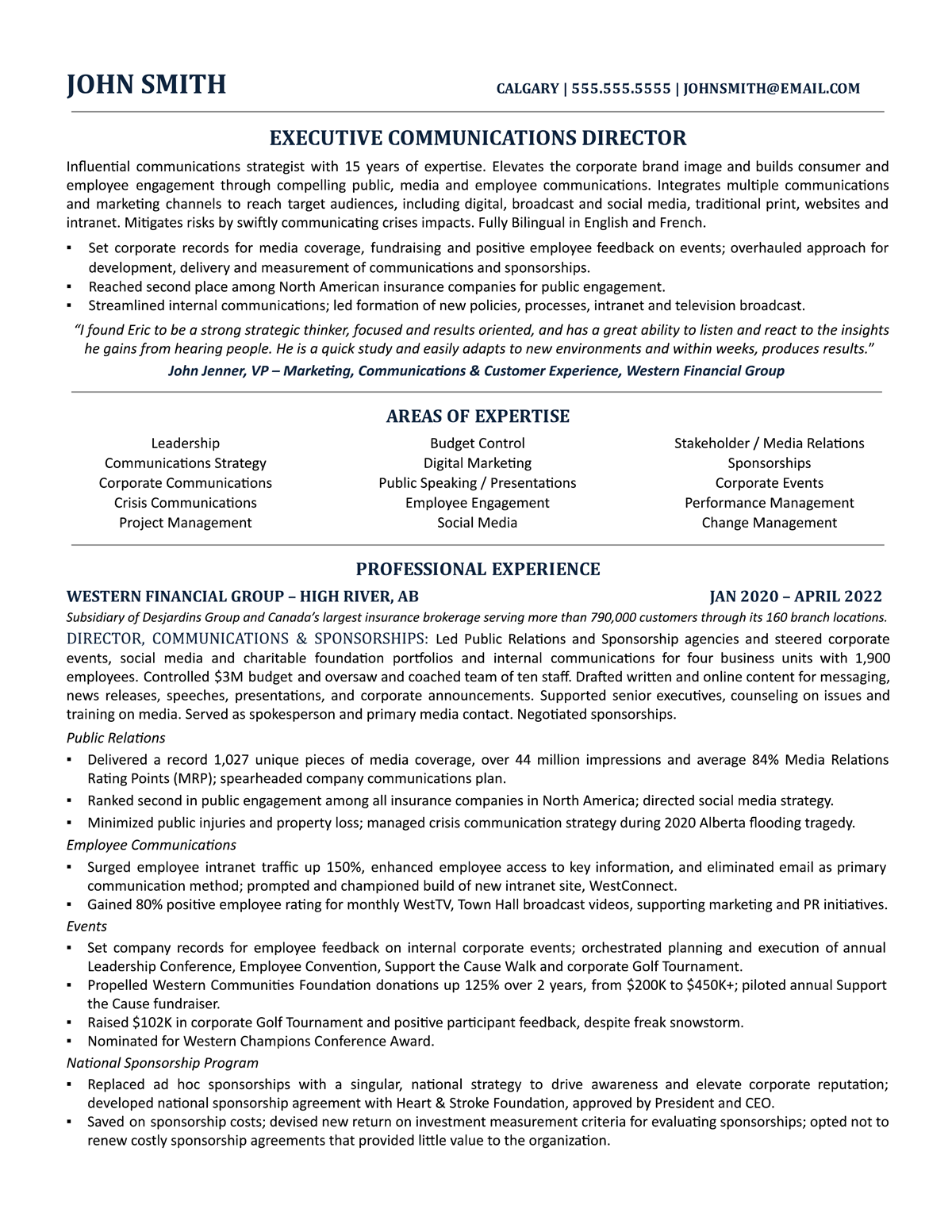 Do you need an Executive Communications Director Resume? Let us help you land more interviews by helping you create the best resume for you. Click on the button below to book a time to speak directly with Arno Markus, CEO, and Founder.
How to write an Executive Director Resume
As an executive director, you are responsible for steering an organization's vision and leading its team to success. Your resume should reflect your strategic thinking, leadership skills, and ability to drive growth. In this comprehensive guide, we'll walk you through the essential steps to create an impressive executive director resume that sets you apart from the competition.
Select the Right Resume Format
Choosing the right resume format is crucial to presenting your experience and skills effectively. There are three main resume formats to consider:
Chronological: This format lists your work experience in reverse chronological order, focusing on your career progression. It is ideal for executive directors with a steady career path in the same industry.
Functional: This format emphasizes your skills and achievements rather than your work history. It can be useful for those with career gaps or transitioning to an executive director role from a different field.
Hybrid/Combination: This format combines elements of both chronological and functional formats, highlighting relevant skills and achievements while showcasing your work experience. It is suitable for executive directors with diverse backgrounds and experiences.
Powerful Summary for Executive Director Resume
A powerful summary for an executive director resume should be concise, engaging, and tailored to the position. It must emphasize your most significant accomplishments, relevant skills, and experience that showcase your suitability for the role. Here's a step-by-step guide to writing a compelling executive summary for your executive director resume:
Begin with an impactful adjective: Start your summary with a strong, descriptive adjective that encapsulates your work style or approach, such as "results-driven," "visionary," or "innovative."

Specify your experience: Clearly state your years of experience as an executive director or in a related leadership role. This information helps recruiters understand your level of expertise in the field.

Highlight your core strengths: Focus on your most relevant skills and areas of expertise as they pertain to the executive director role, such as strategic planning, fundraising, program development, or team management.

Showcase quantifiable achievements: Include specific accomplishments from your career that demonstrate your impact and ability to deliver results. Use numbers or percentages to quantify these achievements whenever possible.

Tailor to the role: Customize your summary to align with the specific requirements of the executive director position you're applying for. Review the job description and adjust your summary to emphasize the skills and experiences that the employer is looking for.
Executive Director Resume Summary Example
Results-driven Executive Director with over 12 years of experience leading nonprofit organizations to success. Expert in strategic planning, fundraising, and program development, with a proven track record of increasing annual revenue by 35% and expanding community outreach by 50%. Strong leader with exceptional communication and team management skills, committed to driving positive change and maximizing organizational impact.
Executive Director Resume Summary Example for Healthcare
Visionary Executive Director with 10+ years of experience in driving growth and innovation within the healthcare industry. Skilled in strategic planning, program implementation, and team leadership, with a track record of increasing patient satisfaction by 45% and reducing operational costs by 20%. Passionate about improving healthcare access and quality while maximizing organizational efficiency and sustainability
Executive Director Resume Summary Example for Non-Profit
Dynamic Executive Director with over 15 years of experience in spearheading educational initiatives for both nonprofit and public institutions. Proven expertise in curriculum development, strategic partnerships, and budget management, resulting in a 25% increase in student performance and 35% growth in enrollment. Committed to fostering educational excellence and championing opportunities for diverse student populations.
Showcase Your Core Competencies
To showcase core competencies in an executive director resume, create a dedicated section that highlights your most relevant skills and expertise. This section should be easy to scan and tailored to the specific position you are applying for. Here's how to effectively showcase your core competencies:
Review the job description: Carefully read the job description to identify the most important skills and expertise the employer is seeking. Make a list of these requirements to ensure you address them in your core competencies section.

Choose 10-15 relevant competencies: Select the most pertinent skills from your list that align with the job requirements and demonstrate your ability to excel in the executive director role. These should include a mix of hard and soft skills that showcase your leadership abilities, strategic thinking, and industry-specific knowledge.

Organize your competencies: Arrange your core competencies logically for a balanced appearance. This will help recruiters quickly scan the section and identify your most relevant skills.

Tailor to the position: Remember to customize your core competencies for each executive director position you apply for, emphasizing the skills and expertise that are most relevant to that specific role. Here are some relevant skills to an executive director resume:
Strategic planning
Vision setting
Financial management
Budgeting
Fundraising
Donor relations
Grant writing
Program development
Program evaluation
Community engagement
Partnership building
Marketing
Public relations
Social media management
Human resources
Talent development
Staff management
Team building
Leadership
Conflict resolution
Negotiation
Decision-making
Organizational development
Change management
Project management
Board governance
Stakeholder management
Event planning
Volunteer management
Risk management
Compliance
Policy development
Advocacy
Public speaking
Presentation skills
Networking
Crisis management
Resource allocation
Contract negotiation
Performance management
Coaching and mentoring
Time management
Delegation
Operational efficiency
Quality control
Process improvement
Data analysis
Reporting
Research
Proposal writing
Customer service
Goal setting
KPI development
Problem-solving
Critical thinking
Creativity
Adaptability
Resilience
Cross-functional collaboration
Diversity and inclusion
Cultural competence
Emotional intelligence
Active listening
Written communication
Verbal communication
Interpersonal skills
Collaboration
Ethics and integrity
Innovation
Analytical thinking
Resourcefulness
Initiative
Results-oriented
Attention to detail
Systems thinking
Technological proficiency
Microsoft Office Suite
Customer relationship management (CRM) software
Nonprofit management software
Data visualization tools
Digital marketing
SEO and SEM
Content development
Brand management
Media relations
Government relations
Lobbying
Corporate social responsibility
Sustainability
Metrics and evaluation
Strategic partnerships
Public policy
International relations
Multilingualism
Cross-cultural communication
Decision making under pressure
Mentoring and coaching
Talent acquisition
Employee engagement
Succession planning
You can include a seperate section to list skills relevant to you:

Detail Your Work Experience
Listing your experience on an executive director resume is crucial. For each position, include the job title, company name, location, and the dates you held the position (month and year). Ensure consistency in formatting throughout this section. Present your experience using 3-5 bullet points for each position. This format makes your resume easy to read and helps recruiters quickly identify your key accomplishments. Here is an example of how to list experience section on executive director resume:
Healthy Start Coalition of Miami-Dade, Inc. (HSCMD) Oct 2012 – Present
Director of Quality Assurance & Quality Improvement (2014 – Present) | 4 direct and 6 indirect reports
Plan, coordinate, and direct quality control programs in concert with CEO to afford leadership, training programs, and facilitation of continuous process improvement. Follow-up on integration of improvement initiatives into organizational culture. Present statewide on best practices in program quality assurance and quality improvement.
Quality Assurance & Compliance
Boosted quality

by overhauling Continuous Quality Improvement Plan and Guide on internal quality practices and by multiplying number of new audits by 45% to mount error detection and correction. 

Grew productivity by 10%

by heading statewide group of users to review program/quality assurance practices. 

Strengthened data accuracy and quality by 15%.

Detected declining numbers, isolated documentation errors in 35 respective OB/GYNs and hospitals, aided medical staff to correct, and monitored weekly.

Slashed reporting times of program management staff by up to 85% and condensed administrative reporting time by 34%

by streamlining reporting processes and mechanisms for 12 contracted providers.

Reduced inefficient practices 20%

by finding immediate change needs and initiating process/procedure projects.

Maintained critical partner contract and executed 100% of deliverables

by assuming partner primary contact role.
Organizational Development
Amplified client engagement by 30%, staff website utilization for content use with clients by 20%, and overall staff website satisfaction by 100%

by modernizing and aligning website to vision, mission, and values.
Paved the way for new computer-based system, leading committees/workgroups

as Chair

for Data & Process Management and

go-to computer system expert. Enacted QA measures to ensure data integrity and compliance.
Elevated presence with emerging professionals and positioned organization as a leader in Public Health by

forming internship program with 3 universities/colleges and mentoring graduate-level students as Preceptor.
Fiscal Health
Prevented $150K funding loss

by finding and informing senior management on funding deficiencies and developing spreadsheet instrumental in forecasting and maximizing program revenue. 

Located and secured $1.8M in revenue

by identifying client sources and tracking and analyzing revenue data.

Propelled sponsorship revenue for annual meeting by 24% and number of donors by 33%

by revamping all aspects of Annual Meeting Committee and targeting sponsors through marketing, including social media.
Interim Director of Programs (2013 – 2015) | 6 direct and 7 indirect reports
Managed daily operations, components, and case file quality of 4 programs of $10M+ in grants. Researched government and private funding opportunities. Cultivated relationships with funders, community partners, and stakeholders. Prepared and presented reports to funding sources. Acted as liaison with providers and warranted contract compliance. 
Quality Assurance & Compliance
Removed major agency program from placement on Performance Improvement Plan (PIP) within 30 days

by actualizing strategic plan to meet key program indicators, performance, and reporting.
Improved overall performance in all programs and reached 100% compliance with standards

by aligning programs to regulatory guidelines and supplying workflow processes, training, and program control mechanisms.
Advanced program management efficiency with 100% data entry compliance and upheld performance despite under staffing

by coordinating analysis of administrative operations/service delivery and enhancing processes.
Fiscal Management
Assisted to retain $10M in funding and sustain operations during funding and payment source transition period

by generating client/funding source tracking, discovering trends, and forecasting potential additional revenue.
Diminished operating expenses by 25%

by creating, gaining consensus, and implementing cost saving initiatives.
Program Manager (2012 – 2014) | 5 direct indirect reports
Raised client referrals by 15%

by engaging 35 new OB/GYN practices, swelling new network providers by 10%. 

Forged 14 contracts in 3 months and accelerated contract execution, eliminating 3-6 month delays,

by implementing seamless contract negotiation and contract management process. 

Lifted organizational awareness by 30% and re-engaged public by 45%

by revitalizing marketing efforts. 

Spiked website hits/user activity 200%

by piloting new website and launching social media presence and protocol. 

Chosen and elected by management peers to serve on Board of Directors for Healthy Start Program.

 
Miami-Dade Area Health Education Center, Inc. (MDAHEC) Sep 2012 – Oct 2012
Program Consultant
Provided programmatic and organizational structure. Constructed quality assurance measures. Trained front-line staff.
Safeguarded $315K in funding

by structuring programmatic and core functions to comply 100% with contract terms by producing Quality Assurance Plan, policies, procedures, and staff training process. 
State of Florida ◼ Florida Department of Health in Miami-Dade County Nov 2008 – Sep 2012
Program Supervisor/ Management Review Specialist, Healthy Start Program | 10 direct and 2 indirect reports
Soared clients from 0 to 500 in 3 months and brought in $85K in revenue

by introducing case management. 
Achieved 100% compliance in annual program audit during first implementation year. Increased data entry compliance by 37% to exceed target goal of 95%, earning Employee of the Month Award.
Expanded overall budget by $100K

by negotiating additional funding.
Positioned agency as statewide leader

by charging statewide computer system workgroup for 32 Coalitions.
Key role in driving organization into 3-time winner of Governor's Sterling Award.
Additional:  Child Protective Investigator at State of Florida, Florida Department of Children and Families (2003 – 2008)
Highlight Your Education and Professional Development
List your degrees and relevant certifications, starting with the highest level of education. If you have participated in professional development programs or workshops, include them as well. We've included example of Education and Certification Section below:
EDUCATION & PROFESSIONAL DEVELOPMENT
Six Sigma Yellow Belt Certification ◼ Florida Sterling Council ◼ Miami, FL  2014
Global Impact on Quality Seminar ◼ American Society on Quality ◼ Dallas, TX  2014
Master of Science, Criminal Justice ◼ Florida International University ◼ Miami, FL  2009
Bachelor of Arts, Political Science ◼ University of Florida ◼ Gainesville, FL  2002
Bachelor of Arts, History ◼ University of Florida ◼ Gainesville, FL     2002
Certificate, International Relations ◼ University of Florida ◼ Gainesville, FL  2002
ACTIVITIES
Member ◼ Consortium for a Healthier Miami-Dade & Tobacco Free Workgroup  2008 – Present 
Member ◼ American Society for Quality  2014
Presenter ◼ Florida Association of Healthy Start Coalitions  2010, 2012, 2013, 2014
Volunteer Big Brother ◼ Big Brother/Big Sister Program  2008 – 2009
Cover Letter for Executive Director Position
An effective cover letter for an executive director position should be tailored to the specific job, clearly demonstrating your leadership experience, passion for the organization's mission, and the value you can bring to the role.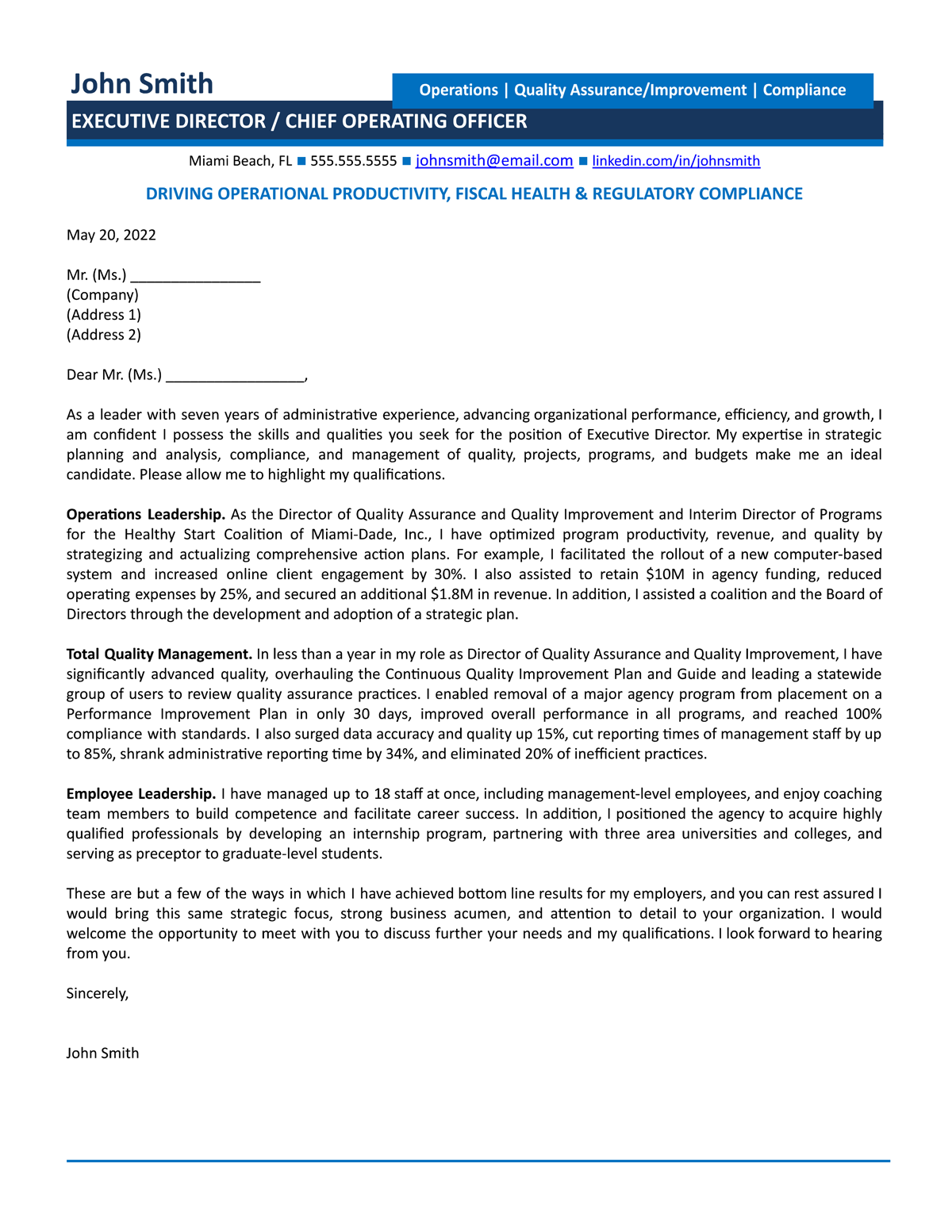 Click Here to view Executive Director Cover Letter Samples
Get your Job-Winning Resume Today!
iCareerSolutions is one of the Top Professional Resume & LinkedIn Profile Writing Services and Career Counseling Services in the US. The iCS team possesses Industry Certifications and Awards, including the Certified Professional Resume Writer Certification and the 2019 Best Project Manager Resume Writing Award from Career Directors International and the 2018 Best Analyst Resume from the National Resume Writing Association.
Our Top C-Level/Executive Resume Testimonials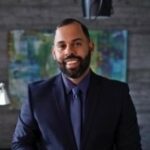 I met Arno when I was seeking out the need for a professional service in revamping my resume. I was introduced to him by Emily, of Refresh Your Step and I quickly noticed that Arno was a true professional with a keen understanding of resume writing and the current trends in the job market. Throughout the resume writing process, Arno ensured that all my questions were answered and provided a concis…
Administrative & Operations Executive
Top Resume Writing Awards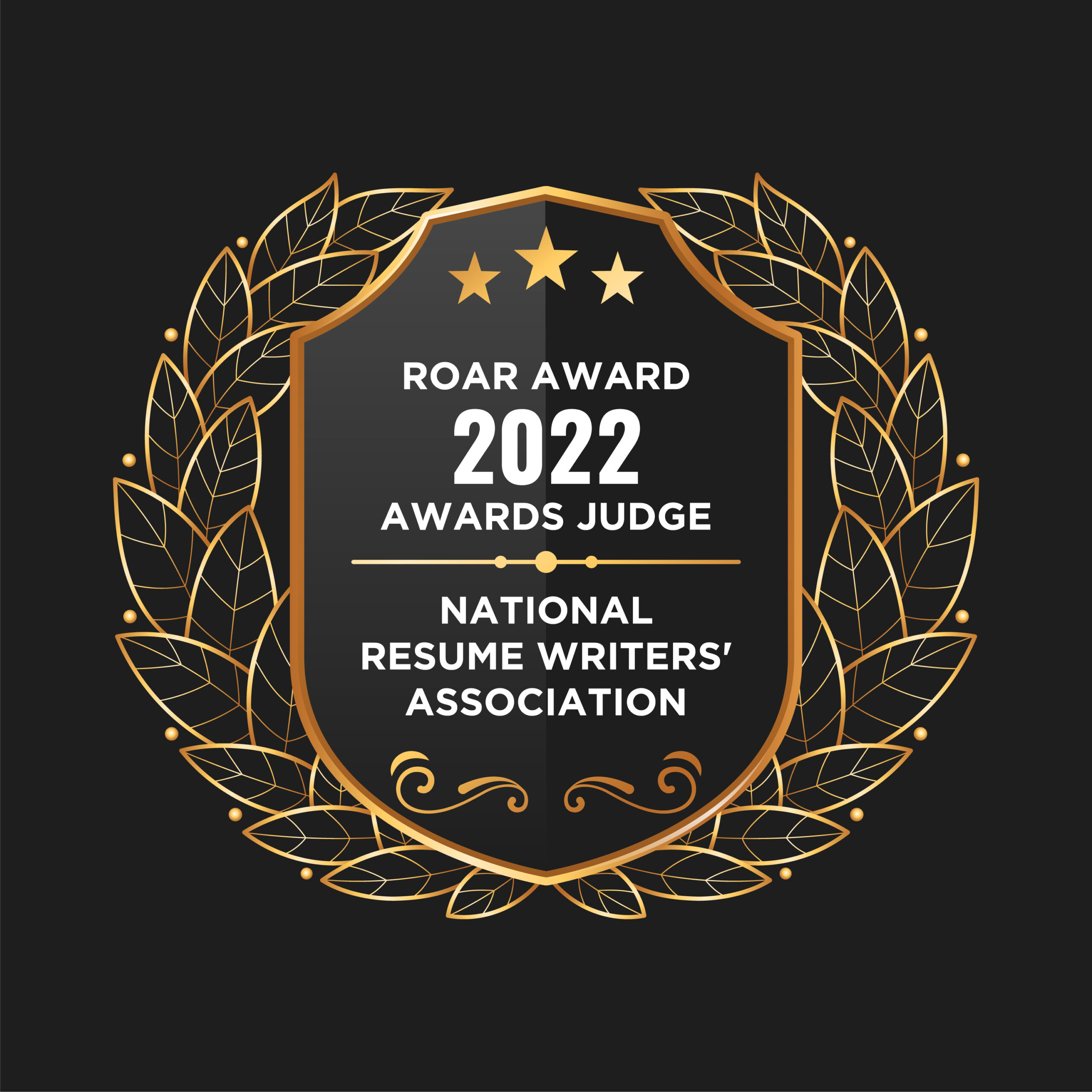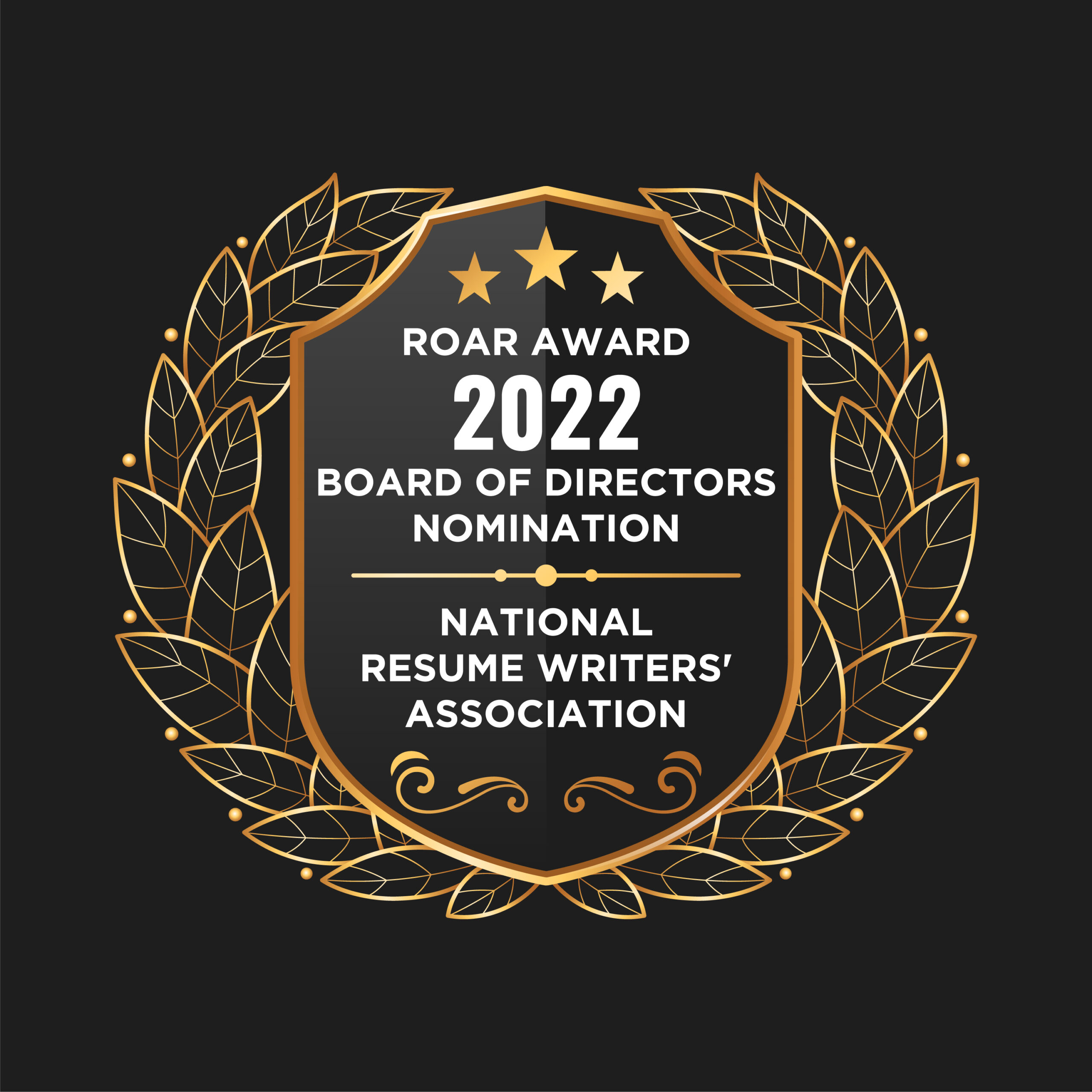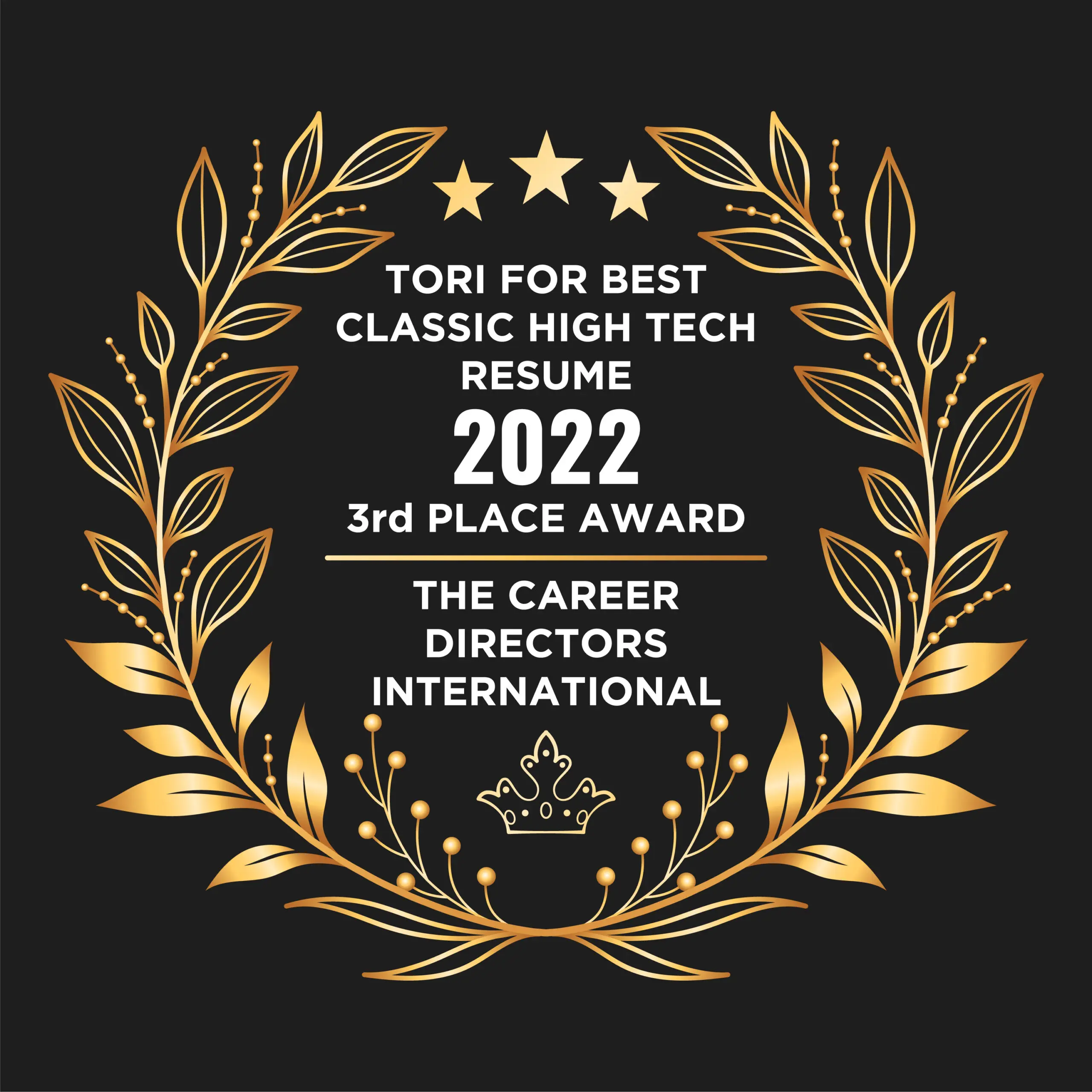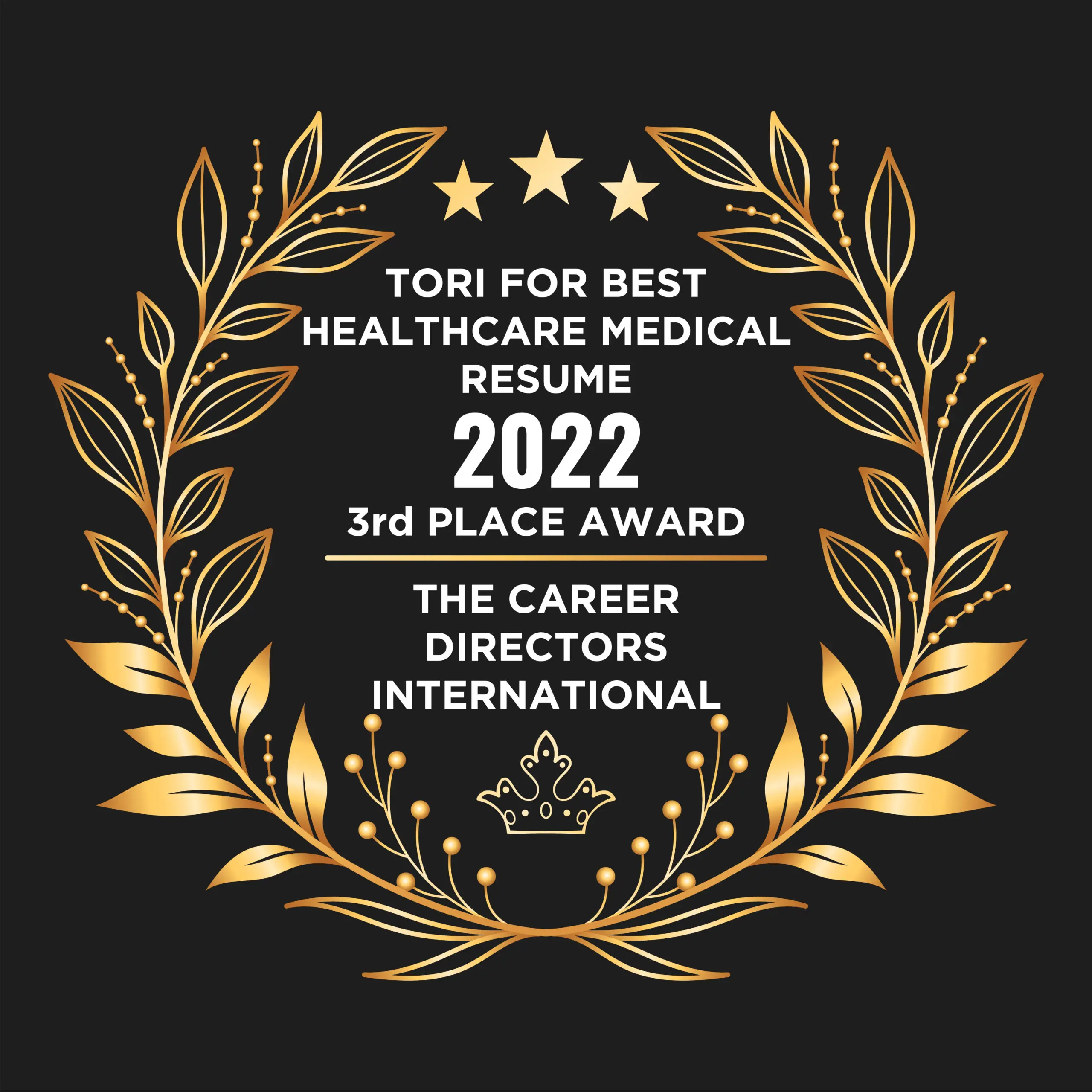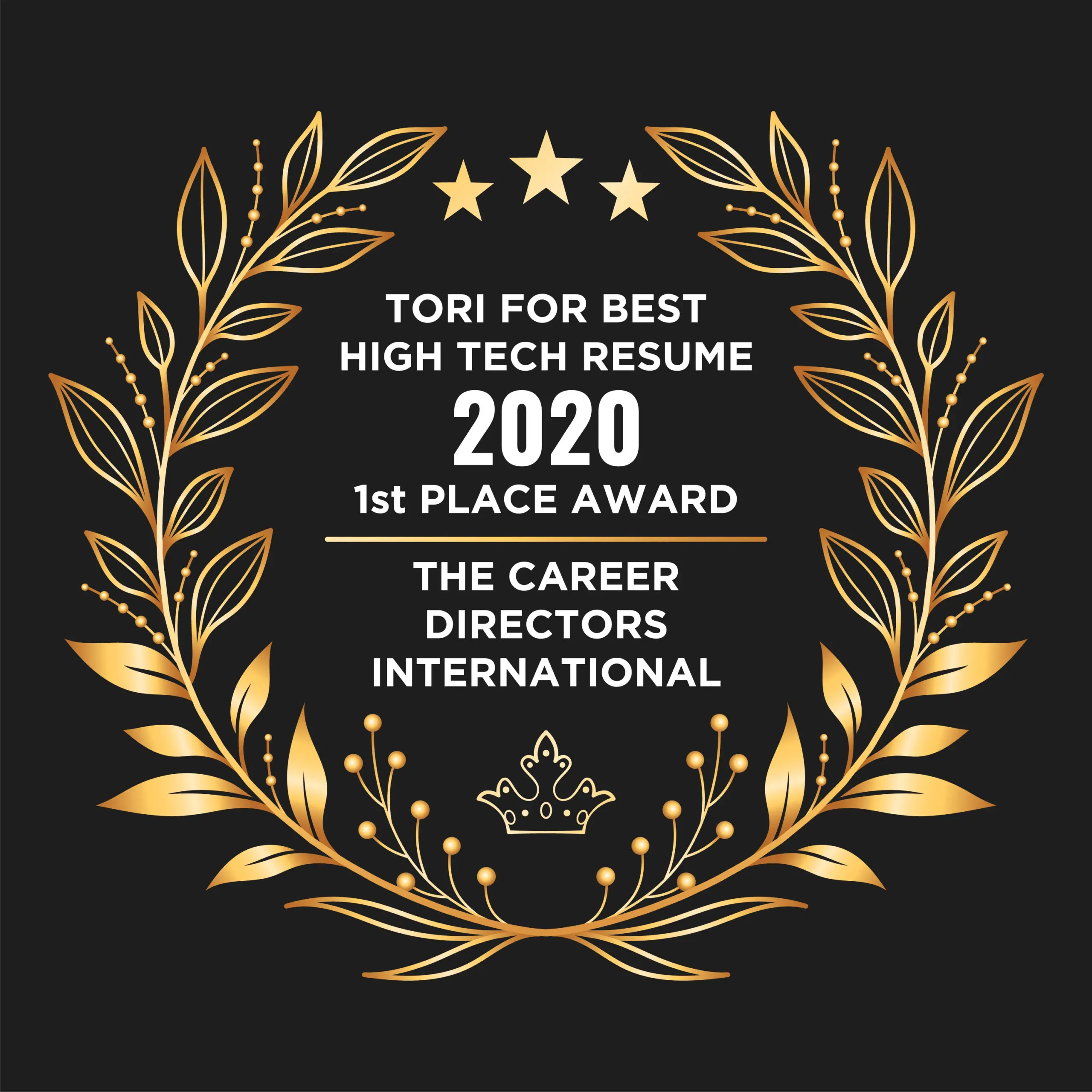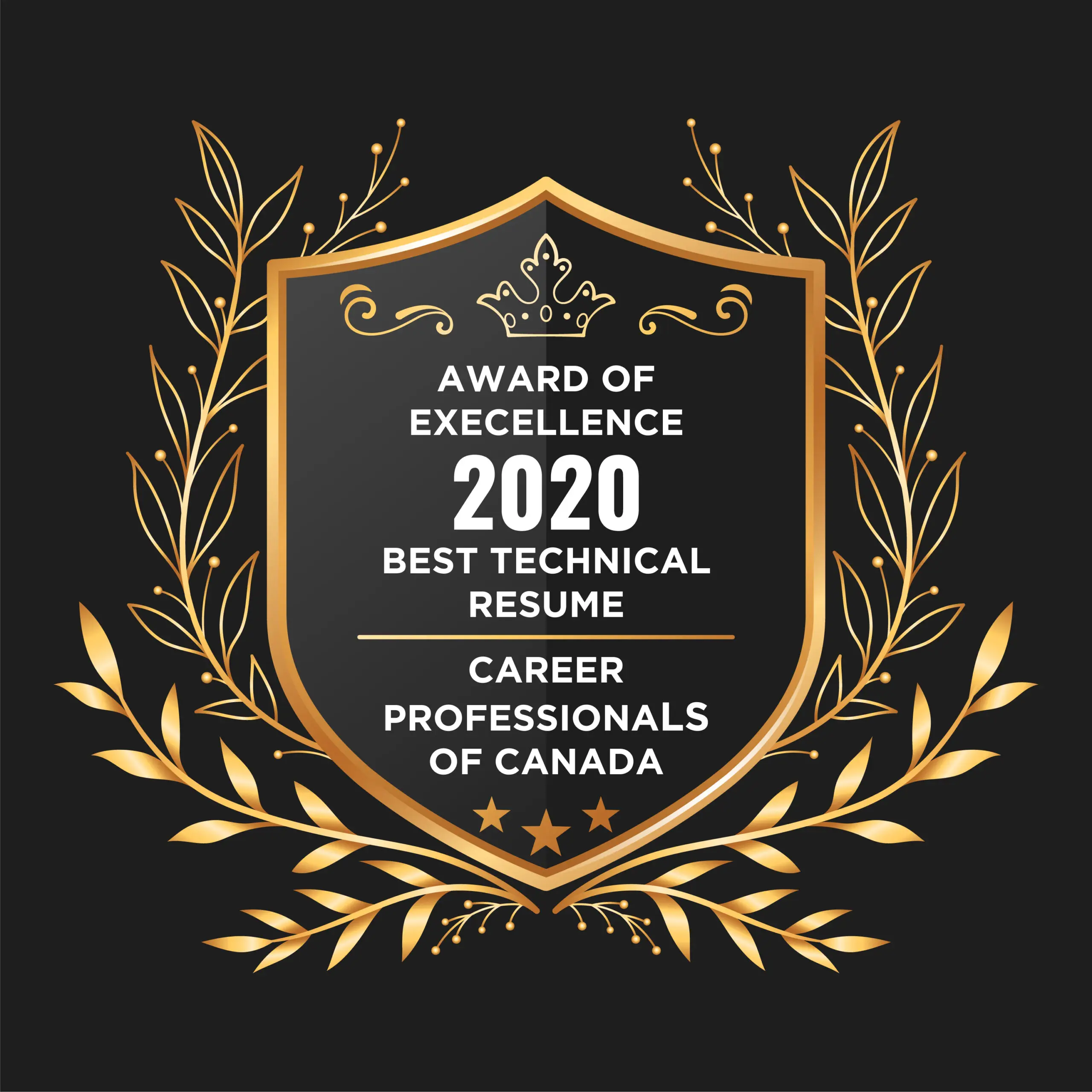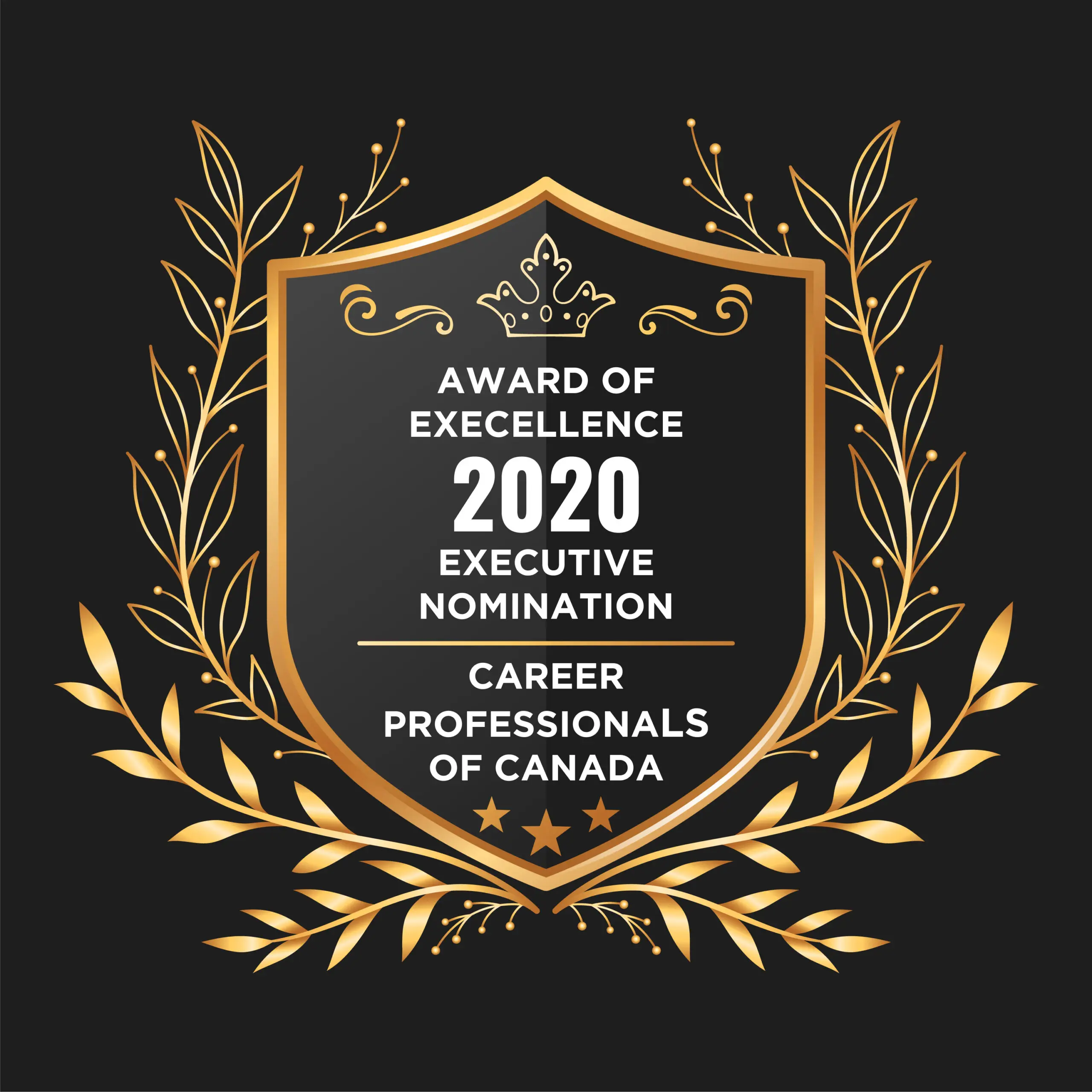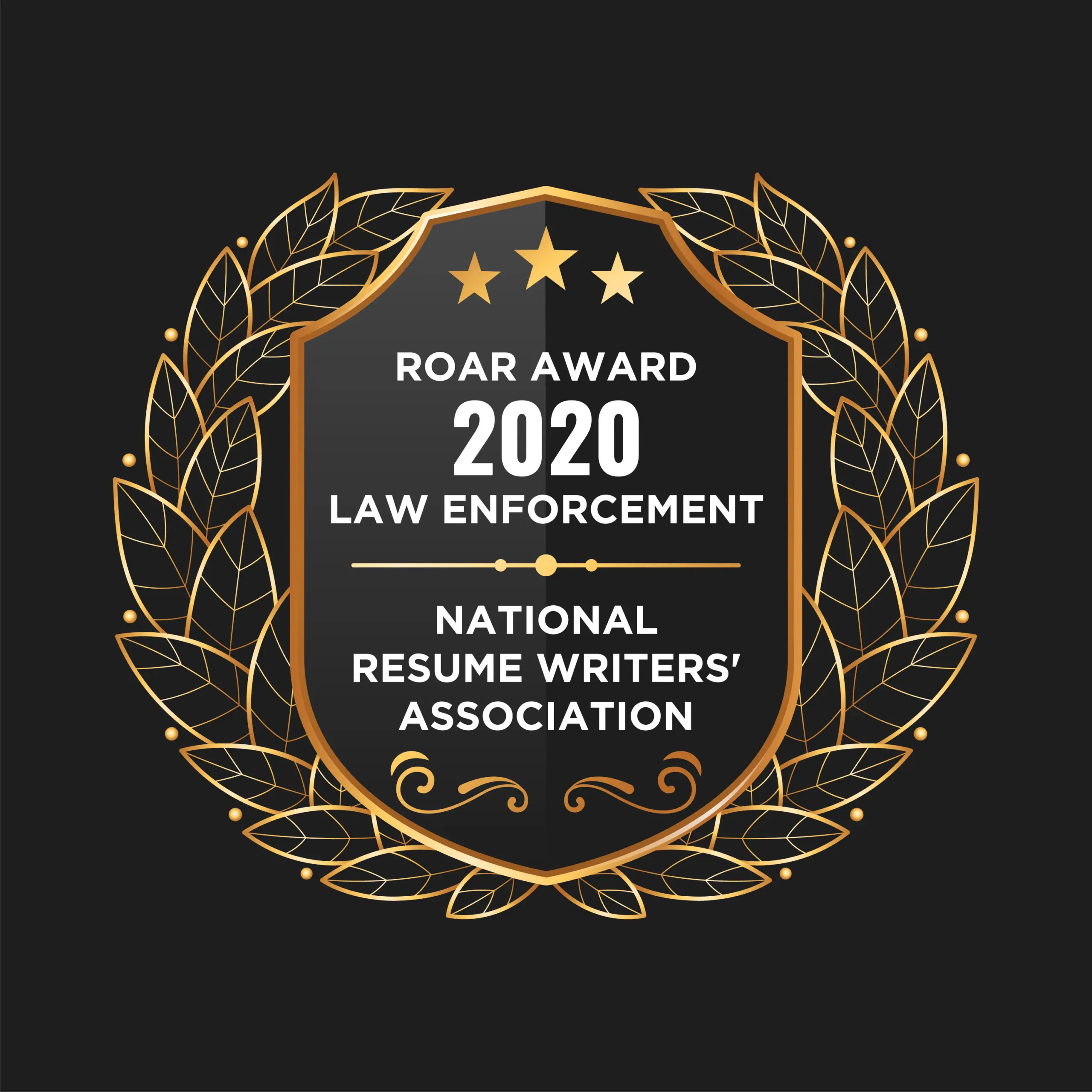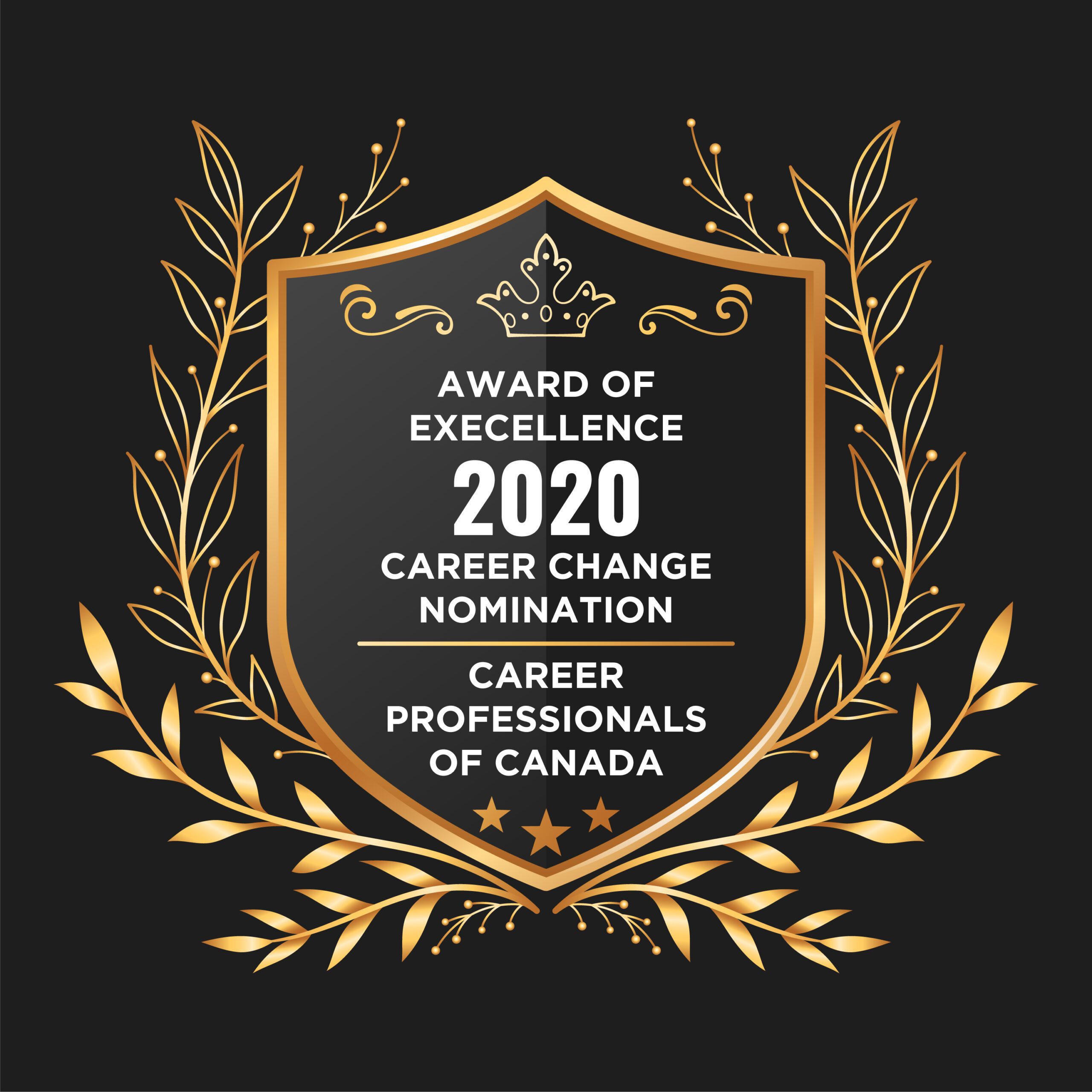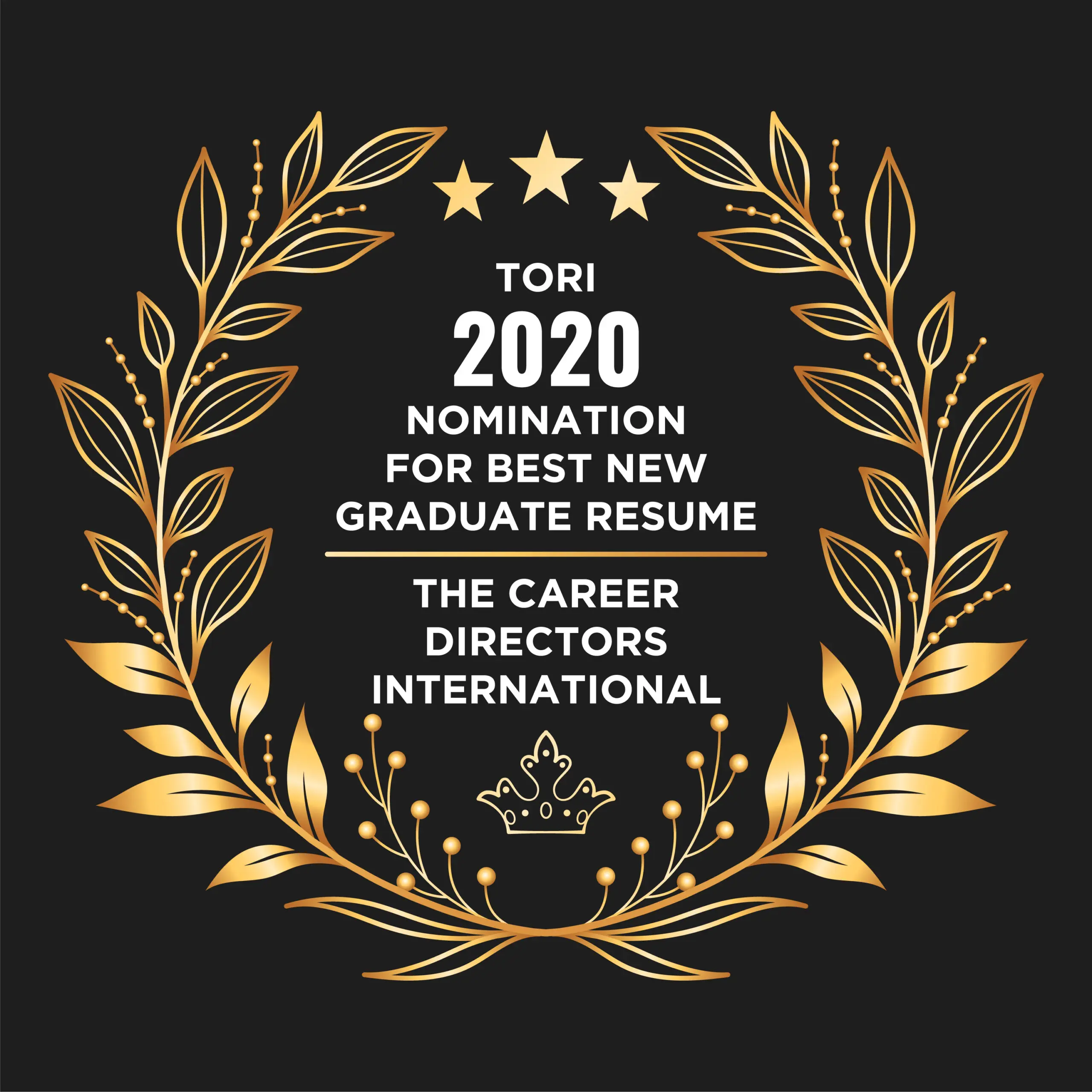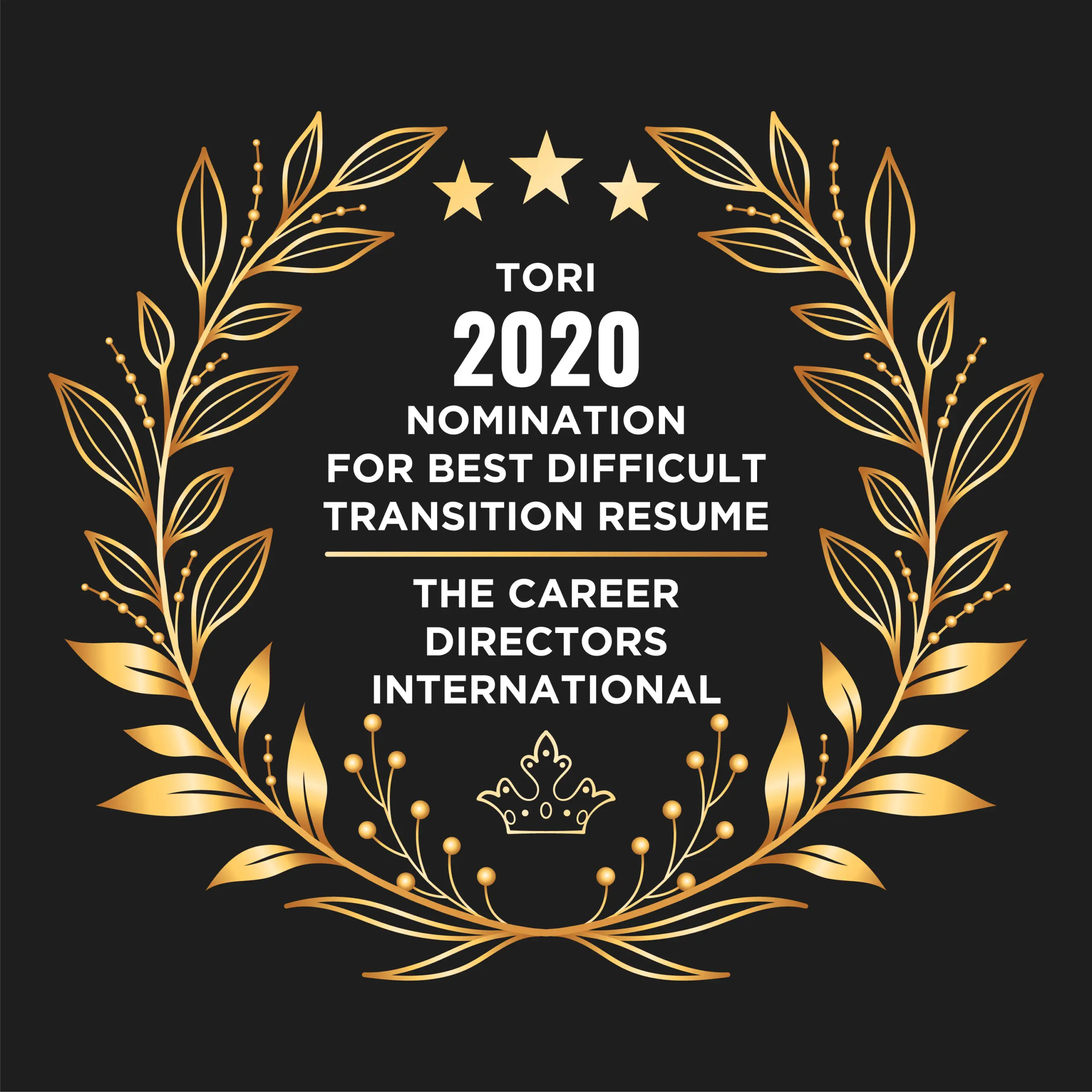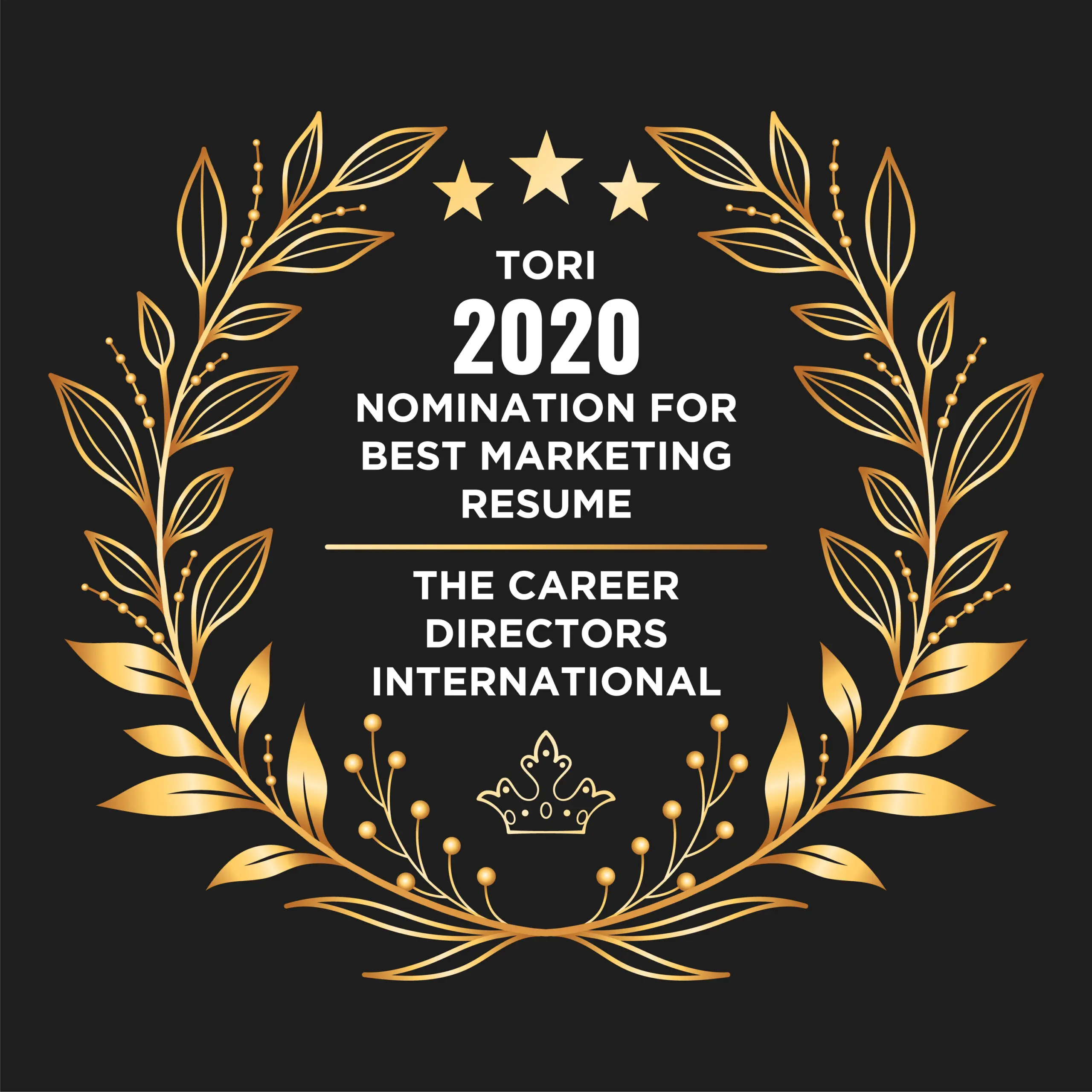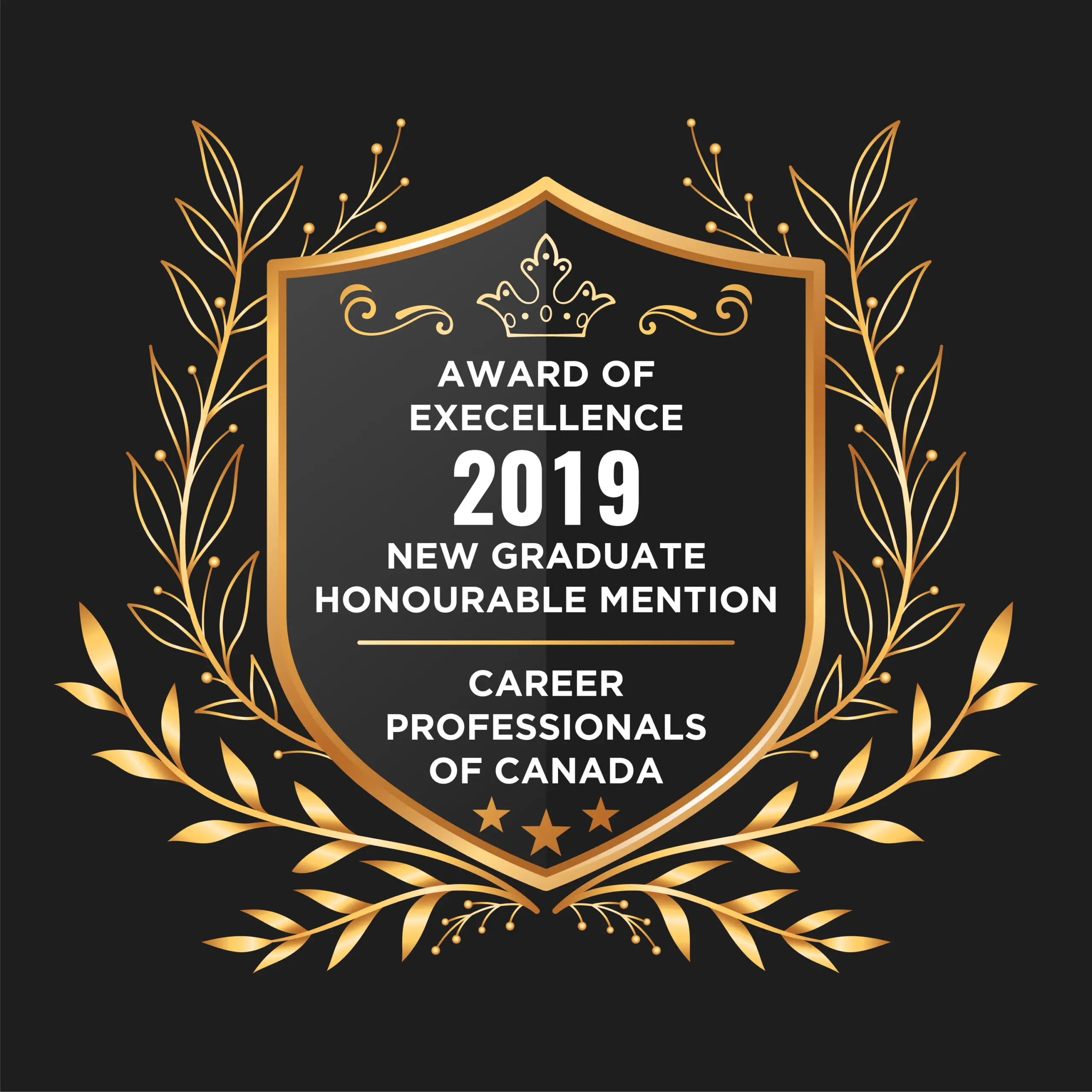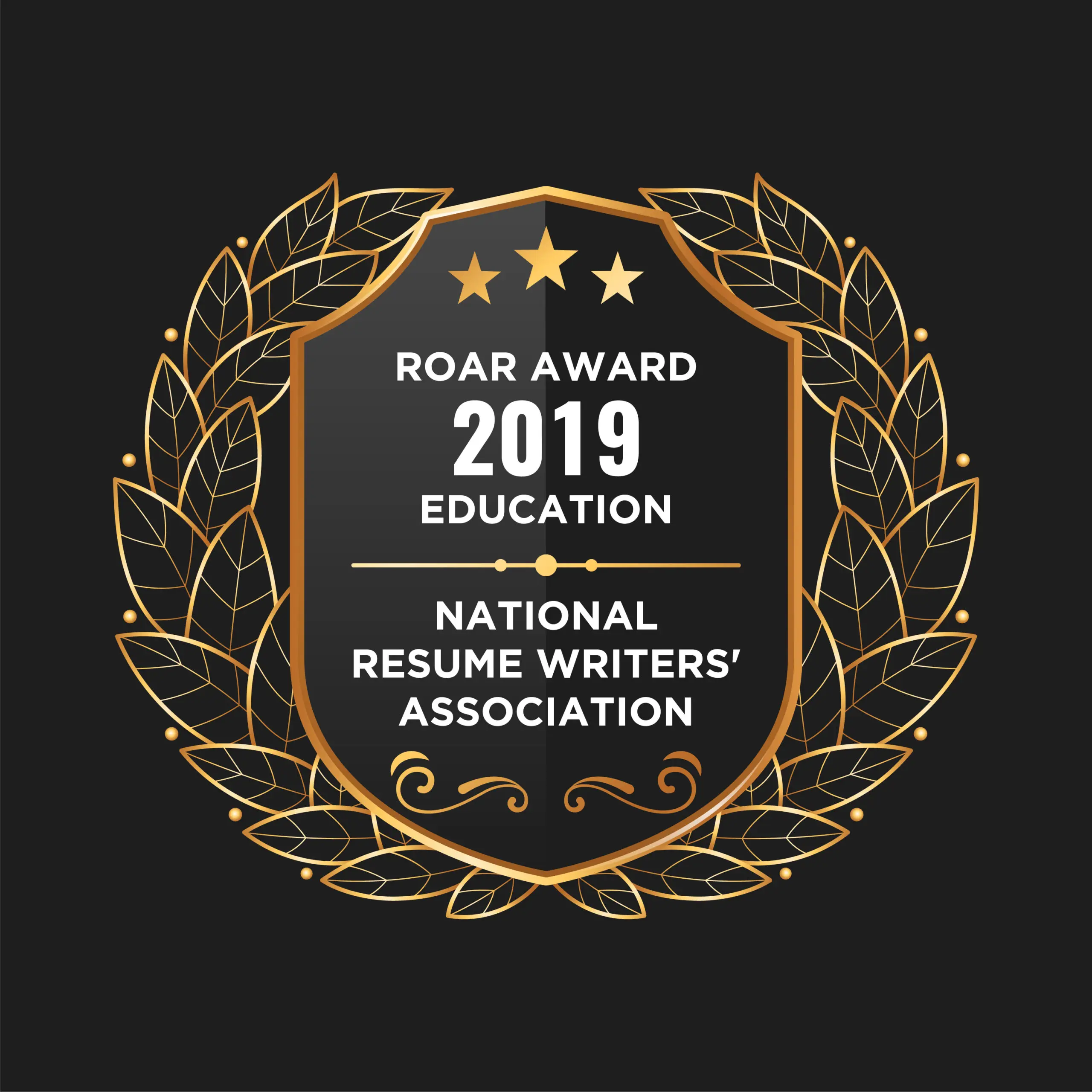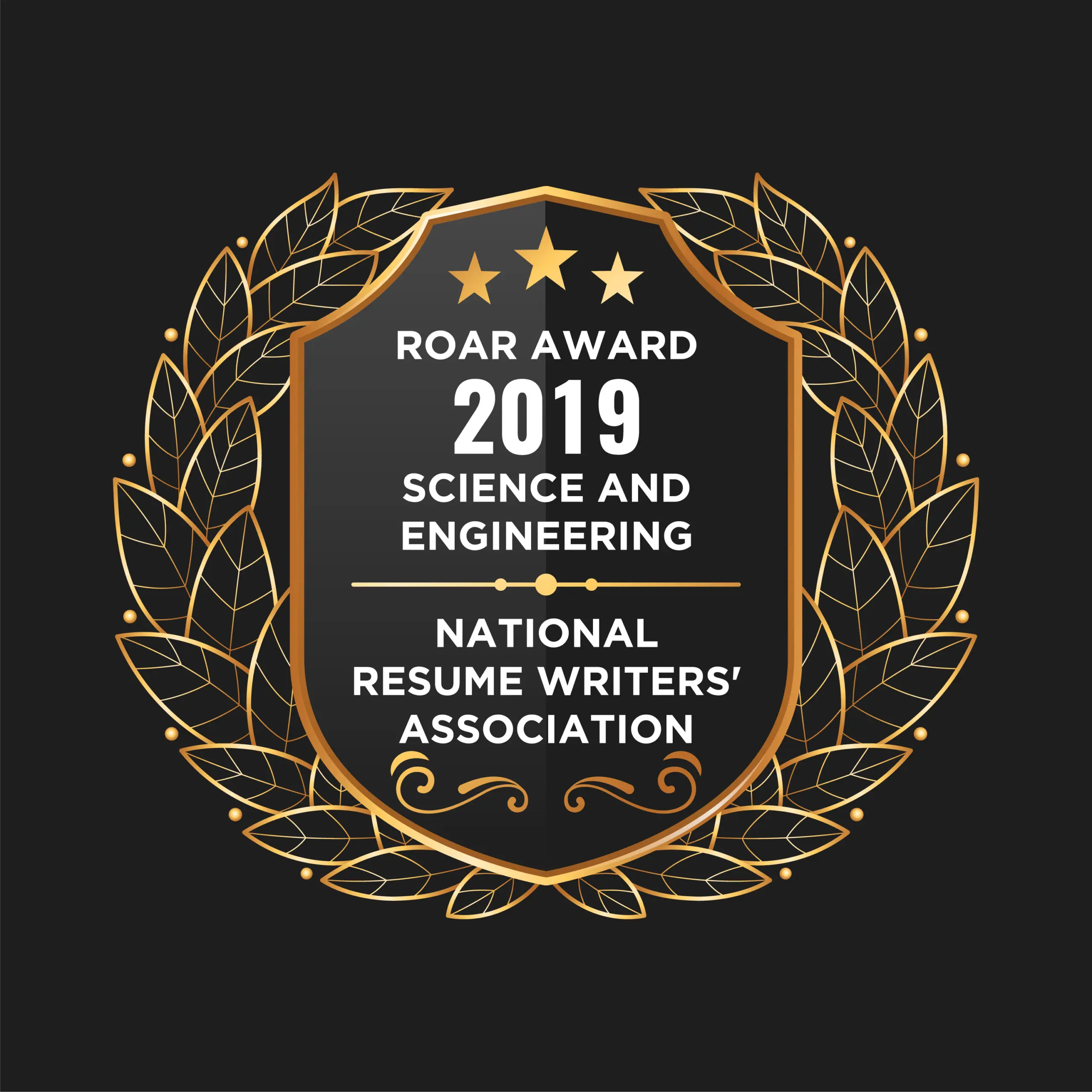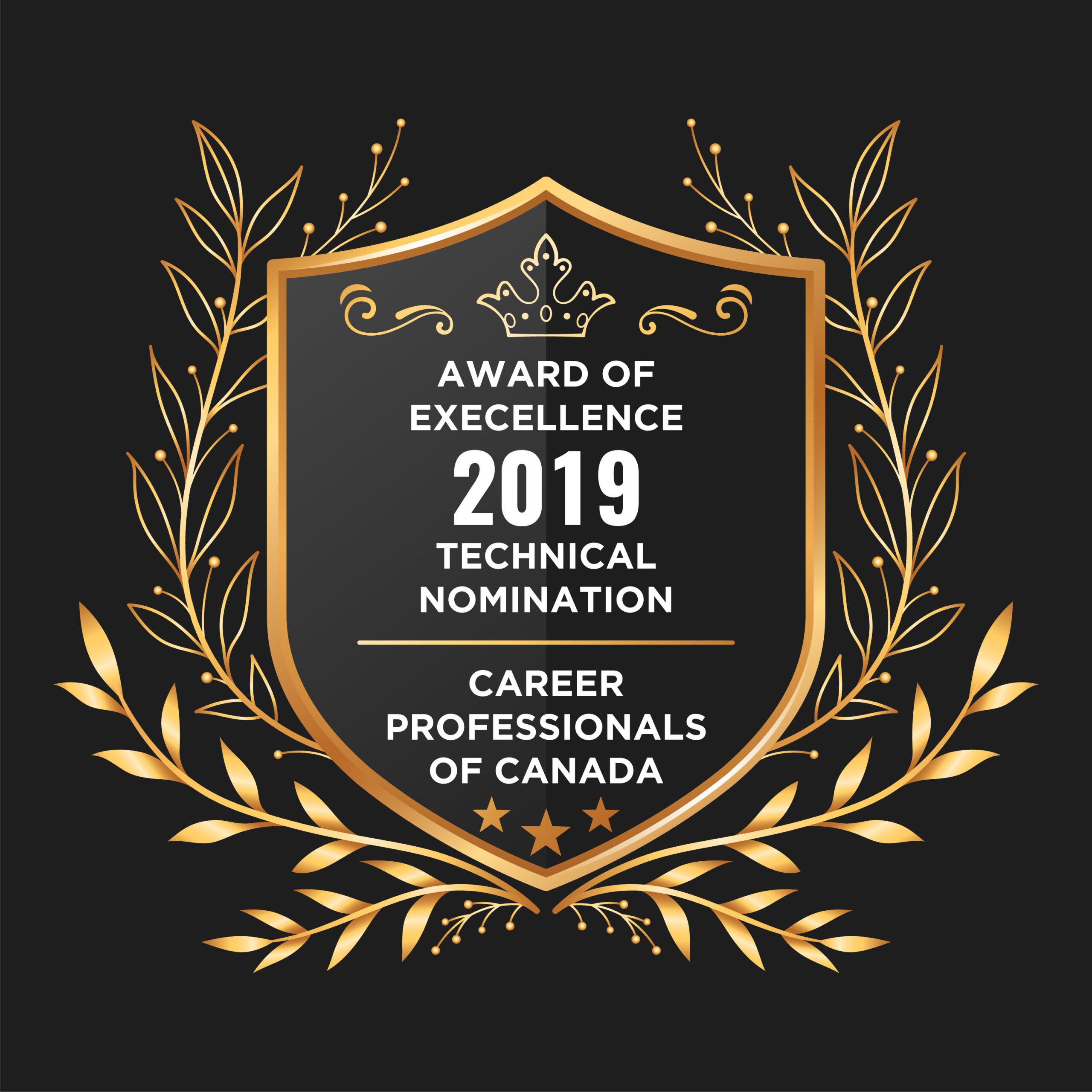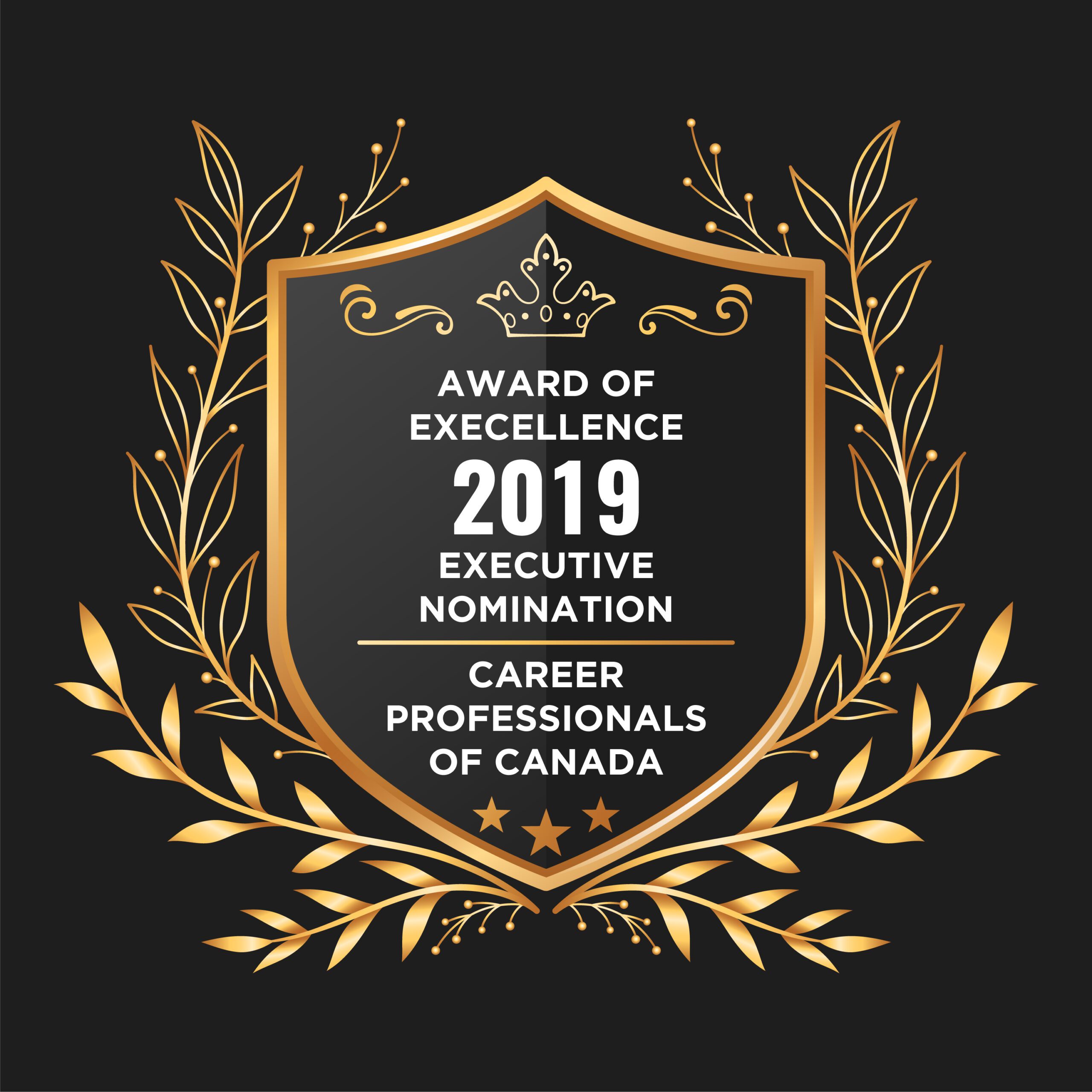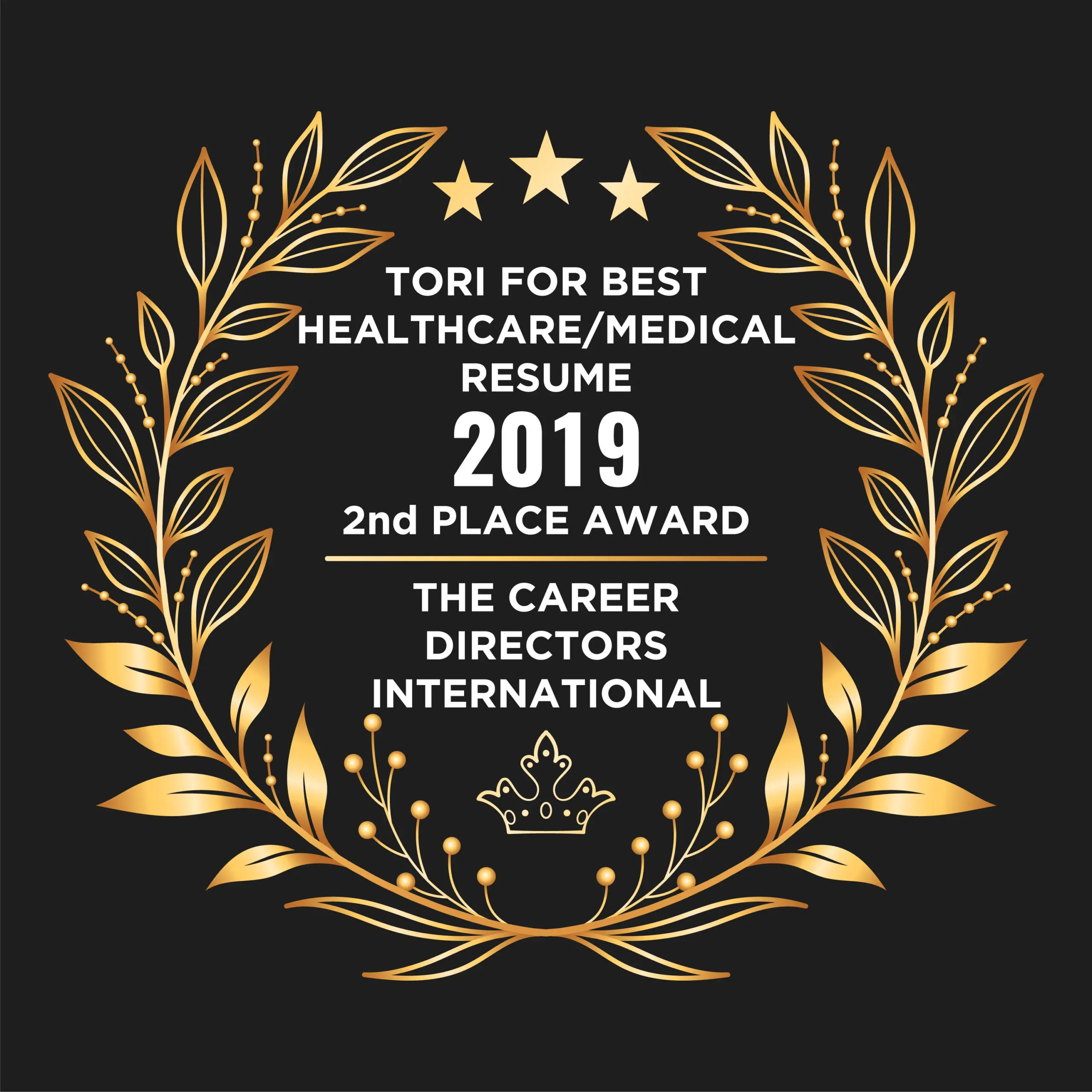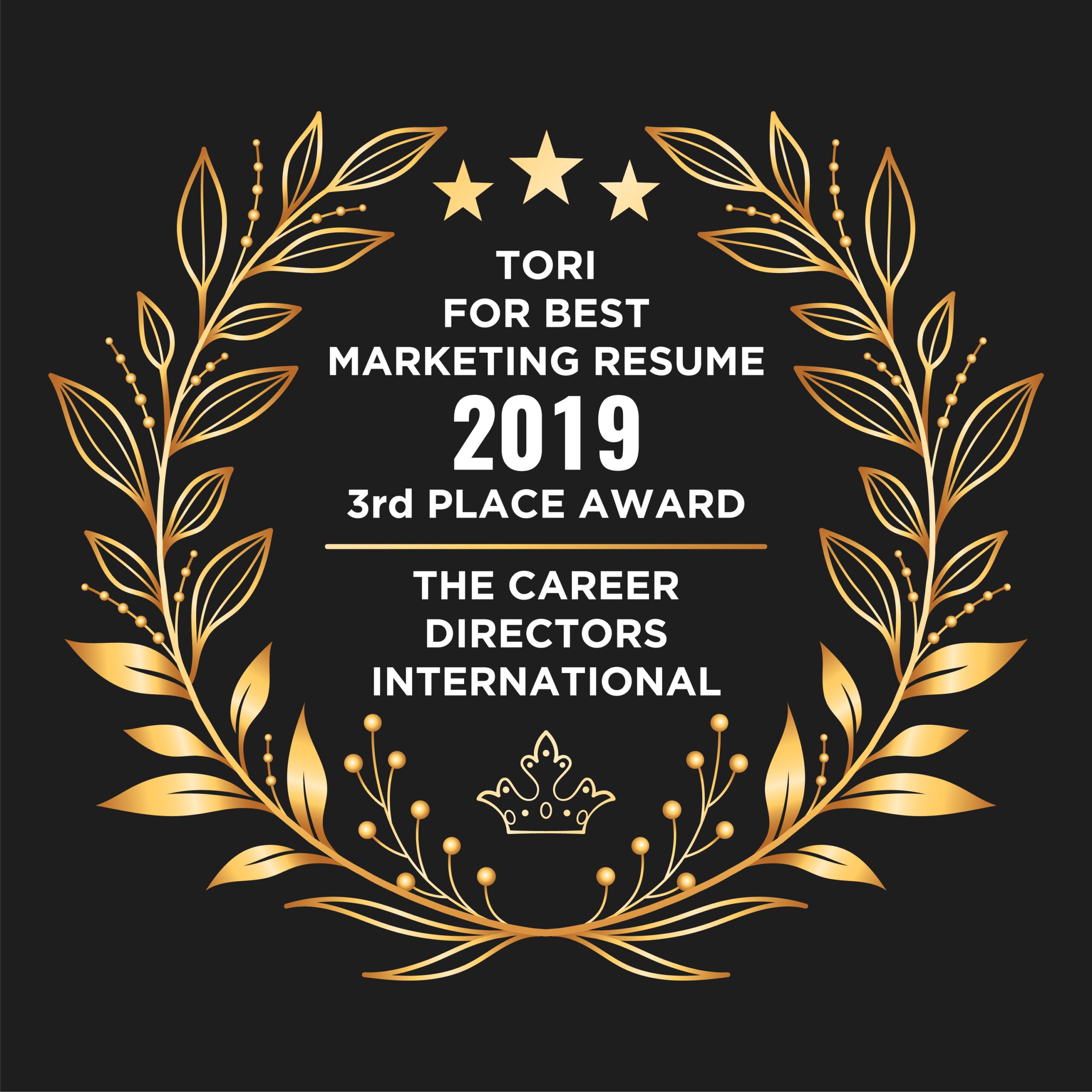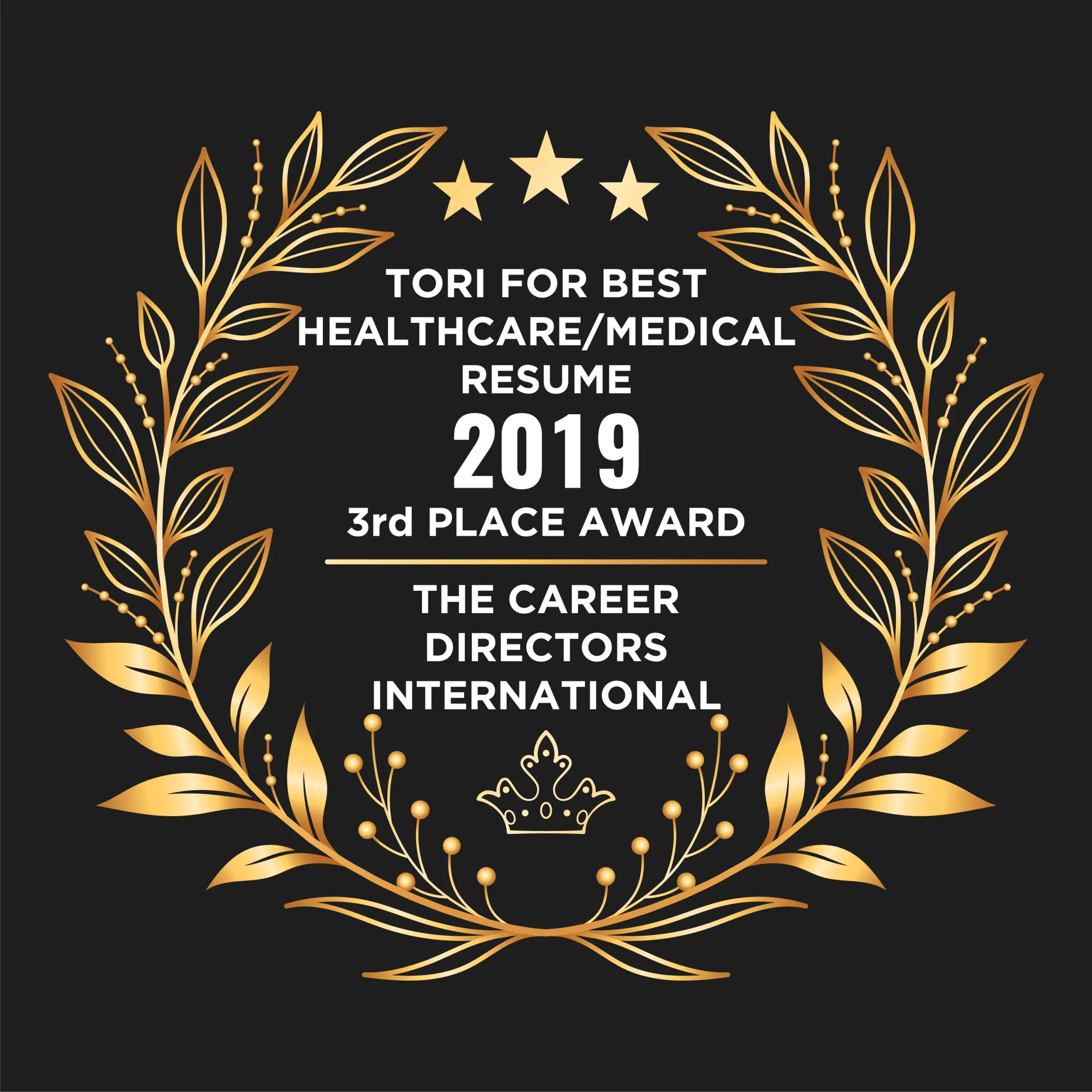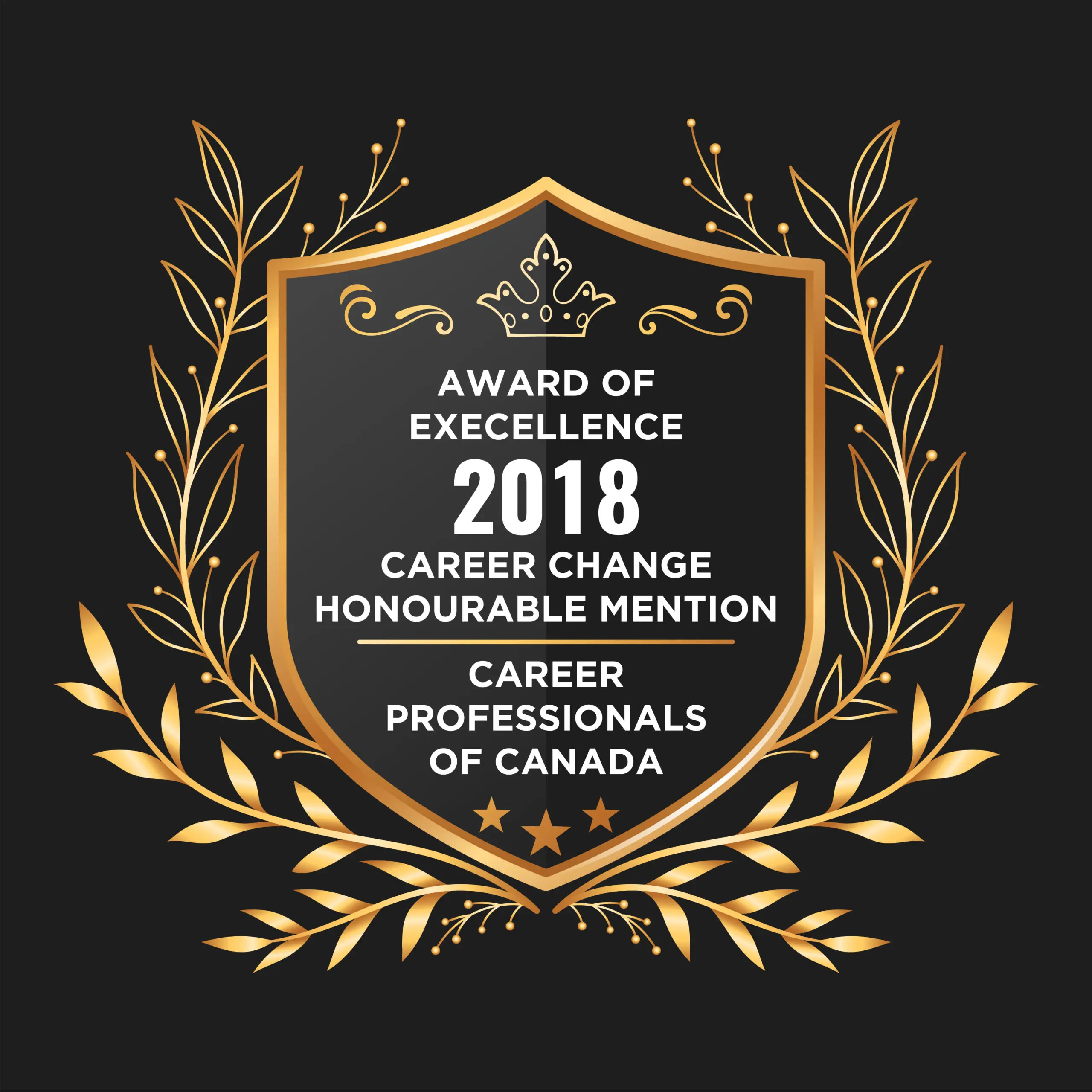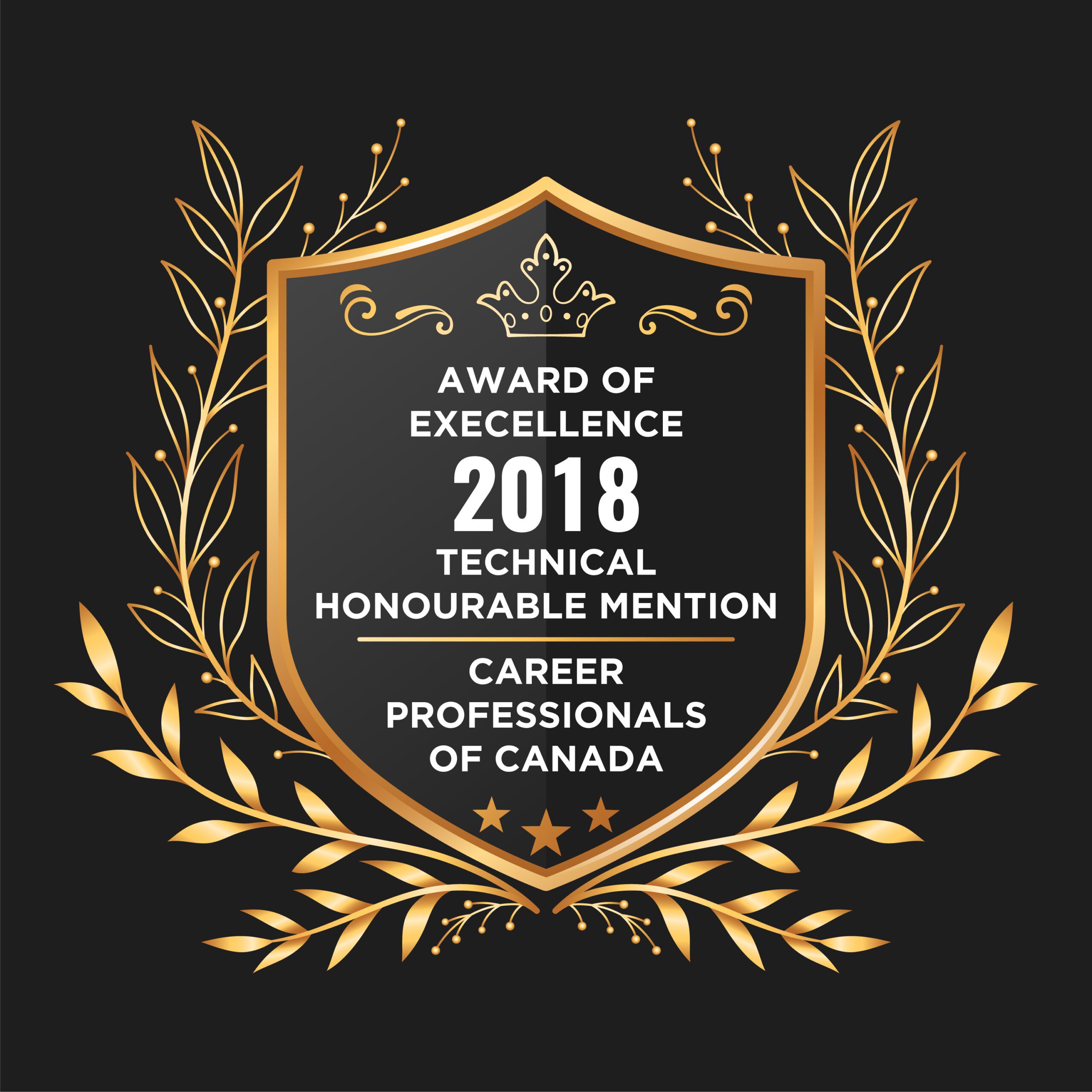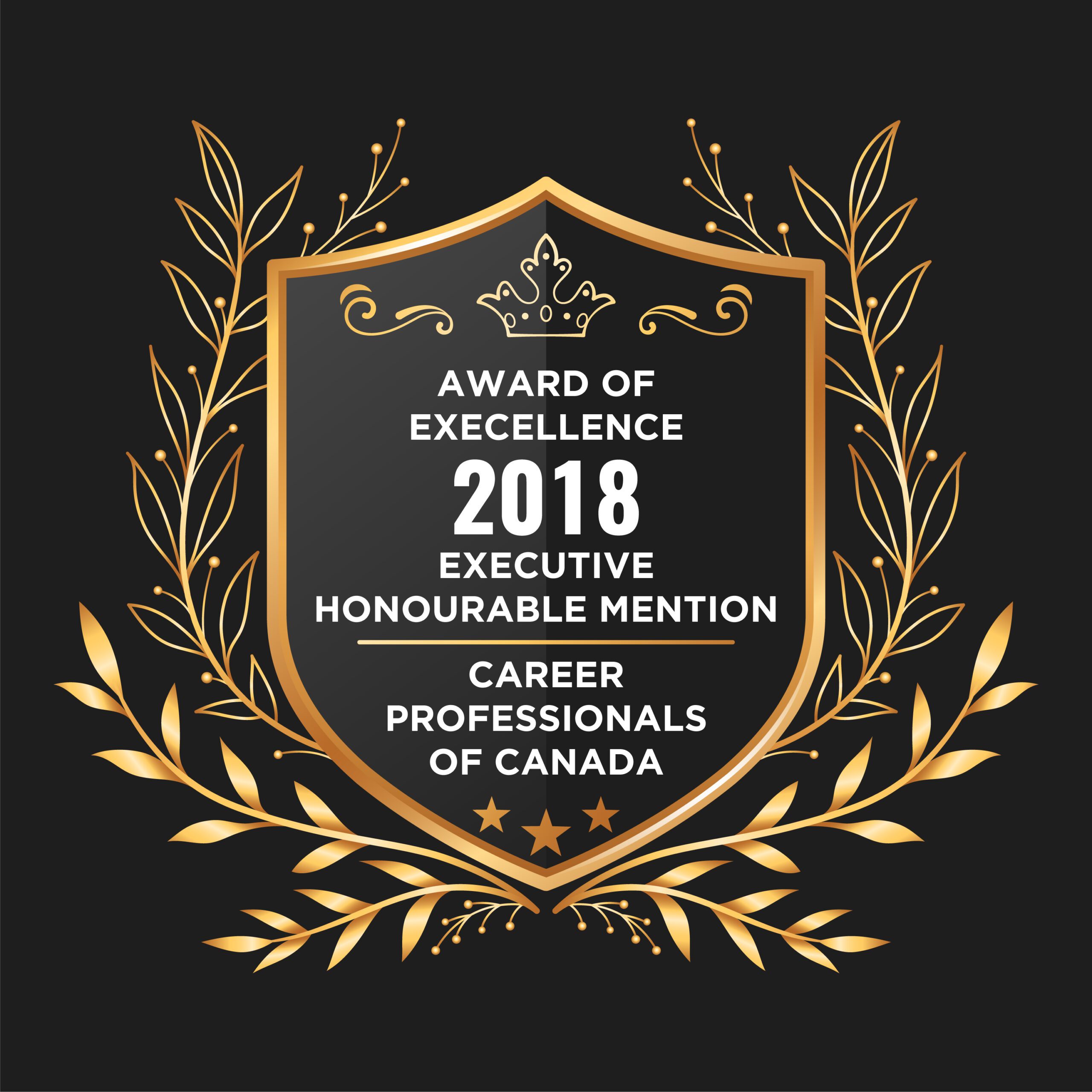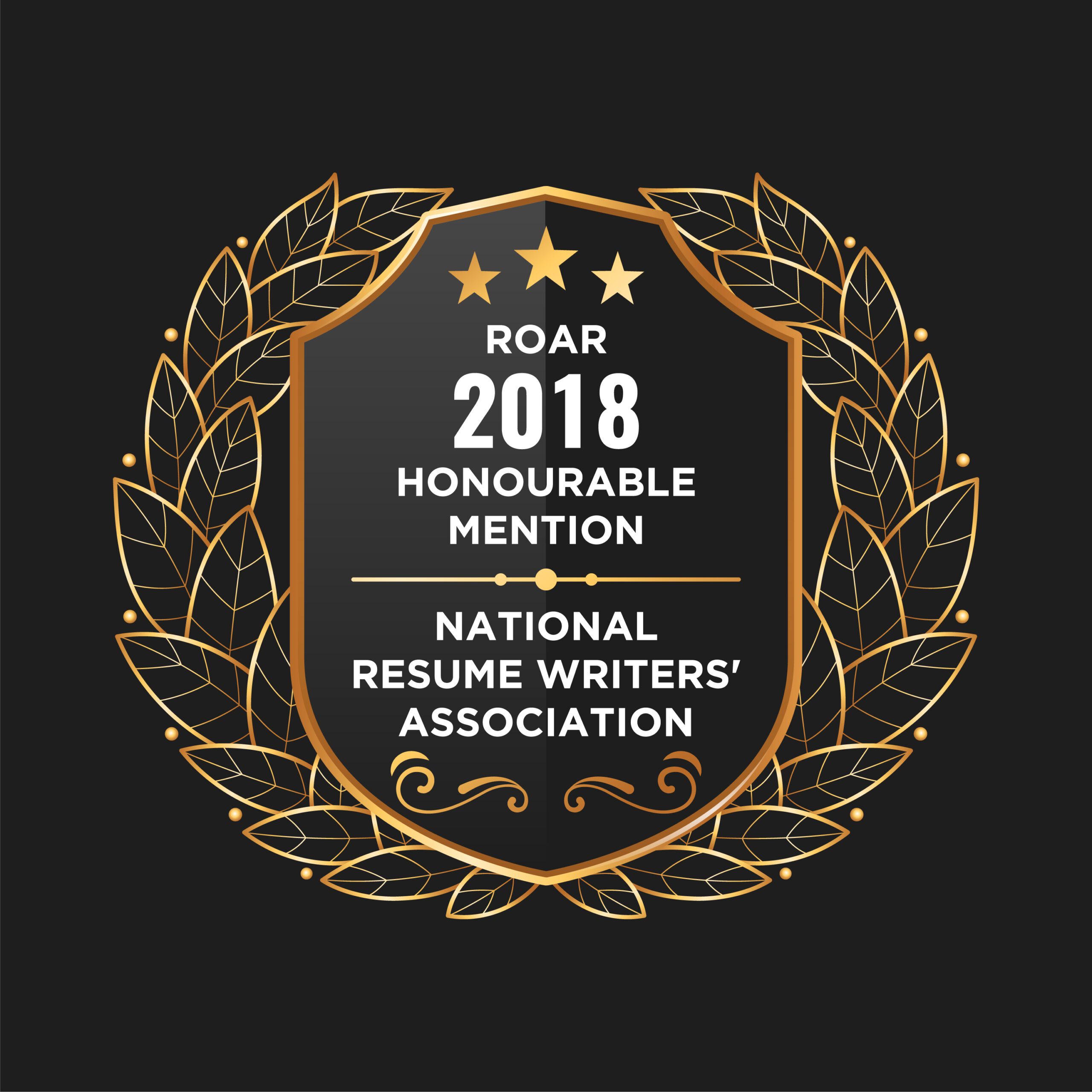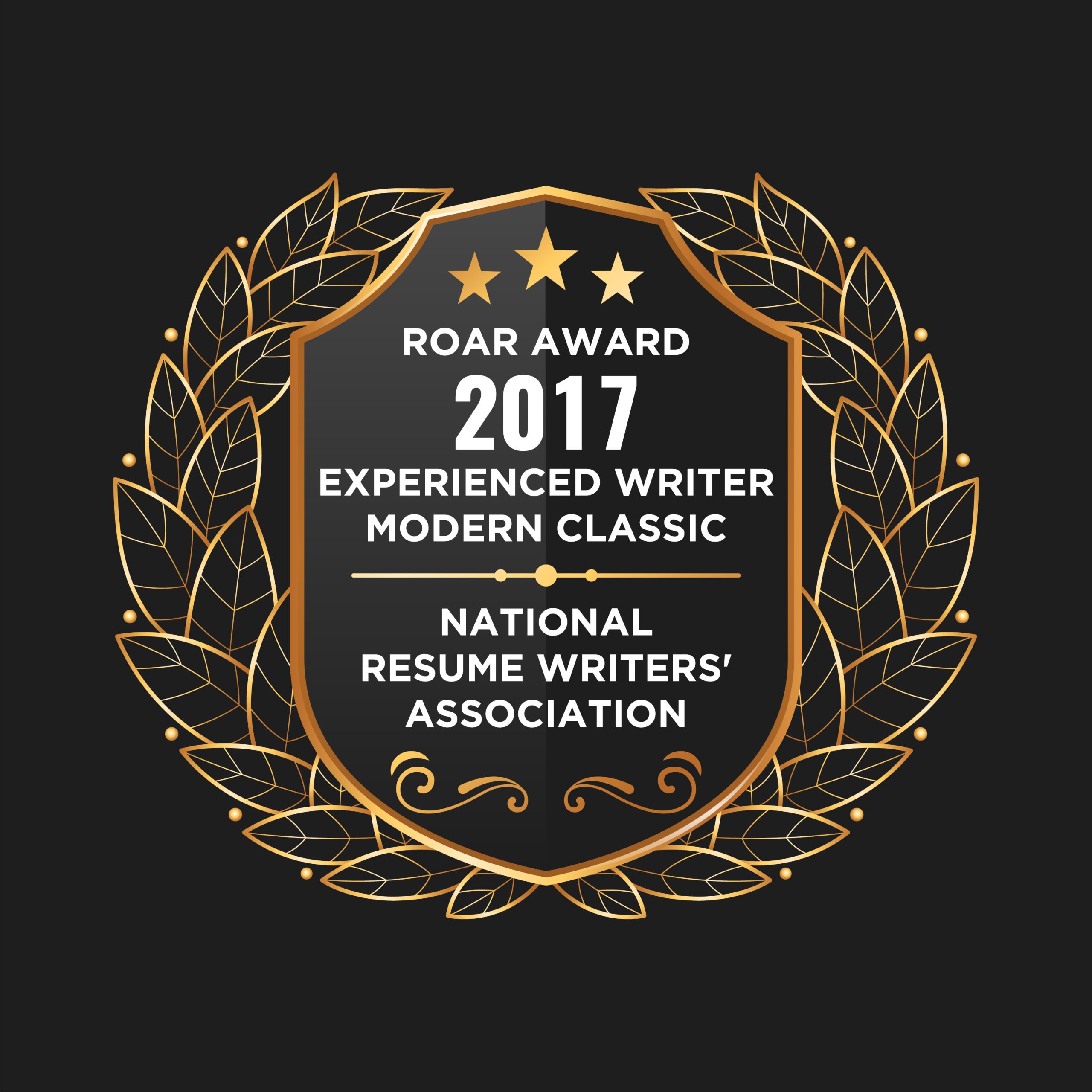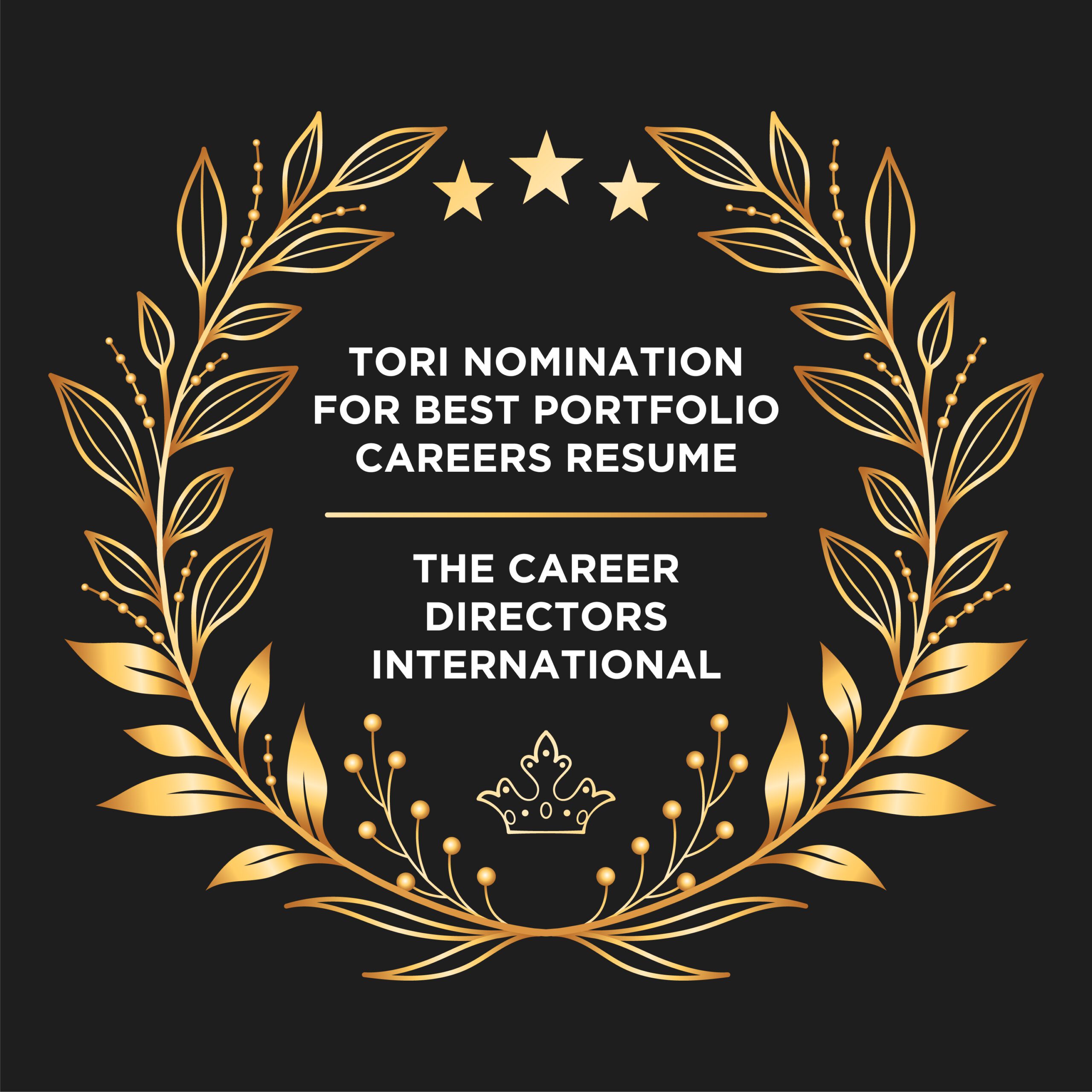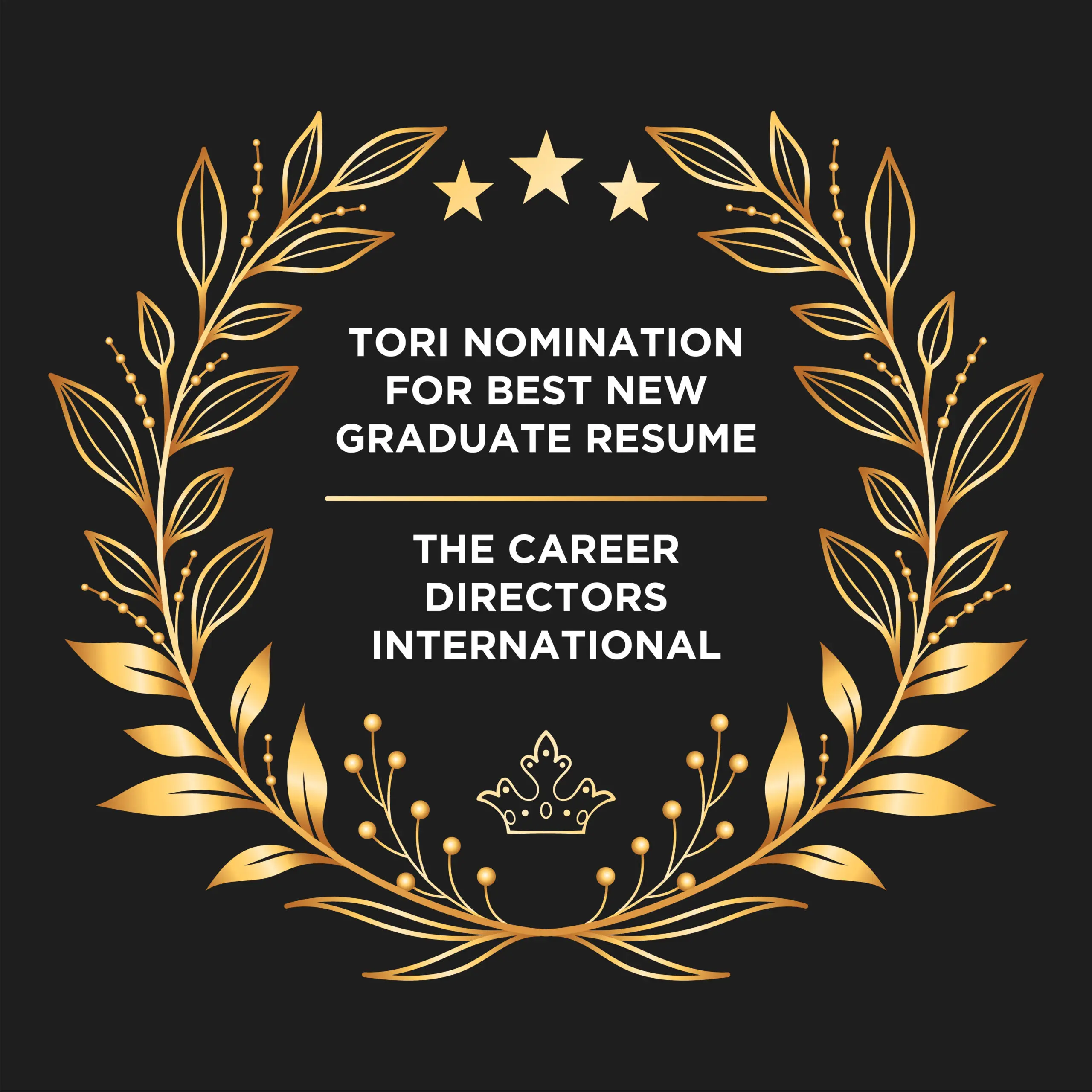 Employers who have Onboarded Our Clients