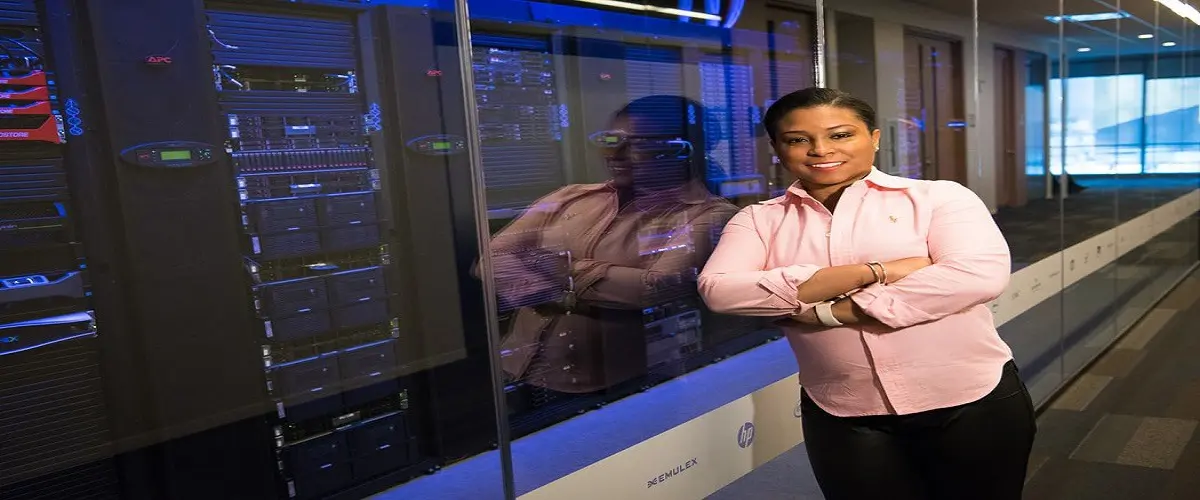 Sales Director Resume
Taking Sales Director Resume to the Next Level
Take a glance at our amazing Sales Director Resume examples and see how we can assist you in writing a stronger resume so you can secure your dream project or job.
What are the Essential Elements of a Great Sales Director Resume?
A Sales Director Resume should include excellent sales and negotiation skills. It should show the sales director's ability to motivate, initiative, and drive sales with enthusiasm. Good planning, organizational skills, and business acumen should also appear on a great Sales Director Resume. The Sales Director is responsible for the strategic leadership of a sales department within a business.
The job market is flooded with highly skilled sales director candidates, making it difficult to stand out. Understanding what skills for a sales resume are needed, in addition to demonstrated sales experience, is critical. Employers are looking for the best of the best – someone who can contribute to the company's growth and competitiveness.
As with any marketing campaign, it starts with a strong brand. Remember you may be able to sell anything but most candidates find it difficult to promote themselves. Your sales director resume should be an objective look at your career and how it relates to the job posting. Know your target market – the recruiter or hiring manager. What are their needs? Read the job description!
Executive recruiters can tell if you have not read their job description. This is a fatal mistake because that posting gives you the information you need to stand out and market yourself as the best candidate for the job by targeting your resume to their job not just giving them your entire career story. To be blunt, they do not care!
What a recruiter wants to see on your Sales Director Resume are accomplishments that match their job posting. Do not provide a generalist or duties and responsibilities resume. They just do not get results. The Best Director of Sales Resumes are branded, achievement-based and keyword optimized.
Sales Director Resume Example
The following Director of Sales Resume Example was written for a C-level rising star in the technology sales market. This Director of Sales resume sample demonstrates this leader's metrics-driven advancements in sales growth nationwide.
His branding is clear and concise. Directly under his name is "Triggering Rapid Revenue Gains and Market Share Growth". The Sales Director Resume is a chronological format with his most recent experience at the beginning. It shows his career trajectory from sales manager thru to senior sales manager and finally to Sales Director.
We have given two keyword sections. One is called "High-Tech Areas" as they are specific to his industry in technical sales. These keywords need to be adjusted for each job posting in order to pass the dreaded ATS systems. These applicant tracking systems are designed to shortlist candidates based on the keywords they have in their resumes.
Each job posting will have its own keywords based on the personal preferences of the executive recruiter or hiring manager. And remember these are machines and are not intuitive so if the posting asks for MS Word and your resume says Microsoft Office, change it to match! If you do not "tweak" your resume for each posting there is a chance you could be rejected before your Sales Director Resume is ever seen by a human being.
No matter how successful your track record, experience increasing sales markets, or how great a candidate you think you are if your resume does not make it in front of a human you will not get the job! So once your resume is ATS keyword-optimized then you can show them how you increased market share with your brilliant sales strategy!
We have also used a pop of color and a Sales Growth graph showing revenue growth over two years. This helps Cameron stand out from the hundreds of other Director of Sales Resumes. Then at the end, we have added his bachelor's degree in business administration.
Looking for other Award-Winning Director Resumes? Ready to take your resume to the next level? Check out our Director of Sales Resume Writing Services.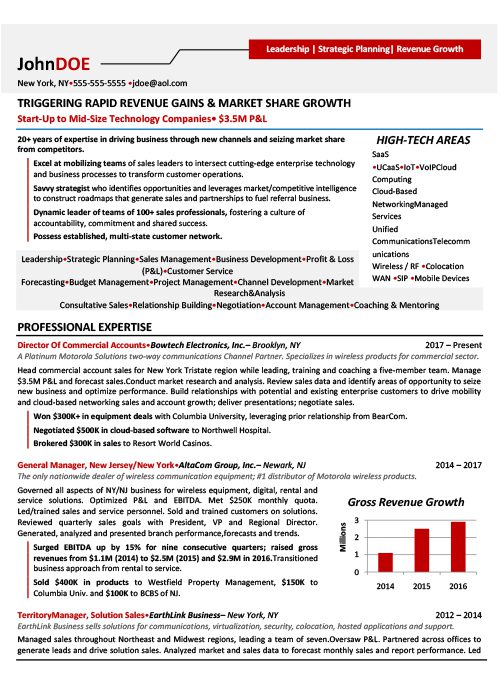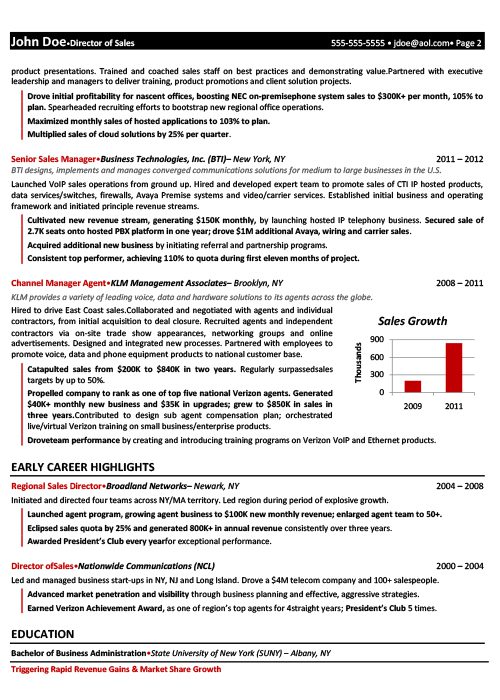 Senior Sales Director – Hospitality
Senior Director of Sales Resume Example of a resume written for a sales leader in the hospitality and food and beverage space. This Senior Director of Sales resume sample demonstrates metrics-driven accomplishments related to the selling of VIP catering events. The client wanted a font and graphics that reflected the ideal of his industry.
His branding statement is"Driving Sales Revenue & Memorable Large Scale Premier Event". We presented his accomplishments in bulleted achievement states and bolded the results for maximum impact. For example, "Boosted sales 22% of a venue to$2.05M.." demonstrating his success with measurable results. It is one thing to say you increase sales, it is another this to say how much and how you did it!
We write all our Sales Director Resumes using the C-A-R approach- Challange, Action, and Result. This allows us to create dynamic bolded achievement statements that get results! A graphic on page two also includes more of Cameron's great accomplishments.
It is not just about telling the reader what a great candidate he is for the Sales Director position, it is about demonstrating it with measurable examples that match the needs of the job posting. It is called "reverse engineering", as is extremely effective. We have also included a keyword section called "Top Talents". These skills or keywords should be "tweaked" for each job posting.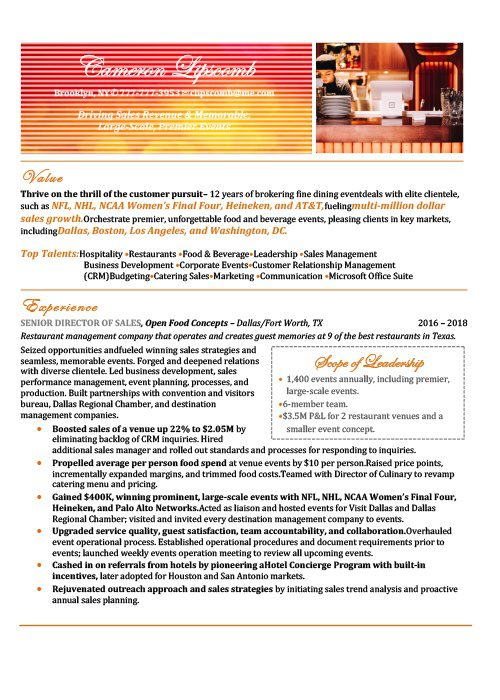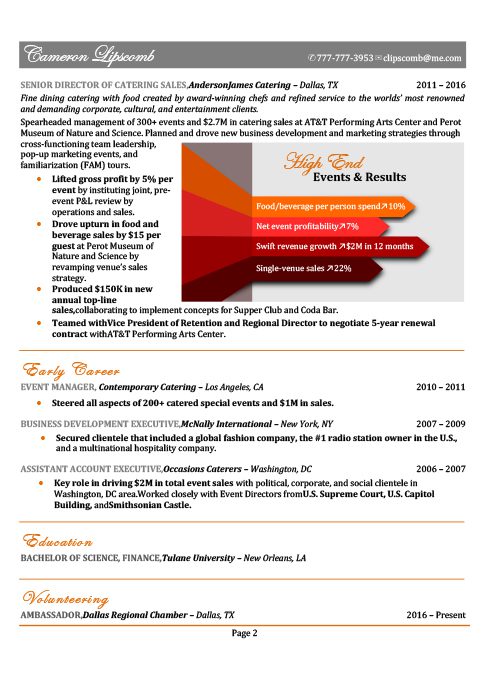 Do you need a great Sales Director Resume? Let us help you land more interviews by helping you create the best Sales Director resume for you. Book a time to speak directly with Arno Markus, 15x Award-Winning Resume Writer, to learn how we can help you secure your dream job.
Some of Our Top Resume Writing Awards
I was thrilled with the service that I received from Arno Markus of ResumeBuilds. He made sure everything I have done was accurately and properly represented while giving me great advice on my job search. If you are in need of an expertly written resume – I would contact Arno/ResumeBuilds today!
My experience with Arno was incredible. Arno is professional, articulate, and genuine. He cares about the product he is working to create and his methodology for building your resume and Linkedin profile is very effective. After working with Arno I'm able to clearly articulate my branding proposition, experience, and successes not only in the documentation that we created but throughout the interview process.
Arno was recommended to me by a trusted colleague after I had a less than satisfactory experience with a similar service provider. Needless to say, Arno exceeded my expectations.
I have worked with Arno on two separate occasions. The first time was to create my resume and cover letter. He writes beautifully and taught me the importance of focusing on, not only what I want to be, but the best way to present it. His advice was invaluable and I landed a job quickly as a result. The second time was the creation of my LinkedIn profile, which I am delighted with. His input guided the creation of a profile that mirrors my resume and my work identity in a manner I could have not achieved without him. I highly recommend him to anyone in need of professional services, as he truly is a pro