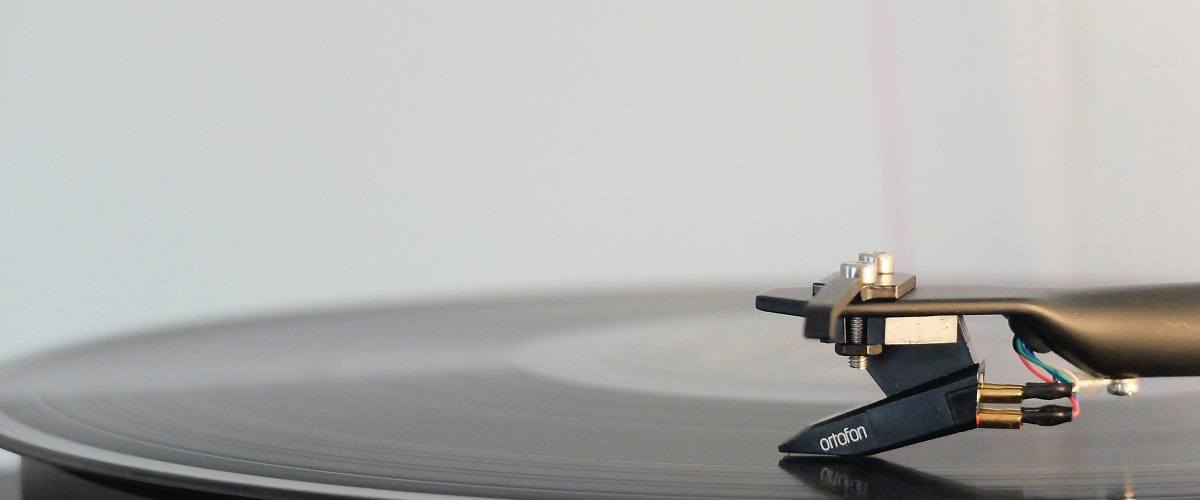 Best Project Manager Resume
Award-Winning Project Manager Resume
Have a look at our superb project manager resume sample and see how we can help you compose a better resume for yourself to land your dream job.
Looking for the Best Project Manager Resume for your next Project Manager Position?
A Project Manager resume must include project management skills, technical expertise, and professional experience. A project manager must have a clear goal in mind when managing their project and team members. It is important not just to use your previous job description but to clearly demonstrate your project management skills with specific examples of how you have succeeded in your project management job. The best project manager resume summary is not just about the project manager job but project management experience that matches the requirements of the job description you are applying to.
Most hiring managers will hardly look at the average project management resume as they receive tens to hundreds of applications. Therefore you should ensure that you highlight all your project management experience, critical thinking abilities, professional experience, and project management software skills that you can bring to the job. You have to stand out from the other project managers by giving specific examples of your successes that match the job description. Explain how saved money or time thought the entire project lifecycle, or how you used risk management to avoid project pitfalls to successfully complete the project on time and on budget.
Both the project manager resume and cover letter needed to be branded, and keyword optimized. The best project manager resumes are formated with bullet points as part of the work experience summary so the hiring manager can quickly find your successful project management experience. Each of the bullet points should have the result of your accomplishment bolded to draw the hiring manager's eye to the successful result of your project management experience.
Project Manager resumes are primarily focused on the accomplishments of the project objectives through planning, budgeting, monitoring, and overseeing multiple projects simultaneously while ensuring they are completed on time and within budget. A good Project Manager resume presents specific examples of developing project plans, maintaining the project progress throughout the project lifecycle, managing the project team including communicating and managing the project budget.
Many Project Manager resumes present the Project Management Professional (PMP) certification, or show that the PMP Certification is in progress. Successful Project Manager resumes also show soft skills relevant to Project Management like the ability to manage project team members, as well as specific hard skills such as project management software. Remember you only have one chance to shine, so let it be your moment!
Project Manager Resume Example
This Project Manager Resume example was written for a client with a recent bachelor's degree in the music business and a focus on marketing. This project manager resume sample demonstrates metrics-driven accomplishments from short freelance roles during school. This award-winning project manager resume was nominated for a prestigious global 2019 TORI award in the Best New Graduate Resume Category by Career Directors International.
The International Resume Writing Industry's most prestigious Toast of the Resume Industry™ (TORI) Resume Writing Competition by Career Directors International. The Top Resume Writing Awards are based on Visual Formatting and Design, Personal Branding, understanding of Employer/Position Requirements, and the use of powerful language. These Awards represent the Best Professional Resume Writers in the US. Here are some other samples of our TORI Award-Winning Resumes.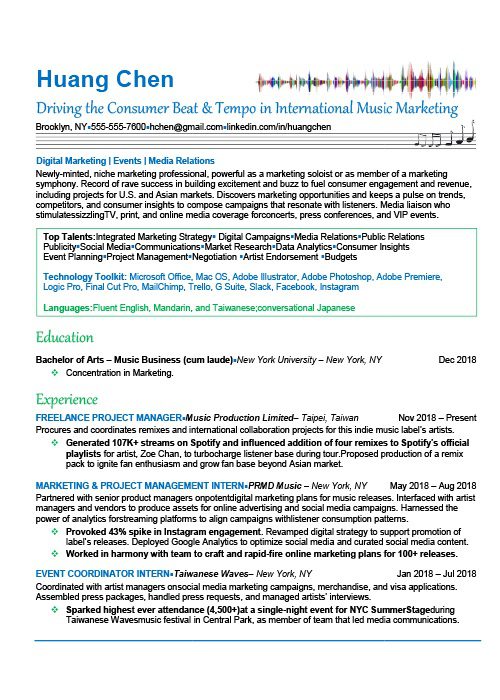 ---
Do you need a Project Manager Resume?
We can help you with your Project Manager Resume. Our award-winning project manager resumes get results! In fact, we offer a 60-day Interview Guarantee with all of our Gold and Platinum Packages, promising that if you do not receive an Interview with your new Project Manager Resume and new LinkedIn Profile within 60-days, we will rewrite your Project Manager Resume for you one time at no extra charge.
We write Professional Project Manager resumes for a wide variety of Project Management positions within various industries including Construction, IT, HR, Business Administration, and Marketing. We work with project managers in all industries. All our Project Management Resume samples are ATS compatible and are designed to get your project manager resume in front of a hiring manager. We can help you create an award-winning project manager resume targeting the company or business of your dreams!
Some more Project Manager resume examples:
IT Project Manager Resumes – Written for Senior IT Project Managers, these are great project manager resume samples. They demonstrate the candidate's project management skills by providing colored bullet points of specific examples of project management experience. These project manager resume samples demonstrate this technical leader's metrics-driven accomplishments in a variety of industries.
Senior Project Manager Resume – For a senior project manager in the manufacturing sector, this is one of our project manager resume examples that again uses color and graphics to draw the hiring managers catch the reader's eye. The project manager's professional experience successes are clearly demonstrated using metrics-driven accomplishments throughout his career.
Your Personalised Project Manager Resume
Your PM resume project or Project Management Resume will be personally crafted by one of our award-winning Certified Professional Resume Writer to target your desired project manager job. We can balance soft skills and hard skills to create a perfectly balanced Project Manager Resume. Each section of your project manager resume will be skillfully designed to highlight your professional experience while getting your resume and cover letter in the hands of the hiring manager. Let us help you land more interviews by helping you create the best project manager resume for you.
For more information check out our Project Manager Resume Services.